Top 10 Benefits of Video Conferencing in Business
Why are more and more business owners willing to adopt video conferencing solution in their company? Obviously,it's because video conferencing is becoming increasingly important and there are many benefits that one company can get from it. Listed below are top ten benefits of video conferencing in business.
Top 1. Video conferencing helps you increase productivity.
The greatest benefit of video conferencing in business is definitely the increased productivity and higher efficiency. Compared with the traditional meeting,video conference can be conducted through the Internet anytime anywhere. You don't have to spend too much time scheduling or organizing a meeting as you ever did before. Just by downloading a video conferencing software like ezTalks Meetings,you can easily start a virtual meeting on your PC,smartphone or other mobile devices.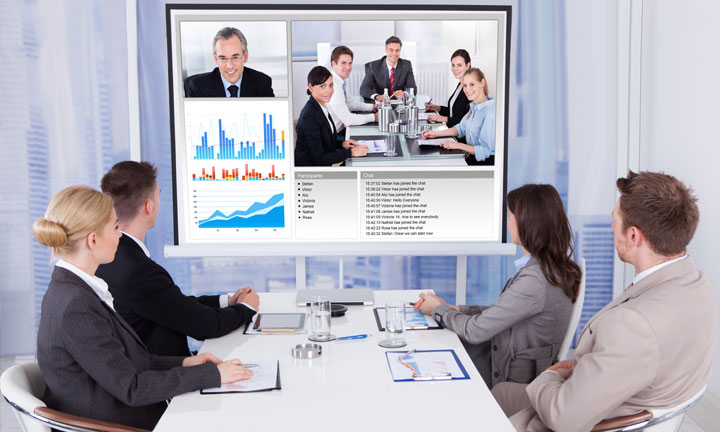 Top 2. Video conferencing helps you reduce travel expenses.
In the past,business trip is the only way for one company to discuss negotiation and collaboration with customers or partners. But travelling to other places is costly and time-consuming. Now you can use video conferencing to reduce some unnecessary business travels or even fully replace it. In this way,video conferencing helps the company save a large amount of time and money.
Top 3. Video conferencing makes communication effective.
Unlike email,voice conference or other traditional ways of communication,video conferencing not only makes you clearly hear the voices,but also see the instant response,facial expression and body language of other attendees. And such kind of nonverbal communication will be effective and help you understand each other better.
Top 4. Video conferencing helps you build a good client relationship.
Apart from hosting a video meeting with your clients,you can also use video conferencing system to resolve technical problems and offer a better customer service. By simply hosting a quick video conference call,you can see the problems that customers put forward and positively troubleshoot them within just a few minutes.
Top 5. Video conferencing makes telecommuting possible.
80% of employees would like to choose a more flexible working scheme like telecommuting,according to studies. Video conferencing makes telecommuting possible. Employees at home can keep connected with colleagues and customers through video conferencing system. Therefore,it can help business provide more conveniences for employees and then retain those important talents for the company.
Top 6. Video conferencing offers an improved recruitment.
Studies show that video conferencing ranks third (47%) among the business communication channels for HR specialists,after email (89%) and voice calls (64%). Job interview via video conferencing now becomes a new way of hiring employees,allowing an interviewer to get more chances to better communicate with the applicants distributed in different locations.
Top 7. Video conferencing keeps you competitive.
Featured in real-time communication,web-based video meeting is superior to traditional in-person conference. For example,you can host a new product launch event by utilizing a high-efficient video conferencing solution,which will lessen the time required to bring your new product and service to market. In this way,video conferencing helps you keep more competitive in business.
Top 8. Video conferencing keeps you work-life balance.
Frequent business travels absolutely make you exhausted. On the other hand,it also keeps you busy with work and neglect your friends and family members. Video conferencing gives you an opportunity to work without going out and also get accompany with family. It helps you keep a good work-life balance.
Top 9. Video conferencing improves staff training experience.
Training new staff can be interesting,or a miserable thing. By using video conferencing services,you can now train hundreds of new employees simultaneously. They won't have to be crammed into one meeting in an unfamiliar place. They can just sit in front of their own desktop and watch your personal instruction. They can also record the whole training lesson and view it again for some unknown information.
Top 10. Video conferencing creates an improved teamwork.
Video conferencing can bring your teams together all over the globe and share all data and content. It provides remote colleagues access to the most up-to-date information. Employees can also collaborate without constraints and make better,faster and more informed decisions,leading to a greater teamwork.
The above are top ten advantages and benefits of video conferencing in business at the present. With the development of video conferencing technology and the increase of market demand,more benefits of it will show up gradually. Technology is always serving people,so let's take full advantage of it.