Schedule a Recurring Meeting with ezTalks Windows app
ezTalks has updated a new feature for the Windows app,which allows users to schedule recurring meetings. This feature is available on Windows,Android,iPhone and iPad apps,and will be coming soon on Mac app.
Part 1 Why you need to schedule a regular meeting?
Sometimes people only need to host a one-time scheduled meeting or an instant meeting,while some staff or departmental meetings may recur at a regular interval. Scheduling a recurring meeting allows you to have a unique meeting ID and invitation link,which can be used over and over again. With the ezTalks recurring meeting feature,the host does not need to send different meeting IDs or links to the participants for every meeting and the participants will not get confused with different invitation details,therefore,it is quite convenient for both the hosts and participants.
Part 2 How to schedule a recurring meeting with ezTalks Windows app?
The steps are quite simple to schedule a periodical meeting with ezTalks Windows app. When you schedule a meeting,you can turn on the Recurring Meeting option: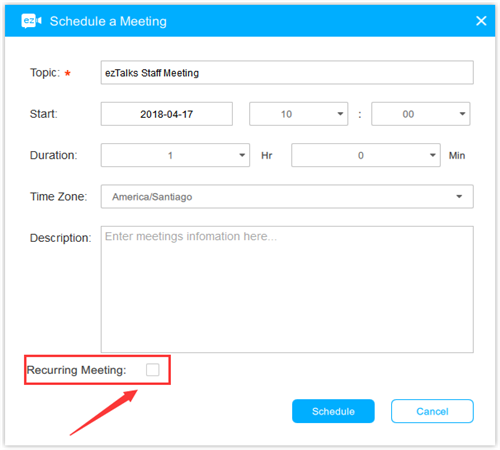 And you can choose the frequency on Daily/Weekly/Monthly/Yearly: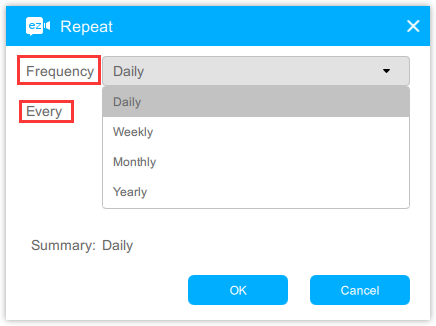 Learn detailed steps of how to schedule a recurring meeting.
Download the app and enjoy the new feature now!