A Simple Way to Host Internet Meetings
Now we're in a world where business often happens across the region and even around the world. To keep connected with your team members located in various places,you may often go on business trips. However,going on a business trip is not a cost-effective and ideal way for collaboration in real time. Apart from spending thousands of dollars on air tickets,hotel accommodations,taxi charges as well as a large amount of time,delayed collaboration might not work as well as you imagine. Taking these factors into consideration,internet meeting is a right way for you to collaborate in real time.
Part 1. What Is Internet Meeting?
Internet meeting refers to a kind of meeting based on the Internet,breaking through geographic restrictions to allow individuals from different places to meet each other and interact via audio,video,text,documents,images and more,as if they were in the same meeting room,no matters where they are.In general,Internet meeting is divided into two kinds. One is audio Internet meeting which allows you to hear the other attendees' voices and communicate with them at the same time. The other is video Internet meeting that gives you the power to host or join a face-to-face online meeting. You can watch the looks on the other attendees' faces,observe their body languages,watch videos,listen to audio,share documents,set a voting and more.
Part 2. Why Enterprises Prefer Internet Meeting Services?
# 1. Save Money and Time. As mentioned,internet meeting enables you to meet and collaborate with team members at any time from anywhere,which not only saves money but also saves time. That's the main point why enterprises are apt to adopt Internet meeting services to reinforce the connections among different workforces.
# 2. More Flexibility. Along with Internet meeting,a new working mode comes into view. Now,you're able to work from home,hotel,park or anywhere which makes working schedules much more flexible.
# 3. High Productivity. Holding meetings on Internet maximally reduce time and space barrier. Video internet meeting support text chat,whiteboard-style presentations,screen sharing,mark up screens and more which is conductive to high efficiency and productivity.
Learn more about benefits of Internet meetings>>
Part 3. How to Host An Internet Meeting with Ease?
To host an internet meeting,you'd better rely on a professional internet meeting software - ezTalks Meetings. It's feature-rich and trustworthy,enabling you to host or attend online video meetings with up to 100 attendees for free. With it,you can collaborate timely with team members from anywhere in the world at any time. In addition,it supports interactive whiteboard,desktop sharing,private and group chat,meeting scheduling,meeting recording and many more useful features.

Click the download button above to download and install this internet meeting software on your PC that runs Windows OS. To host meetings on Internet from your Mac,iOS and Android devices,please go to Download Center to download a right version.
Now,lets' walk through a simple guide on how to host an Internet meeting on Windows PC.
Step1. Run this Internet Meeting Software on Windows PC and Log into
Run this Internet Meeting software - ezTalks Meetings,after you finish the installation. In its first window,go to the lower right corner and click Sign Up to create an account. Or,you can simply sign in with your Google or Facebook account.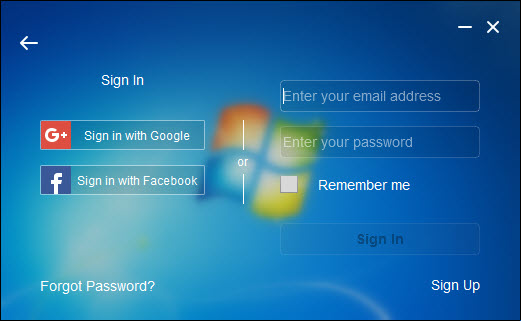 Step2. Start An Internet Meeting for Collaboration
After signing in,you get the main window. Just click Start Meeting to enter a personalized meeting room. Share the room ID to your team member to join in. Or send emails to your team members to invite them to attend your meetings on Internet.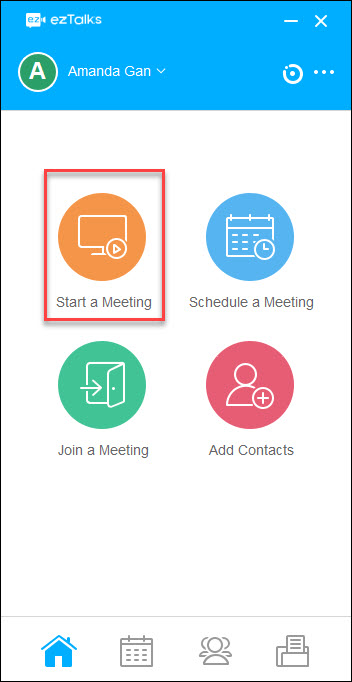 You Might Be Interested in
•Top 5 Tips for Running Effective Meetings
•4 Common Problems in Virtual Meeting and Corresponding Solutions
•Internet Training Can't Be Easier with Video Conferencing