5 Ways to Host Online Video Meetings
Many people found themselves separated by a long distance,and they needed to work together. Physical appearance during regular meetings became so difficult due to this distance. Social platforms such as Skype tried to curb this challenge by allowing personal live conversation,but still the challenge of offering a multiple participation of individuals in group meeting needed a quick solution. This led to invention of online video meeting platforms.
Truth be told,the thought of having to wake up early,prepare and travel to the meeting destination,and sitting there for hours are insanely tiresome and disgust the majority of people. However,online meeting video platforms come with a variety of features to offer a quicker and a more reliable way to carry out these meetings.
What Online Video Meeting Stands Out
# Live streaming. Online video meeting platforms enable you to use webinars to carry out live meetings between two or more participants. This is possible through their websites or YouTube channels by using computer networks to broadcast both video and audio data.# Whiteboard. Just as the name indicates,this is an essential feature in online video meeting platforms which offers a digital version of the interactive whiteboard,allowing participants to take notes and make diagrams during the video meeting.# File transfer feature. File transfer facilitates the transfer of files between members taking part in the online meeting video. Multi-point capability allows sharing of digital handouts with multiple participants in a meeting.# Recording. Most online meeting video platforms have this feature as inbuilt. It allows for the recording of the on-going video meeting to act as a future reference and also to assist those who failed to take part in the meeting to catch up with what was discussed.
Five Platforms to Host Video Meeting Online
To guarantee the effectiveness of these online meetings,purchase a software package that promotes team collaboration between members taking part in the meeting. Also,observe that it offers the above features and many more additional features. Discussed below are 5 platforms that you can depend on reliably to help you host online video meetings.
1. ezTalks Meetings
ezTalks Meetings is a trustworthy and easy to use video conferencing software,which has many outstanding features that are fundamental for any online video meeting. Its free plan is available allowing up to 100 participants to hold a video meeting online with every forty minutes. What's more,it offers high quality video and audio. It offers up to 1920*1080 pixels HD resolution. It's fully compatible with Android,iOS,Windows and Mac,so that you can have meeting from computer or smartphone easily.
By using ezTalks Meetings,you are able to schedule online video meeting and send invitations to all the members prior to the meeting day. The schedule feature also allows you to specify those whom you intend to invite to your meeting. Whenever you schedule meetings,an email containing the meeting info is sent to all the members. Apart from video meeting online,ezTalks Meetings also comes with a live text chat platform that is simple to use. You can use it to send private or public texts to the participants. During the meeting,you're able to share screens,record online meetings for playback later,lock and unlock the meeting,mute others when someone is speaking,and more. All of that makes it an awesome online video meeting platform.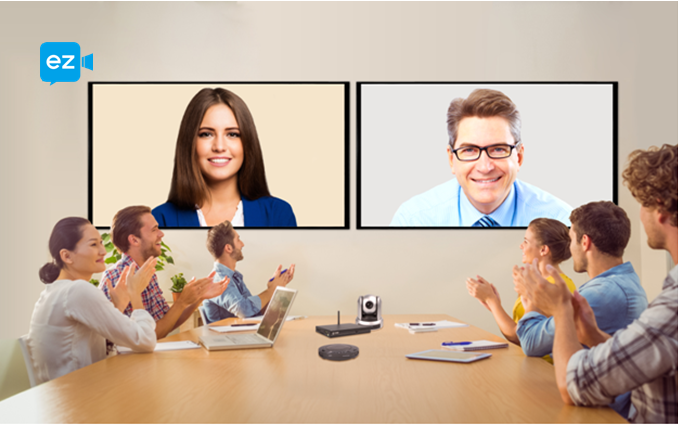 2. GoToMeeting
GoToMeeting is a web conferencing software package which is compatible with Android devices,PCs and MacBook Pro thus offering a wide range of flexibility. GoToMeeting offers a simple,user-friendly interface which makes it easier to start video meetings online. GoToMeeting ensures the meeting recording and reliable customer support as well as offering quality functionality to cater to the web-based meetings requirements of its users.
It offers advanced sharing tools by allowing you to share your entire desktop with your colleagues. This also allows your team members to control your PC as much as you want. GoToMeeting allows you to have up to 6 webcam feeds at a go. The private chat option included in GoToMeeting is essential when you need to speak to a specific person.
The free plan of GoToMeeting requires no sign up or any downloads. All you need to do is to visit the GoToMeeting website and choose the free plan and you will be provided with a meeting space. GoToMeeting additionally offers several online resources such as the FAQ and video tutorials to ensure that you have an easy time navigating around when setting up a live meeting.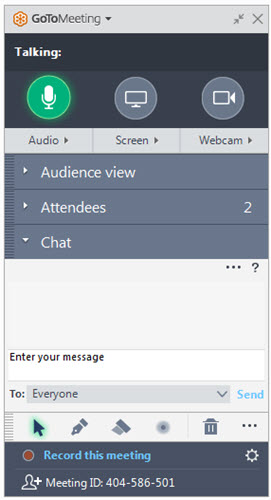 3. iMeet
iMeet is a simple to utilize the video conferencing software package. It has a beautiful user-interface design that is easy to navigate thus highly recommended for beginners in web conferencing. Each member is displayed in a cube on the screen. When sending documents,all the cubes disappear. This is to ensure that your colleagues are concentrating on your online presentation.
iMeet incorporates a built-in cloud storage that makes sharing of documents efficient. Once you have uploaded your file to your iMeet cloud,they are visible to all members participating in that live meeting. The cloud storage provides you with up to 5GB for the most affordable plans.
iMeet account also ensures that once you have signed in,you have the ability to connect to your Twitter,Facebook and Linkedln accounts.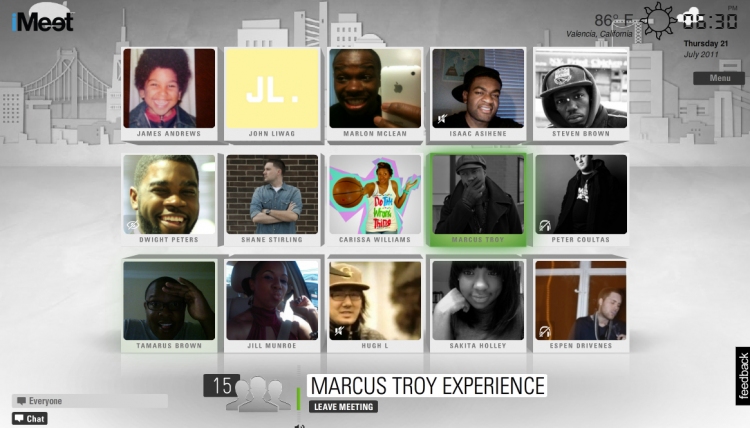 4. MeetingBurner
MeetingBurner is not only an ideal software for holding online video meetings,but also provides you with a simple to use platform to host webinars and also share your screen content.
MeetingBurner is so popular due to the fact that it offers a free conferencing plan that can accommodate up to 10 participants in an online meeting. However,advanced features such as meeting recording options are only available for the paid version.
If your company utilizes Aweber communications techniques for their email marketing,then MeetingBurner is the most ideal package for your online meetings. It helps to upload the emails of the participants into the Aweber system. This consequently simplifies the follow up process and eliminates the struggle of having to manually enter each participant's details into your email campaign.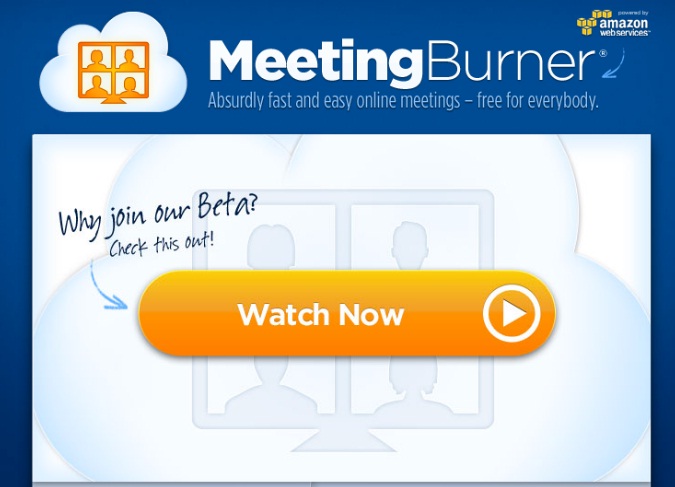 5. WebEx Meeting
WebEx is a great online meeting tool for small businesses which do not pay much for the services. The meeting space ranges from 8,25 or 100 participants for small,medium and large companies respectively.
WebEx provides an easy follow-up procedure to your previous meetings which you can easily access through "My reports" section. My reports section also helps you to send follow-up emails.
Additionally,WebEx offers full-featured mobile tools that allow you to view all webcams,chat with participants and also to access presentations submitted during the online live meeting.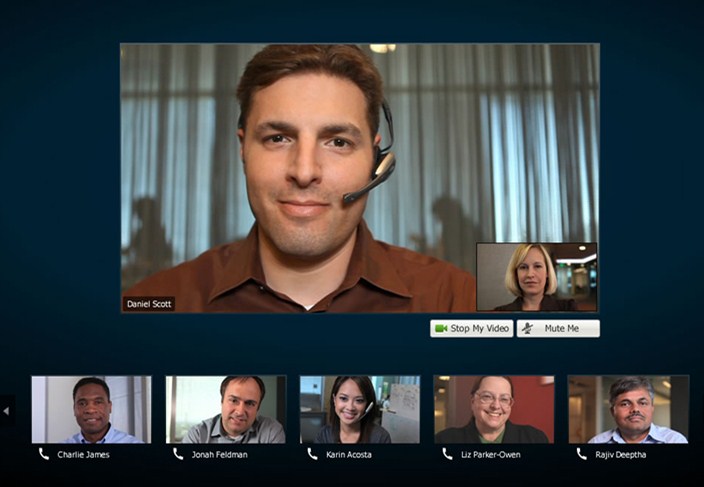 The "Call me" feature in WebEx alerts you through a call whenever your meeting is about to begin. This digital era of technology has helped to simplify most real-world task that were initially so challenging to fulfil with the online video meeting being so much appreciated into the business world. So what are you waiting for? Sign up for video online meetings and enjoy the many benefits that comes along with the use if these online video meeting tools.