7 Best Teleconference Camera
Teleconferencing is becoming pivotal for any business. However,it cannot achieve the desired results and make the right impact without the right teleconference camera. A good camera will capture everyone in high definition and zoom without blur. There are many video teleconference cameras but choosing the best might be an uphill task. We highlight the best teleconference camera here and help you buy the best there is for you teleconferencing needs.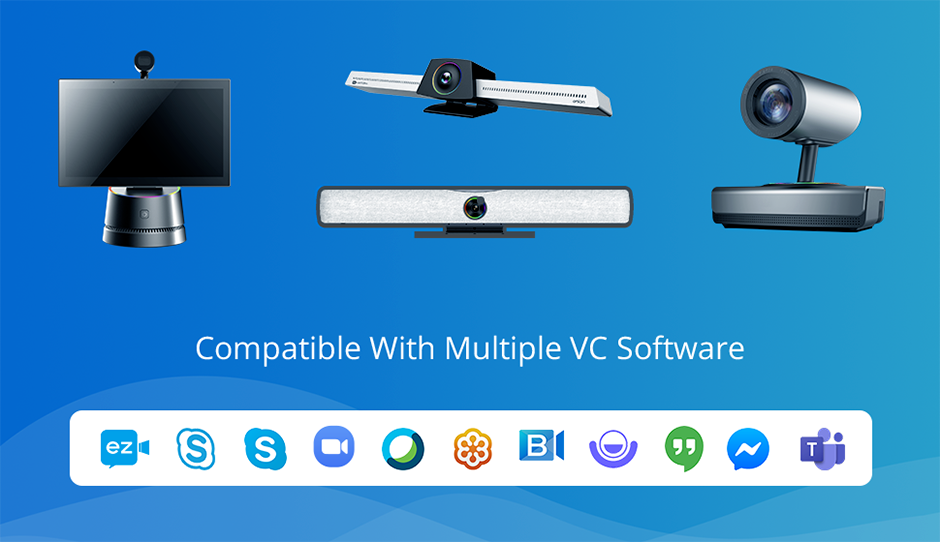 ezTalks Hardware
Supports Multiple VC AppsezTalks all-in-one video conferencing devices work with most popular VC apps like ezTalks,Skype for Business,Skype,Zoom,WebEx,GoToMeeting,BlueJeans,Lifesize,Google Hangouts,Facebook Messenger,Microsoft Teams and more as you require.Request A Demo
1. ezTalks Meet X
ezTalks Meet X is certainly the best teleconference cameraavailabletogive you ultra high definition pictures.It is an ideal option for medium-large rooms with up to 20 people. Why it can walk at the forefront of this list?

Everyone can be included in the picture!
Meet Xhas an integration of over 1080PTZ camerawhichhas a +/- 170°field of view and tiltable for upto +/- 30°. Thus,you can capture almost everyone simultaneously at any corner of your room. Any teleconferencing aids such as diagrams and product samples can be in the picture as negotiations or talks go on. With the camera,you can bring everyone into the picture or zoom everything into visibility without losing quality.
All details can be seen as you want!
Actually,the camera has a 12x optical zoomand 10x digital zoom. This makes it one of the best zoom teleconference camera available. Thus,you do not have to gather into fixed space in the teleconference room. Similarly,do not be afraid of tiny details for they are zoomed into clear visibility easily. The camera does not just make teleconferencing look clear but makes the experience seem official and professionally planned. This is a teleconference camera that you need to embrace to ensure high attendance to your webinars and better engagement with others.
What the camera captures can be shown on Dual Display!
Dual displays are designed to meet variousonline presentation needs. Flexible meeting presentation can be no longer a dream or a hassle! It is possible to make one display for in-room presentation sharing while making the other display for engaging with active video participants in online communication.
There are also other ezTalks room solutions such as Meet Mini,Meet S and Meet Pro. All of them are compatible with multiple VC software including ezTalks,Microsoft Teams,etc. These are all in one with in-built cameras.

2. Sony Video Teleconference Camera
Made by the renowned Sony,you expect this camera to be among the best teleconference cameras. The prolific camera is the SRG-120DH PTZ camera. It is a 1080 PTZ camera and gives you HD pictures for 1920×1080 each 60p clear. The main setback for this camera is its price. Though you get quality,the price is a bit too high,unlike the prolific ezTalks Meet X.
3. Zoom Teleconference Camera
Zoom is the software company instead of hardware company,so it fails to provide the Zoom teleconference camera by itself. But it still recommends other camera made by other providers. The most popular one from those is CAM520. It is a PTZ camera suitable for mid to large rooms. This camera still offers you quality in pictures. It is best knownfor its magnifying ability and can bring small objects to full high definition visibility easily.
4. Logitech RALLY Camera
This camera can stream your meeting in 1080p. It is also able to handle 4k resolution video. Also,with whisper-quiet mechanical Pan/Tilt/Zoom,Rally Camera captures every person in the room with truly phenomenal video quality.The problem with this camera is that itdoesn't support dual screen presentation and has no pre-installed software.Still,it costs more than $1000 and probably making a return might have a long discounted payback period.
5. Logitech BRIO
As one of the video teleconference camera,this camera is able to record and stream at both 720p and 1020p.It is also able to handle 4k resolution and has a 5× zoom. Furthermore,the camera enables you to zoom at three angles,90,78 and 60. The only issueis its price which is too high. Furthermore,the zoom of the camera is only 5×,way less strong than ezTalks Meet X.
6. Logitech Video Conference(BCC950)
BCC950is also created by Logitech,which is a desktop video conferencing solution for private offices,home offices,and most any semi-private space. This camera has a superior built-in speakerphone and is able to regulate volumes. Thus if one is on a call,you can put the volume down or otherwise interested. The reverberation of echos is minimized and the experience is the one of people in the same room. It is also a zoom teleconference camera that you can easily zoom objects with and can capture in 1080p.But it only suitable for the small spaces.
7. HuddleCamHD-3x G2 USB 2.0
With a USB 2.0 video connection,this conference camera is ideal for virtually any meeting software used in a small to medium sized room.As a video teleconference camera,HuddleCam gives you an 81°wide field of view and 36°in teleview. You can also use it as a zoom teleconference camera with the ability to zoom to about ×3 without blurring any image. The camera can capture in high definitely and its focal distance is variable.
How to choose the best teleconference camera?
With the idea of the best teleconference cameras to go for,you also need to know the factors to consider when choosing a teleconference camera. There are a number of factors but the key ones include:
Quality
Every good teleconference camera must be able to capture images at least 720p. Nowadays,the common quality rate has been set 1020p× 1980p. Blurred images will make people have a boring conference and this may lead to low attendance.
Zoom
Not everything in the conference room will be huddled together. You need a camera that can bring everything into focus by using a camera with zoom. ezTalks Meet X has zoom of over ×12.
Field of view
A wide field of view means that everyone is captured and no participant of the conference is cut out. There are many cameras with different fields of view. However,if the field of view is less than 70°,you might need to buy another camera. ezTalks Meet X and Sony video teleconference cameras may offer you the widerfields of viewand higher quality as well.
When it comes to a teleconference camera,you need to get high quality,a wide field of view,good capturingand streaming as well as zooming. ezTalks Meet X offers all of these aspectsat a reasonably cheap price. There are also other teleconference cameras and you certainly will not miss out on a good camera. Most importantly,get quality and reliability for your money spent in getting the best teleconference camera. Image source: Clipartkey,Kindpng,PNGitem