5 Best Free Video Conferencing Services to Challenge Skype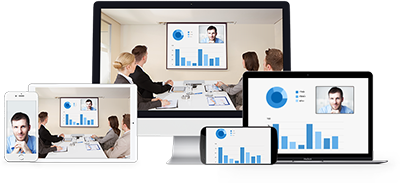 Why Choose ezTalks?
Free for up to 100 ParticipantsJoin Anywhere,on Any DeviceFlawless HD Video and AudioScreen Sharing & WhiteboardingIM for Group/Private ChatSIGN UP FREE NOWWhen talking about free video conferencing services and conference call free in the current market,ezTalks and Skype always comes to our mind. With the emerging problems with Skype,you may want to experiment with other best free video conferencing free services to challenge Skype.1.ezTalks( Windows,Mac,iOS,Android)As one of the best free video conferencing services,ezTalks provides the best way for video conference.★ Free Easy to Use- Free and easy download and sign up are available for each user.

- ezTalks provides HD video & audio conferencing services for seamless communication.
- Afree 100-participant plan has been launchedfor all users,which allows up to 100 participants to join a meeting at the same time by using the free video conferencing services.
- It renders free 1GB cloud storage for your recording.★ Interactive Features- Screen Sharing: You can share applications,documents,images or your entire desktop during video conferencing.
- Interactive Whiteboard: It also offers a whiteboard tool,which enables you to sketch out ideas or take notesfor everyone to see.
- IM Chat: Instant messaging feature helps you exchange public or private text messages in real-time.★ More Control FeaturesezTalks provides a number of control features including muting or unmuting participants,controlling who speaks through the Permit control,locking the meeting,and booting unwelcome or unwanted members.
- For better management,you can schedule the meetings and record the meetings for playback as well.ezTalks is now widely applied to many fields,such as video meeting,online webinar,education,training and medical. It's quite suitable for small to medium enterprises to host online meetings with employees,customers,and collaboration partners anytime anywhere.It deserves to be regarded as the most popular and free video conferencing software.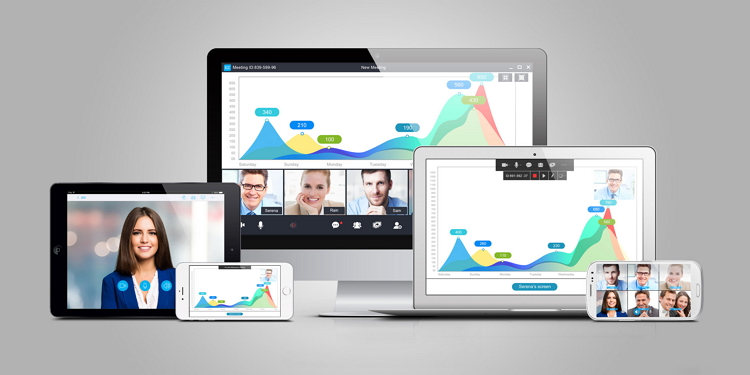 Don't miss! Here is the time-limited offer with the biggest promotion ever!BUY 1 YEAR,GET 1 YEAR>>
2. Google Hangouts (Web,Android,iOS)
It deserves to be regarded as the most popular and free video conferencing software. If you want to experiment with something other than Skype for video conferencing free,this free option will be your best choice.As a direct competitor to Skype,Google Hangouts is a free online video chat tool launched by Google,which offers free video conferencing services in the U.S. and Canada. All you need to use Google Hangouts and all of its features is a free Gmail or Google+ account. There's no need to install any third-party app. And Google Hangouts has a variety of features as a free application,like chatting over text,HD video,or VoIP call and hosting group video conferencingfor up to 10 people within or outside of your organization. It also enables you to share screen with all video conference members,add new members,edit documents all together from Google Drive,play games and even broadcast your live video meetings to your Google+ friends.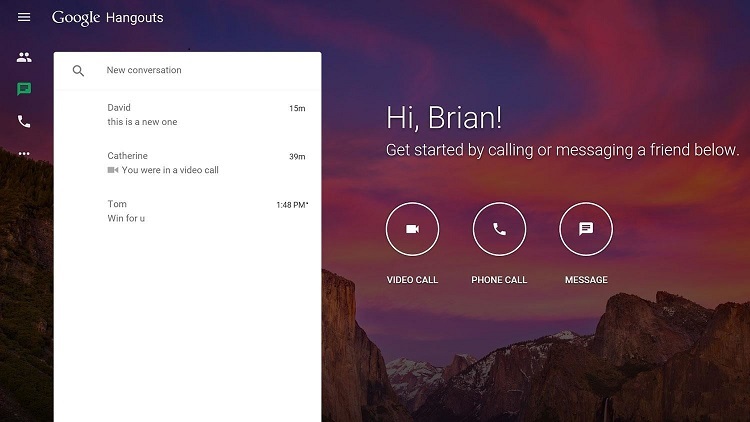 3. Facebook Messenger Group Video Chat (Web,iOS)
Facebook Messenger Group Video Chat has the strong backing of Facebook and it also provides free video conferencing services. It will undoubtedly continue to get better in the future. Group Video Chat feature on Facebook Messenger allows up to six people at a time to chat face-to-face as a group no matter where you are. Small businesses or start-ups can use this feature for free video conferencing if their group is no more than six people. If your group is over six people,you can also use the app. Because up to 50 persons can join in a group video call and choose to just listen in and join via voice,or be on camera. Once more than 6 people are on the call,just the dominant speaker is shown to all participants.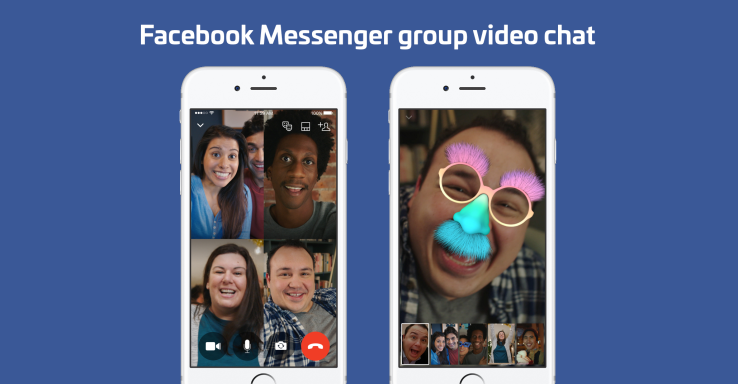 4. ooVoo (Web,Windows,Mac)
Just like Skype,ooVoo is also famous for person-to-person video chat and group video conferencing for free,which also provides best video conferencing free and enables you to do group video conference call with up to 12 persons. You can make free video call to other ooVoo users,and paid calls to landlines and mobiles. Its free group video calls are of particularly high quality. Therefore it's a considerable choice for small businesses or start-ups to have video conference callwith employees or collaboration partners without ever paying. ooVoo also includes some additional features,such as sharing files and recording a conference call with full-screen chats,talking via text in real-time.
5. Appear.in (Web,iOS)
If you want an incredibly simple way to start a video conference call,Appear.in is what you're looking for. You have no need to sign up. You don't even need to download anything to your Windows/Mac computers. Of course,there is an iOS app that you can download if you are iOS device users. The only drawback is there is no an Android app that you can download and use it on Android phones. When using the service,you only need to create a "Room" link,and share that link to up to eight people. It allows you to choose to either have a voice or video call. And you can also share your screen with ease.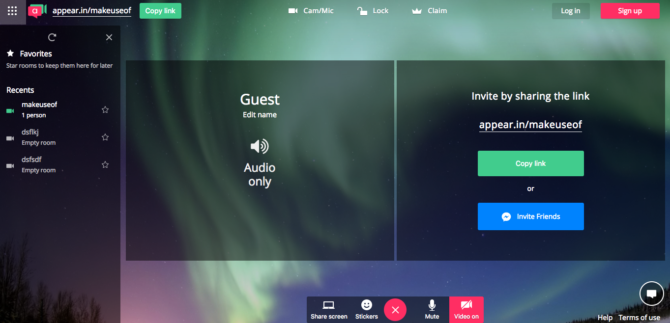 Wrapping Up
Although Skype is usually the default option for video conferencing free over the internet,the increasing amount of complaints,like low quality calls,attendance limitation,too many crashes,general distrusts for Microsoft make Skype users gradually lose confidence,especially for some enterprises that requires higher video/audio quality and richer functions. Picture source from Clipartkey,PNGitem,KindPNG.
Fortunately,there are many great alternatives out there with easy-to-use interfaces and rich features. Therefore,if you are thinking about changing a new free video call tool for better user experience,the five best free video conferencing services recommended in the above can be taken into consideration.