7 Best Team Collaboration Software
Team collaboration software helps multiple users to work together and stay connected on business or company's projects from anywhere on just a connected device. With the help of team collaboration software,group members can make the workspaces that are accessible and viewable to all other team mates,irrespective of their location. It has myriad interactions and communication mediums that include instant messaging,shared calendaring,emails,video conferencing and notifications that are built directly or integrated with each other.
Team collaboration software assists employees to keep a track of tasks and projects irrespective of the company's content and size. Team collaboration software gives a method to streamline interactions and the sophisticated choices make it possible to preserve all files and tasks to do,giving one-stop solution for tracking and managing the progress of complex projects.
Part 1. Why Enterprises Need Team Collaboration Software?
There are countless benefits and features of using software for team collaboration. We will list some of them here why enterprises should use this software.#Calendar integration: You don't have to manually input meetings,to-dos,deadlines or tasks,so you will face no confusion,errors or conflicts.#Remote file access: file storage makes the working from the road or home very simple,with the power of opening a file,anytime,anywhere.#Screen sharing: whether use it for online presentations or training,the ability to see someone's desktop from anywhere saves time and money.
Part 2. 7 Best Team Collaboration Software
We present you with seven best team collaboration software which can benefit your business or organization.
1. Scoro
Scoro is one of the most comprehensive team collaboration software that you can find. It has functions for almost everything from billing your clients to collaborate to project planning. But there is even more with Scoro - it provides all in this software in which you can manage all your projects,finances,tasks and client base.
Key Features:
• To-do lists,reminders,notifications
• Assign tasks
• Task and project management
• Report on budgets,work and sales performance,etc
• Automatically monthly billing and invoice templates
• Billing and time tracking
Specialty: Scoro is excellent employee management software,together with team collaboration feature with effective billing and project management. This makes it very easy to control your complete company in a single place.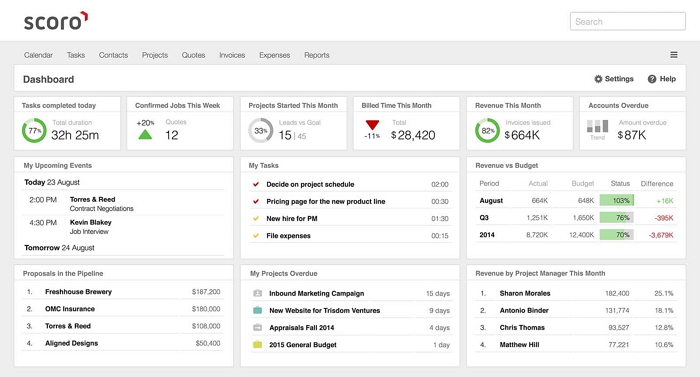 2. ezTalks Meetings
ezTalks Meetings with no doubt is the best team collaboration software. This software breaks borders by helping people to connect from every corner of the world. It gives comprehensive plans and services which are useful to the requirements of any industry or person. People can select a plan that suits their needs.
Key Features
• Work well with windows,MAC,iOS,and Android
• Enable up to 100 participants to collaborate at the same time for free for every 40 mins
• Empower up to 500 participants to collaborate simultaneously with endless time
• Combine HD audio conferencing,HD video conferencing and web conferencing
• Support content and screen sharing,whiteboard sharing,annotation,recording and playback
• Support remote control,user management,reporting
Specialty: ezTalks is the most popular software for team collaboration and they offer their services for free in starter plan. You can connect with up to 99 participants at a time. You get uninterrupted service and this gives you the ability to be more productive.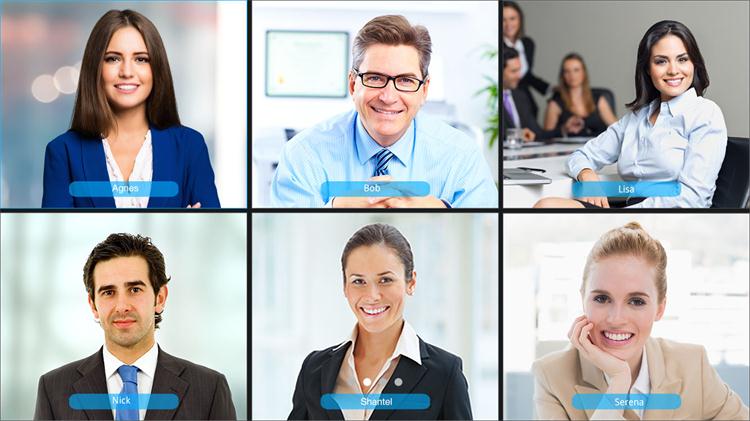 3. Slack
Slack is excellent team collaboration software for groups who wants to stay in contact all the time. By setting up notifications and making slack channels,you can increase your team's productivity. You will get a better and complete overview of your entire project and tasks.
Key Features:
• Set up reminders
• Team chats and communications
• Integrate with Dropbox and Google Drive to transfer files
Specialty: With chatting features,it also has shortcuts which help increase the productivity of your team.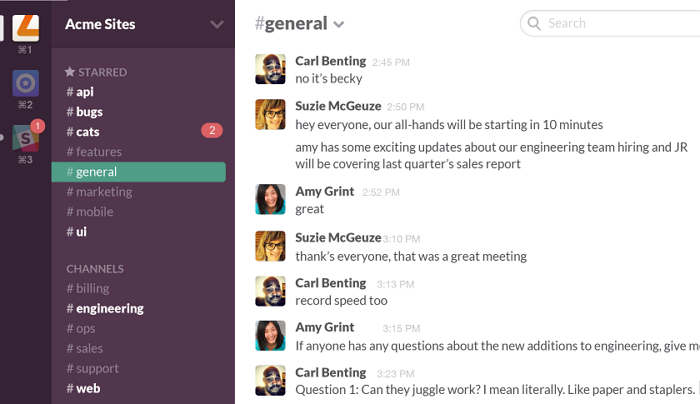 4. WebEx Meeting Center
You can stay productive and collaborate anytime,anywhere on any device or video system with WebEx. This collaboration software for team helps you with integrated audio,make fast decisions,do content and video sharing,save money and time.
Key Features:
• Easy to connect with any video system
• Accelerate your business processes and improve productivity
• Collaborate in video and audio all at one conference
• Share entire screen,application and documents
Specialty: WebEx is said to be one of the best team collaborative software as it allows you to assemble workflow which work best for the team. It is very simple to use and connect just like a text editor.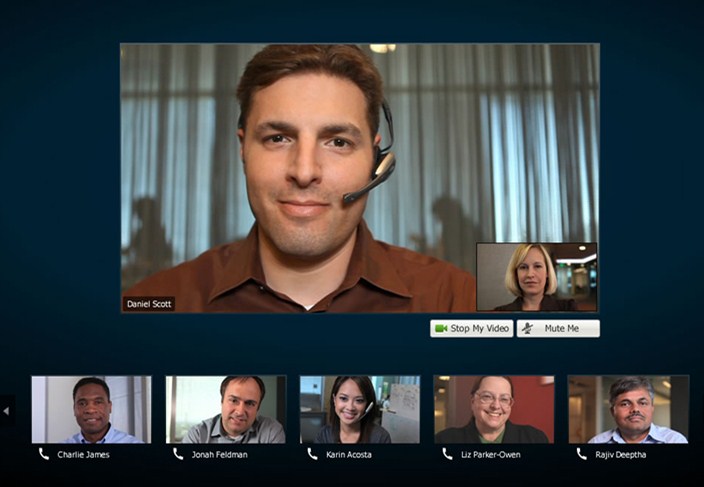 5. Fleep
Fleep is very popular next-generation messenger that is built for best project collaboration,scheduling tasks,and chatting with group members,etc. If you are frustrated with the countless email interactions that take so many hours to complete,you should definitely try Fleep.
Key Features:
• Integration with Hangouts
• Chat with partners and group members
• Pin messages to each conversation
• Share files with Google hangouts
Specialty: Fleep gives a channel for easy team collaboration through email,Fleep and Hangouts. You don't have to leave it to send your messages to other people.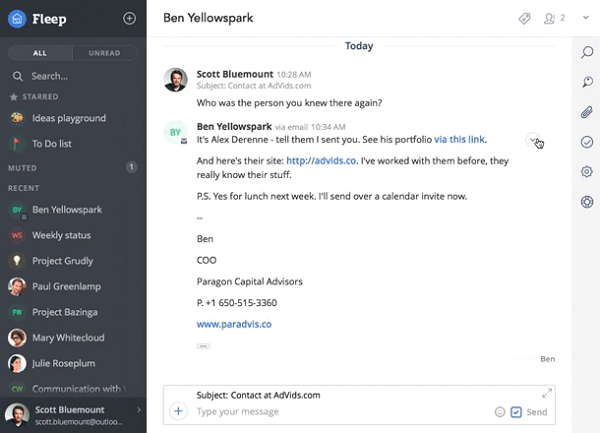 6. Evernote Business
This team collaboration software is quite similar to the note taking application. It makes it easy to share your thoughts with a huge team. It looks like a large online whiteboard which lets everyone to share their knowledge and ideas.
Key Features:
• Presentation mode
• Collect,share and save documents
• Search into word documents and PDFs without even opening them
• Idea boards
Specialty: Evernote Business lets each group member to share their ideas in just few seconds. After that the complete team can evaluate on all topics by utilizing the presentation mode.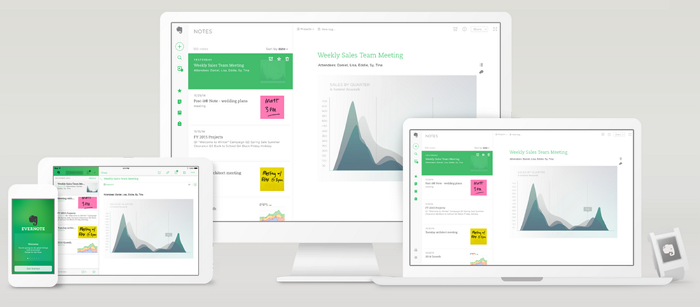 7. ProofHub
This team collaboration software makes it very easy to discuss and share ideas with the entire team. It serves like simple yet useful business management software with work management functions.
Key Features:
• Save and share files
• Track and report projects
• Online group discussions
Specialty: ProofHub is very easy to utilize and enhance the way your team collaborates. You can get used to it in just one day.
Part 3. Conclusion
The excellent team collaboration software provides you an edge all through the complete life cycle of the task,from strategy to planning to implementation and last follow up. You can select ezTalks Meetings as your team collaboration software as it cuts down many problems like inconvenience communication,scattered team member,business travel expenses and more. You can eliminate almost every problem linked with conferences and meetings,and provides the chance for effective partnership and productivity for your team.