How to Create A Collaborative Work Environment
Though, to some extent it can be true that a CEO plays a great role in achieving the goals of an organization by executing the plans and orders but is that all that can improve the performance of the management. While executing a plan implementation of strategies, enforcement of rules and regulations and discipline in the workforces can be important but only to some extent. The thing that is most important in this situation is to create an environment in the workplace that can help in bringing out the best talent of the employees to improve their productivity and performance. So instead of only enforcing restrictions and guidelines the executives should focus on developing a collaborative work environment to improve the performance of the company. But before knowing how to create a collaborative work environment you must know what is collaborative work environment?
What Is Collaborative Work Environment?
Collaborative work environment can be defined as an environment in the workplace in which two or more people or groups of people can work together to achieve the same goal like a team. Though it can be a high level teamwork but it is not necessary that the participating parties meet physically to complete the task. In today's technologically advanced world several team collaboration software options like ezTalks Cloud Meeting etc. are available that can help the collaborating members of a team to share their ideas and thoughts on the same matter face-to-face, even without meeting with each other physically.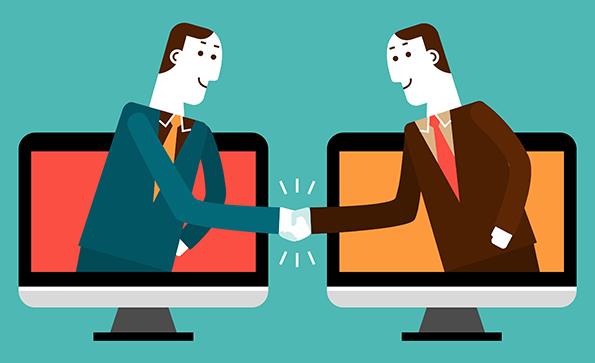 How to Create A Collaborative Work Environment?
In today's global working conditions many companies are diversifying their workforces at different location, even in other countries, to expand their business at international level. In such condition it is necessary to establish communication between them to develop a collaborative work environment, even without compelling them to move from their place. It has become easier with the help of many communication and collaboration tools available online. But you can use them successfully only if you know how to create collaborative work environment by using them. Some tips are provided here under to help you in this regard.
1. Every participant should work on the same lines:
It is very important tip to create a successful collaborative work environment as all of you have to work to achieve the same goal. If all the participants are working on different projects then how the task can be completed. As a leader or member of the remotely placed teams you will have to set long and short term goals and discuss the ways to achieve them by assigning responsibilities to everyone in the team with the help of web conferencing software like ezTalks Cloud Meeting etc. It will help in completing the task within the timeframe effectively.
2. Set your anticipations:
By setting your targets each member of your team will know what he/she has to do to achieve the set target. They should know the amount of time expected from them to spend to work with other team members and the kind of support and resources they can get to achieve their goal. Similarly, the leader of the team should create a strategic plan to inform each member of his team about his/her goal for improving the business of the company. The expectation of each member should match with other members so that they can work together harmoniously to complete the task by focusing on all of its important aspects. While creating a collaborative work environment among remotely placed team members reporting is very important to update everyone including the head of the team and other members so that everyone can show a balanced progress.
3. No one should hide things:
If any member is facing some problem in executing the plan then he/she must discuss it with other team members instead of holding back as it can obstruct the instinct of team collaboration. A problem can be dealt immediately if you discuss it openly with your team.
4. Organize useful meetings:
Most of the times teams organize virtual meetings which is merely waste of time as people usually discuss their personal lives in such meetings. You must have some motive to call a meeting and you should inform about it to your participants so that they come prepared for it. By discussing the important things in a set timeframe you can make your meeting fruitful without wasting time.
5. Use efficient tools:
For creating a collaborative work environment between the members of a team working on the same project successfully you must use efficient tools like ezTalks Cloud Meeting etc. You can use such platforms not only for collaborating with each other on the same project but also use its other features like whiteboard and video conferencing tools to share your presentations and ideas with each other. It also allows the team head to control as well as record the proceedings of the meeting so that they can be used in future for analysis or as reference.
Conclusion Thus, by using effective collaborative tools, a CEO can easily create collaborative work environment in his workplace.