The Three Best 4K Video Conferencing Camera
Video conferencing cameras are innovative devices designed for use in video conferencing sessions. The devices offer the ability to connect a conference of people to a single user or several users on the other end. A 4K video conferencing camera enables professional-grade streaming,recording,broadcasting,and video conferencing. The following are the three best 4K video conferencing camera: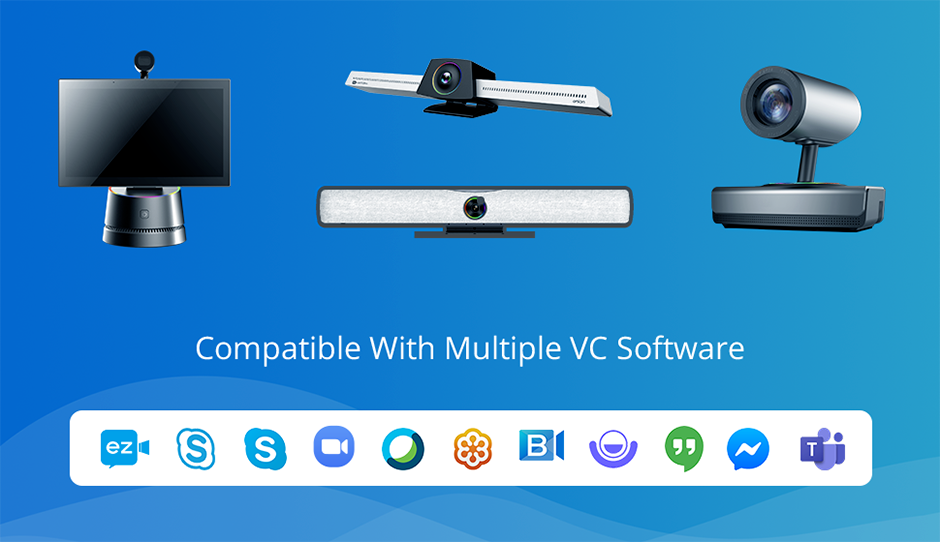 ezTalks Hardware
Supports Multiple VC AppsezTalks all-in-one video conferencing devices work with most popular VC apps like ezTalks,Skype for Business,Skype,Zoom,WebEx,GoToMeeting,BlueJeans,Lifesize,Google Hangouts,Facebook Messenger,Microsoft Teams and more as you require.Request A Demo1.ezTalksMeet XezTalksMeet X is a cutting-edge 4k video conferencing camera that is designed for use in medium and large meeting spaces.ezTalksis a one-stop developer of innovative and must-have video conferencing solutions. The device belongs to the ezTalks series of conference room solutions integrates a 1080P PTZ Camera,high-quality CMOS Sensor,and software to deliver superior image quality. The high definition camera supports flexible rotation and has a powerful lens that captures details even in large spaces.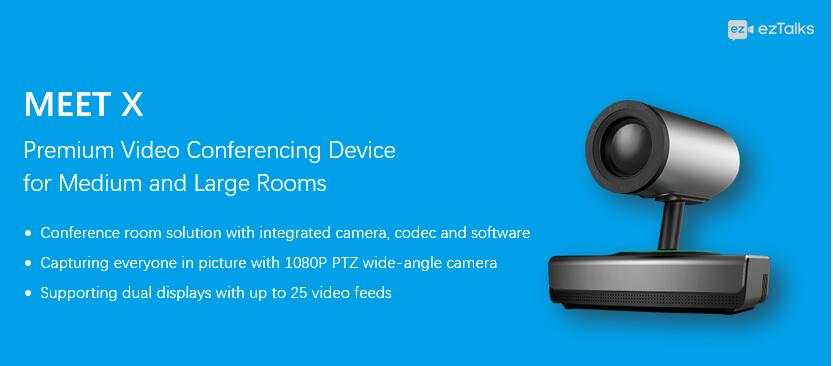 Meet X is also renowned for its powerful processingability asit hasabuilt-in codec which supports hardware encoding,software decoding,and hardware coding. These features deliver a smooth video conferencing experience.Meet X supports dual display to suit different presentation needs. For instance,you can set one display for in-room presentation and the other display for engaging video participants in the online meeting.ezTalksfeatures multiple functions including online whiteboard,live webinar,screen/file sharing,cloud recording & storage,control & management which help to make effective communication.Prosa. It'svery easy to install and use.b. It delivers exceptional performance.c. Has a dual display that enables flexible meeting presentation.d. It is an open source platform that allows users to install their preferred video conferencing software including ezTalks,Microsoft Teams and more as required.The camera is entirely easy to set up as it does not require cables connection or software downloads. Furthermore,the software is very aesthetic in its design hence setting up a meeting is easy and convenient.2. Lifesize Icon 700The Lifesize Icon 700 is a premium and technologically advanced 4K end-to-end video conferencing camera that provides full motion video sharing capabilities. The Lifesize Icon 700 delivers outstanding image & audio quality,HD content sharing capabilities,rich camera optics,and a 20X zoom functionality to create the ideal conferencing experience. The Lifesize Icon 700 features a cloud-first-design which guarantees a seamless integration into Lifesize's cloud service. This camera provides amazing communication and collaboration in conference rooms,meeting rooms,boardrooms,and general-purpose rooms.Prosa. Icon 700 comes with ultra-wideband Opus audio; a feature that produces excellent audio and optimizes human speech.b. It offers high definition video and it's easy to set up and configure.c. It's very user-friendly.d. It produces exceptionally sharp and crystal-clear images.ConsSome previous users of the Lifesize Icon 700 claim that this camera is a bit difficult to use especially for first-time users. Some of them have also claimed that the package is a little bit too pricey.3. Logitech 4k video conferencing cameraThe Logitech 4k is a good choice if you need a video conferencing camera with premium features and latest technology. The following are the key advantages of Logitech 4k video conferencing camera:a. Delivers 4k Ultra HDb. Brings out the best of you in any lightc. Comes with facial recognition software that supports automatic logind. It allows the user to control the visual environmentWith its multiple mounting options,you can mount your Logitech 4k video conferencing camera wherever it works best.Despite the superior features of the Logitech 4K video conferencing camera,it has a few drawbacks. For instance,the clip doesn't hold tightly to monitors and laptops. Besides,the privacy cover is not of the best quality.Overall,theezTalksMeet X,Lifesize Icon 700,and the Logitech 4K video conferencing cameraareindeed the most technologically advanced 4k video conferencing cameras in the market. These cameras are recommended for those looking for a high-quality video with stunning resolution,color,frame rate,and detail for video conferencing. These premium cameras also offer advanced optics,HDR,superior low-light performance,outstanding clarity,premium design,and advanced security features.