How to Set Up Video Conferencing Equipment
Introduction
The development of video-conferencing facilities has been a game-changer for companies across the world. Video conferencing allows workforces to be bound into a tightly knitted team even if they live across different continents. Real-time meetings allow for information to be disseminated once to a whole team of telecommuting workers,saving much valuable time.
But what types of video conferencing equipment are available to companies and how to set up video conferencing equipment may be the issue. This guide offers advice on two market leading systems,as well as providing a detailed explanation as to how to set up video conferencing equipment using two types of video conferencing equipment.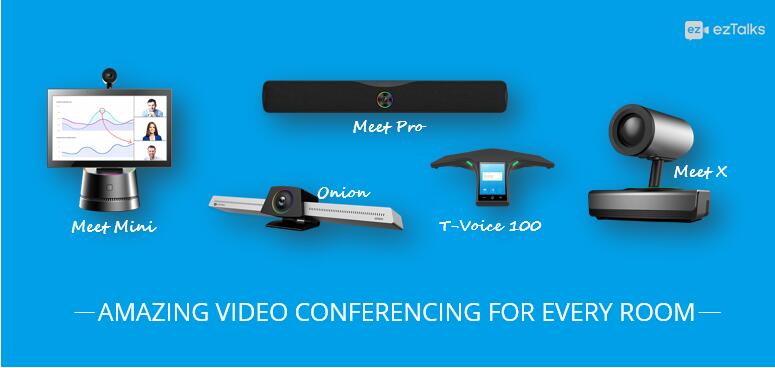 Set Up of the ezTalks Meet MINI,THE ALL-IN-ONE VIDEO CONFERENCING DEVICE
The ezTalks Meet Mini is the portable all-in-one video conferencing device that integrated with all components that available on the market today. This elaborately designed device provides professional,high-quality video conference sessions,with microphones,speakers,camera,displays,codecs,Wi-Fi and software provided in an integrated package at an impressive price. The set-up process is quite easy due to the all-in-one design.
All-in-one Design Means ezTalks Meets MINI Simplicity
The ezTalks Meet Mini video conferencing offer does not require a search of video conferencing equipment wiki in order to quickly set up. The compact package of video conferencing devices makes this a solution that will define video conferencing equipment for the years to come.
With everything being integrated there is little to do an enable this system than plug in and play! The real selling point of ezTalks Meet Mini video conferencing system is its portability,there is no requirement to have a boardroom in order to use this system,ideal for use in dynamic businesses that require fluid software solutions.
The installation process can be divided into three easy steps. Firstly,take out the device from the box; Secondly,connect the power cable; Thirdly,power on the device and sign in to the ezTalks software to start the meeting as you want.
The set-up process is quite simple and unique that IT admins are not necessarily required in the setting up process.
This device is manufactured by the ezTalks company and their conference room solutions are quite simple and affordable and intelligent. No complicated process nor numerous items needed! Just one device and your configuration is done. The easy setting up and configuration of video conferencing equipment requirements seems to become the trend as increasing devices coming on from the market even from the traditional names like Logitech Meetup,Highfive all in one video conferencing equipment,ezTalks Onion etc.
Set Up Of The Polycom Realpresence System
The Polycom Realpresence teleconferencing system offers HD quality video connections for all of your remote working communication requirements. With HD video being both sent and received via this system.
In order to ensure the highest quality results when using this system many Polycom branded add-ons are required. But what are the best ways in which Polycom equipment for video conferencing can be set-up in order to deliver high quality feed at all times?
Polycom Realpresence Media Set-up
Setting up Polycom Realpresence equipment for video conferencing is the complete the set-up of a microphone and optional surround sound systems. A microphone and a speaker needs to be configured in order for sound to be sent and received.
The Polycom StereoSurround kit can be attached at this point in order to provide stereo style sound on all incoming video. Microphones and speakers should be appropriately positioned within the meeting room towards the left and right of users,to ensure the correct sound output is received. An angle of 600 from the center of the conference table id recommended for the best results.
Connecting a Polycom Realpresence Touch Monitor
Video conferencing equipment requirements may necessitate the addition of a Realpresence touch monitor. This allows information to be annotated by a video conference participant to allow for complex information to be better explained or to make impromptu brainstormed ideas accessible to all users.
If the system is initially set-up via a touch monitor then touch operations can be used to control the primary interface with users. The connection of a Polycom SoundStation IP7000 conference phone provides users with additional capability,with the phone system being used as either a microphone or as a speaker when used in audio only conference calls.
Connecting Your Polycom Realpresence Device Via Setup Wizard
When you initially power on your Polycom Realpresence video conference system the hosting IP address will be automatically took through the initial configuration process.
System software can be installed either in the conference room itself by using the remote control feature or installed remotely if you know the required IP address of the hosting location.
Conclusion
The Polycom Realpresence video conference system is a very good solution to multisite communications problems that are regularly created in today's global workplace. But the necessity to purchase and install numerous Polycom branded items to ensure that the system works to its maximum capability is a slight negative.
On the other what is their not to like about the ezTalks MINI Conferencing Device,with the compact all-in-one design being suitable for use in any office and the integrated battery system allowing for its use anywhere in the world,this package is suitable for a vast number of SMEs. The ezTalks MINI All-in-One Video Conferencing Device certainly gets my vote and is available for pre-order now.