How to Make a PowerPoint Presentation Online through ezTalks Meetings
Video conferencing software provide a convenient way for businesses to make powerful presentations online and share files with a large number of participants. With a reliable cloud meeting software, you can make a PowerPoint presentation online quite effortlessly. The PowerPoint application allows users to create digital slides with text, images, graphs and other tools of information. When making online presentation over a video conferencing software, you can share PPT files in real-time with all attendees to help make you point clear. All you need to do is find the screen sharing button and make use of the application sharing option.
What's the Importance of Making A PowerPoint Presentation Online?
When making a business or educational presentation over a video conference, it's always important to use certain tools that will make participants understand your point clearly. Lucky enough, the latest video conferencing software come with screen sharing options that can allow you to share number applications. Some of the files and applications you can share online during a presentation include PDF, Word, Excel, PowerPoint, Text, Images and more. When training new employees or teaching a class, PowerPoint can be the best tool to use. With customizable digital slides, you can create relevant text, images and graphical statistics to help make your presentation more practical.
In essence, an online PowerPoint presentation has the following benefits:
-Relays information in a concise manner using digital slides
-Allows attendees to get on the same page with the presenter
-Provides a platform where digital slides can be sent to attendees instantly or in real-time
-Allows participants to save files or record information given on slides for later review
ezTalks Meetings: A Powerful Online Software for Making PowerPoint Presentation
ezTalks Meetings is one of the most reliable video conferencing software that allows its users to make PowerPoint presentation online easier. You might be asking yourself a lot of questions. Where can I make a PowerPoint presentation online for free? Or how can I make a free PowerPoint presentation online? Well, ezTalks Meetings simplifies the whole concept of sharing applications such as PowerPoint, video and photos by offering cheaper and more convenient options.
ezTalks Meetings Free Plan gives a video conference presenter the opportunity of hosting up to 100 participants per meeting for free. That's made possible through live broadcasting via a browser. While making a presentation online, you can instantly share relevant applications through the screen sharing feature on the ezTalks Meetings menu. This way, you can make a free PowerPoint presentation online while reaching out live to a huge number of participants.
Alongside that, ezTalks Meetings allows you to enjoy the following:
-Unlimited cyclical meetings;
-Full screen view of presentations and applications;
-PowerPoint presentation recordings and playback;
-Co-annotation on shared screen or application;
-Interactive whiteboard.
How to Make a PowerPoint Presentation Online through ezTalks Meetings
ezTalks provides a range of solutions that can be used for video conferencing. A business can choose to use video conferencing hardware, video conferencing software or a combination of both to make a presentation. Each of the solutions comes with its benefits and setbacks but the online video conferencing software tends to be more reliable, flexible and cost-effective.
When making a PowerPoint presentation over the internet, ezTalks Meetings software can be the best way to go. It offers you multi-functional features that will allow you to simplify your presentation online. So how do you make a PowerPoint presentation using ezTalks Meetings? We'll take you through a step-by-step guide to help you get started. If you are interested in it, you can click here to free download and try it for free.

Step 1: Download and Launch the ezTalks Meetings Software
For you to be able to host a meeting online and invite participants, you need to first to download and launch the ezTalks Meetings software on your Windows or Mac computer. If it's the first time you're using the software, you'll need to create an ezTalks account by clicking on the Sign Up button on the lower right corner of the software you downloaded. If you're already registered, you can proceed to login using your ezTalks account, Google and/or Facebook account.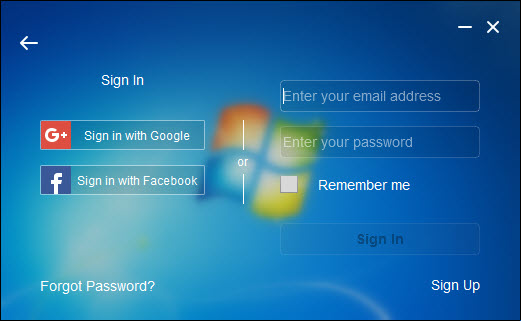 Step 2: Invite Participants to Join In the Meeting for a Presentation
Now that you're logged in, you need to find the Start Meeting button which will allow you to enter into a virtual meeting room. Check whether the webcam and microphone are working properly. Then proceed to invite the attendees to join the meeting by sharing your room ID or sending them e-mails. Once they accept your invitation, you can go ahead and start making your presentation.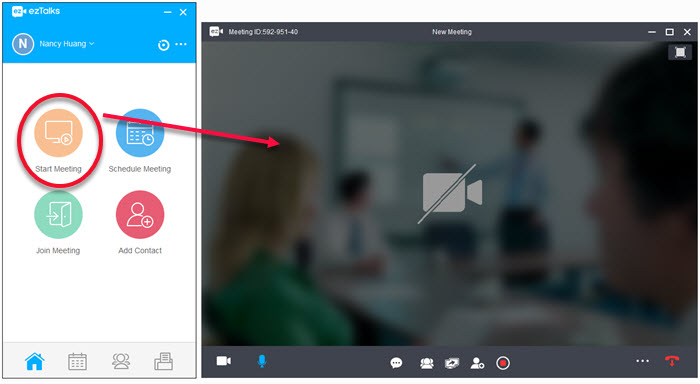 Step 3: Use the Screen Sharing Feature to Make A PPT Presentation Online
As you proceed with the meeting, you can use screen sharing button to share applications and files to make the presentation worthwhile. With this feature, you can share PowerPoint application where all attendees will be able to view digital slides in real time.
Simply click on the Share Desktop button and choose PowerPoint, the application will appear on each of the participant's screen. That way, you can go ahead to explain your point or trigger further discussion.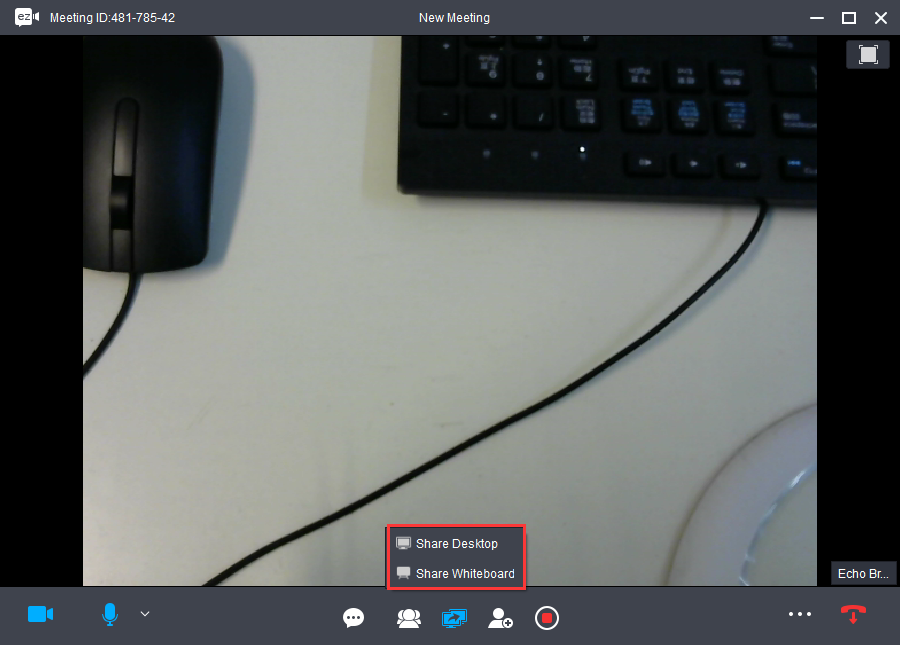 Step 4: Use Other Designated Buttons to Pause, Stop and/Restart the PPT presentation
While making a presentation you can pause and restart the screen sharing to allow for annotation and discussion before resuming. You can also exit the screen sharing feature by clicking on Stop button when you've ended your PPT presentation. The stop, pause, share screen and annotate buttons will be available on your screen to help you execute a given command.
Conclusion
As you can see making a PPT presentation online is way easier than you thought. With ezTalks Meetings software, it's more convenient to share applications like PowerPoint over an online video conference for others to view digital files. You don't need a lot of resources to make PowerPoint presentation online. The ezTalks Meetings' free plan can allow you to host up to 100 participants at once for free and have them view your presentation in real-time. This plan also includes instant screen sharing option, which allows participants to be at par with the presenter. ezTalks is simply packed with all the features you need to make a sales presentation, carry out employee training or host an entrepreneurship webinar presentation . If you would want to enjoy even more advanced or premium features, you can upgrade to the ezTalks Meetings' paid plan that starts at $12.99 per host per month and accommodates up to 500 participants.