The Pros and Cons of Online Education
The concept of online education is becoming more and more popular each day. With the advances and improvement in technology, online education is now more accessible and considered by many a better option than the traditional universities and colleges. However, just like anything else, there are pros and cons of online education as well, and it is very important for you to be aware of them if you too plan to get enrolled in an online institution.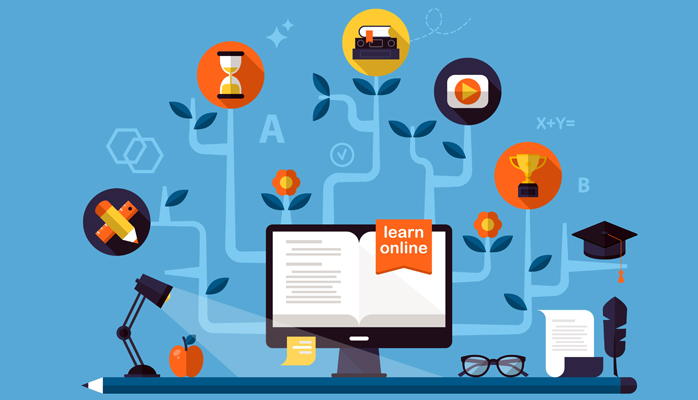 Online Education Pros and Cons Are As Follows:
Pros of Online Education:
1. Flexibility of Time
Online education offers the benefit of convenience as students can choose to study at the hours they find most comfortable. Yes, you certainly have deadlines to meet as far as discussion and homework are concerned, but if you can manage to meet these deadlines then there is nothing you need to worry about. If you are free during the morning, you can study then, or if you find more free time at night, you can go through your course material at that time. This can prove to be very beneficial for those who plan to study while still continuing with their job.
2. Many Options
With online education becoming so popular, more and more online institutions are being established every year. So, for anyone who wants to continue their education online they have lots of options. There are so many universities you can choose from. You just need to visit their website, learn how popular they are, find if they offer the course you are interested in, and if all seem okay, you can join that institution. You can directly watch their courses by visiting some online teaching platforms. 
3. 24/7 Availability
If you join a traditional institution then they have fixed school/college hours and you need to attend your classes at those fixed hours. However, online education offers you the freedom to visit your institution whenever you want to, go through the written lectures available, and you can again go and read the lectures whenever you want to revise them. In a traditional school, teachers will give their lectures during the fixed hours, and you will have to write them down if you want to go through them again.
4. Choose Any Institution, Anywhere
If you want to get enrolled in an institution out of your city/country then you will have to think about the extra costs, the price of the air tickets, the costs of a hostel, and the expenses of staying there. All this will add up and prove to be very expensive. However, online education gives you the flexibility to choose the institution of your choice, no matter in which part of the world it may be, and still you will not have to worry about any extra expenses as you will be studying online.
5. No Travel Time Wasted
This is a great pros of online education. Even if you choose to study in some college within your city, you will need to spend a few minutes to maybe a couple hours to reach there. The time that gets wasted in traveling can be used to do something more worthwhile, like studying or completing your homework, and this is what becomes possible if you choose online education.
6. Perfect Presentation
Most online courses make use of different types of media like DVD/CD's, a webcam, and video conferencing software like ezTalks Meetings to teach lessons to their students in a perfect way, and also help them complete their homework when needed. Now, more and more schools use video conferencing in education for better online teaching and studying.
7. Different Types of Courses Offered
Online education is almost similar to the education offered at the brick-and-mortar institutions. The courses that you can apply for at the traditional schools are also available at the online institutions. So, no matter what kind of degree you want to pursue, online institutions allows you the opportunity to fulfill your dreams.
Cons of Online Education:
1. Lack of Self-discipline Can Create Problems
It is very important for students who take up online courses to be self-disciplined and manage their time well. It is true that you need not attend your classes at any set time, and will just have to complete the coursework, but if you keep procrastinating then it will only pile up the assignments and then make it difficult for you to complete it on time.
2. Lack of Social Interaction
Traditional schools allow you to interact with other students and professors, helps create a good bond, and thus helps your learn to socialize. However, online education can deprive you of such opportunities. Interacting with others can not only help you find good friends but maybe also future business partners, particularly if you are getting enrolled for some business course.
3. Lack of Accreditation
This is perhaps the biggest problem with online education. There are many such online institutions that are not accredited, which mean the qualification or degree you earn from such institution may be of no value to your potential employers. If you are completing your education just to get a good job, then find out if your future employer will accept the degree offered by an online institution or else all your efforts will go in vain.
4. Frauds Are Prevalent
There are many, many online institutions, which is good, but this can also prove to be disadvantageous. Many such institutions have emerged only to fool people and make money. If you are not careful, and just join an institution just because it offers the kind of course you want, and has nominal fees, you can be duped. Either they may not start the course at all, or problems like not enough course material, the absence of teachers, etc. may emerge. So, be very, very careful while selecting an institution.
So, these are some of the advantages and disadvantages of online education. What you need to know is not all online schools are equally good, but this also does not mean none are worth it. There, in fact, are some online schools that offer distant learning courses, on the completion of which you indeed can land up getting your dream job. If you want to complete your education online, you just need to be very careful, select an institution wisely, and then you will not have to face any hurdles whatsoever.