How to Buy the Right Video Conferencing Equipment for Your Company
In recent years, the concept of Virtual Offices has been adopted which provides for a setup to allow the business owners and the employees to work from any location in the work as long as they have a laptop and internet access. Virtual offices remove the need for an expensive office space for small businesses since the virtual offices only exist in cyberspace.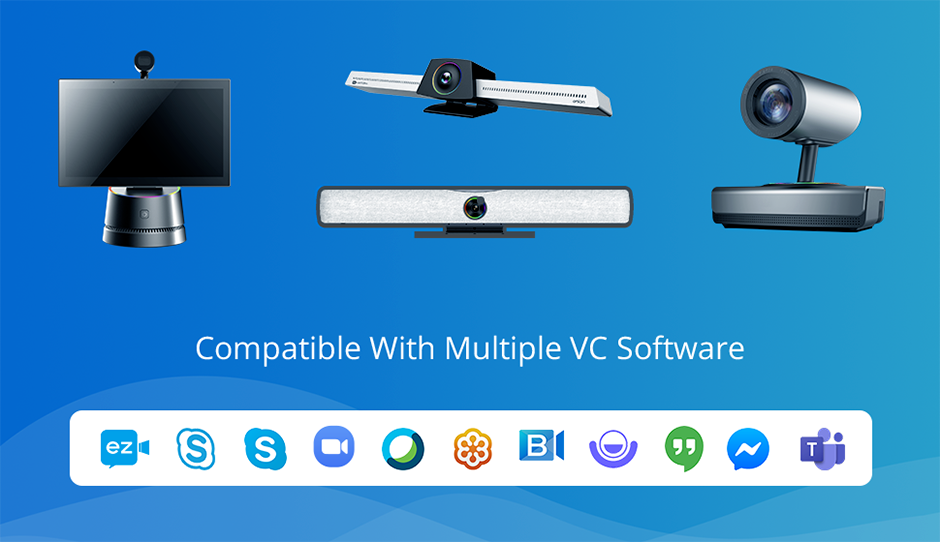 ezTalks Hardware
Supports Multiple VC Apps
ezTalks all-in-one video conferencing devices work with most popular VC apps like ezTalks, Skype for Business, Skype, Zoom, WebEx, GoToMeeting, BlueJeans, Lifesize, Google Hangouts, Facebook Messenger, Microsoft Teams and more as you require.
Request A Demo
While consumer services such as ezTalks, Google Hangout or Microsoft's Skype provide different kinds of video conferencing equipment to meet your needs.  Among those options, ezTalks performs the best. ezTalks offers all-in-one video conferencing devices that compatible with most popular VC apps like ezTalks, Skype for Business, Skype, Zoom, WebEx, GoToMeeting, BlueJeans, Lifesize, Google Hangouts, Facebook Messenger, Microsoft Teams and more as required.
Meet Mini
Meet Mini is a portable all-in-one video conferencing device for focus rooms which can accommodate 1 to 3 people. It is integrated with everything you need for video communication including an 11.6" touch screen, 1080P wide-angle HD camera, coder, microphone, speaker with advanced voice-tracking technology , WiFi, built-in battery and software. As for the software pre-installed in separate device, you can share a screen, share a whiteboard, record a meeting, conduct a poll and etc. It also supports simultaneous display in dual screen. All these show you an outstanding meeting experience.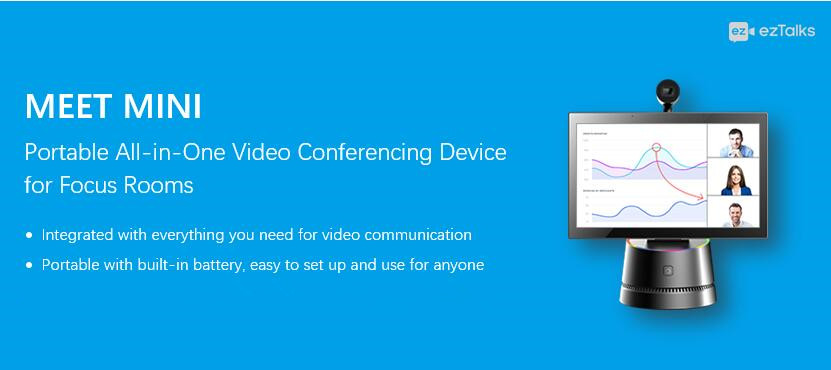 Meet S
Meet S is previously named Onion, which is ideal for huddle rooms with 1 to 6 people. Its all-in-one design ensures the easy and convenient installation process. The combination of 1080P camera with 120 field-of-view and dual microphones aims to deliver HD video & audio meeting experience. You can flexibly control it with your mobile devices of Mac, Windows, Android and iOS systems.

Meet Pro
Meet Pro comes to cater to the needs of small and huddle rooms with up to 12 people. It is a device equipped with digital pan, tilt, and zoom (ePTZ) control, and 4K sensor with HDR video capture. It ensures that everyone can hear and be heard in the room because of the 5-meter sound pick up range and excellent Hi-Fi speakers. With its all-in-one design with HD camera, speaker, microphone, codecs and software, Meet Pro can be deployed and used within a minute.
Meet X
Meet X is a premium video conferencing device for medium and large rooms with up to 20 people. It is a premium medium conference room solution with integrated a 1080P PTZ wide-angle camera, codec with powerful processing ability and software. The most attractive thing is that it can support dual displays with up to 25 video feeds.

With the boom in premium quality technology, clients can buy video conferencing equipment at the most affordable prices, which provides all the needed high end features.
Here are 4 tips for you to buy the best video conferencing equipment:
Room for Scalability:
Most of the organizations start off as small businesses that generally have one on one meetings with the clients or employees and work well with low budget, affordable video conferencing equipment. Even most of the small business video conferencing equipment provides most of the high end features for high definition and clarity video and audio services. However, as the business begins to grow, it holds more group meetings and collaborations that involve more people to be included.
In such cases, the equipment should provide room to grow to allow people to connect from different locations or devices. The business video conferencing equipment should be selected depending on the future goals and a small investment needs to be made to buy the ideal equipment for a growing business.
Quality of the Streaming:
For companies dealing with business negotiations and training staff in remote regions, high definition streaming equipment that premium audio and video clarity is needed to meet professional expectations. High definition data streaming which connects multiple people can consume a large bandwidth and appropriate data streaming services need to be enforced to handle the large data consumption since video streaming can utilize data from 64kbps speed up to 12 Mbps or more when connected with multiple locations.
In order to ensure that the video and the audio quality remains high, the right data service with available bandwidth needs to be activated. It does not matter how small the business is; it needs high tech business video conferencing equipment to provide quality services to the clientele.
Compatibility with Multiple Devices:
The equipment should be compatible with most of the operating systems and devices it gets connected to and also to new devices that might be invested in in the future. A hardware that only connects to devices that are manufactured by the host company will not provide scalability and only serves to limit the progress of the company. The equipment should be compatible with most of the end points which include hardware and software used to stream the conference.
Security Features:
Since most small businesses aim to lower their expenses, corners could be cut in order to toe the budget, which could lead to a decline in video streaming quality. Even though services such as Skype and Hangouts provide quality video streaming, Skype limits a video conference to ten users and also, does not provide end to end encryption for calls since they were mainly designed for consumer use. Such calls leave the door wide open for hackers to enter, especially when dealing with sensitive information. A lot of video conferencing equipment provides encrypted end calls and also provide features to save and store the call for future reference.
This is why ezTalks video conferencing equipment is the ideal buy for companies since it meets all the conditions. It offers the best services that are highly flexible, secure and do not require any complicated infrastructure for use, taking video conferencing to a whole new level.