5 Best Virtual Classroom Tools That You Should Consider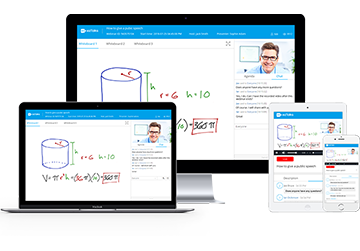 Best Virtual Classroom Tool
Free for up to 100 StudentsFluent HD Video/Audio QualityScreen Sharing and WhiteboardPolls,Survey and RecordingRebranding and Paid CoursesSign Up Free NOWNowadays,many communication toolsallow to not only keep in touch,but also share ideas and express our opinions.More and more schools are adopting virtual communication toolsto enhance their educational experience.For more professional services,virtual classroom tools emerge constantly,making it difficult to choose the right one. We've listed top 5 virtual classroom tools that you may want to consider.
1. ezTalks Webinar
ezTalks Webinartops this virtual classroom tools listas it is easy to use and provides the best virtual classroom services. This classroom tool allows individual teachers and instructors to offer clearlive classesusing its powerful features.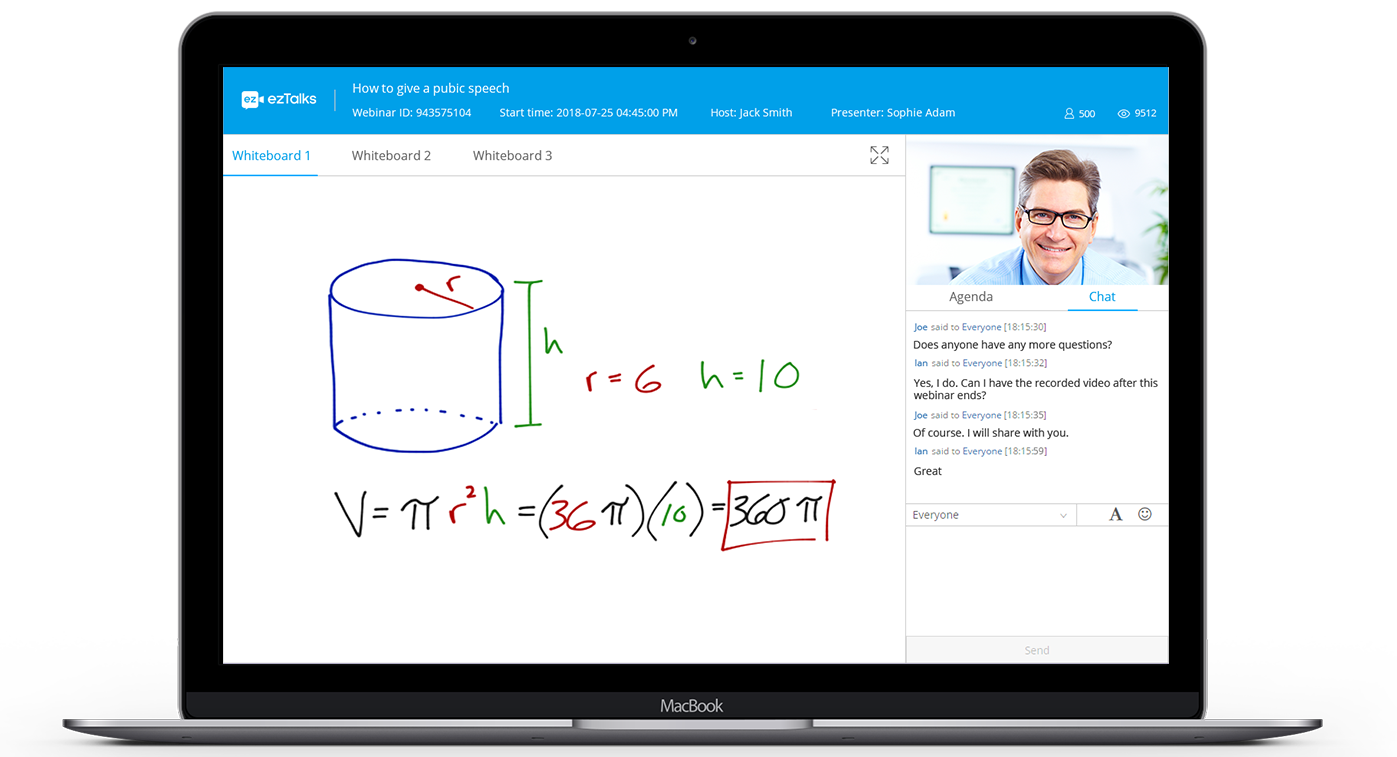 ★Prepare & Invite
a) It is equipped with ascheduling feature that allows you to choose the optimal time for your upcoming classes.
b) It enables you to customize your virtual classroom by adding your logo as well as the background image for students'long-lasting impact and design course agenda by virtue of its template for a more clear introduction.
c) It also enables you to create a custom registrationpage for better understanding of your students' information.
d) PayPal integration makes youset up paid courses quickly and easily.
★ Run & Interact
a) ezTalks Webinar drives to spread your messages using high-quality audio and video.
b) An interactive whiteboardallows to draw and delete illustrations whenever you want.
c)Also known as classroom screen sharing software,it enables to share your desktop to the students remotely.
d) Private conversations ensure confidentialitywhile public instant messages ensure team brainstorming.
e) You can assign polls and surveys on any topic during your class to gather opinions from your students or turn polls & surveys into classroom-like tests.
★ Analyze & Share
a) 1GB free cloud storage is ready for your course recording and you can download,play online or share recordings with anyone formaximizing your course reach andcharm.
b) You can make full use of the reports on class performance,register and learnersto derive useful predictions and improve your next classes.
c) It is possible to send a thank-you page with your course information to show great respect for your students,contributing to a better teacher-student relationship.
This cost-effective and user-friendly virtual classroom tool can support up to 100 interactive students and up to 10,000viewers in one class for free.Don't hesitate to have a try!

2. WizIQ
WizIQ is a feature-rich virtual classroom tool that allows instructors to create and offer courses hassle-free. No wonder it is one of the most popular virtual classroom tools in the market. The tool boasts features that you can find and it is easy to use for both instructors and learners. It features lots of on-demand functions like tests,quizzes,chat,screen sharing,whiteboarding,file sharing,breakout sessions to name a few. This class tool can be accessed through plugin for Moodle and supports Android and iOS. The tool also supports single sign-on and lets educators to plan and manage their classes,record and store sessions,track attendance,and directly edit lots of WizIQ parameters.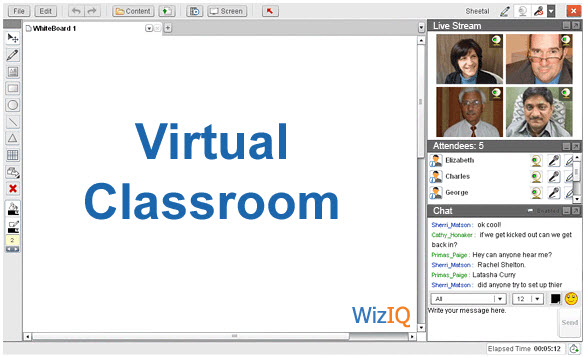 3. eLecta Live
eLecta Live is another virtual classroom tool that has taken the virtual learning arena by storm. The tool allows instructors to create and build online learning classes first and easily. It also allows users to arrange webinars,live classes,group sessions as well as one-to-one sessions. With eLecta Live,you have access to unique online collaboration tools,protected content,fully managed and hosted network as well as unlimited storage for your content. This classroom tool has a special feature which allows instructors to split their class into groups so trainees can collaborate more easily. If you are looking for the tool that lets you create online classes fast and easily,eLecta Live is your great option.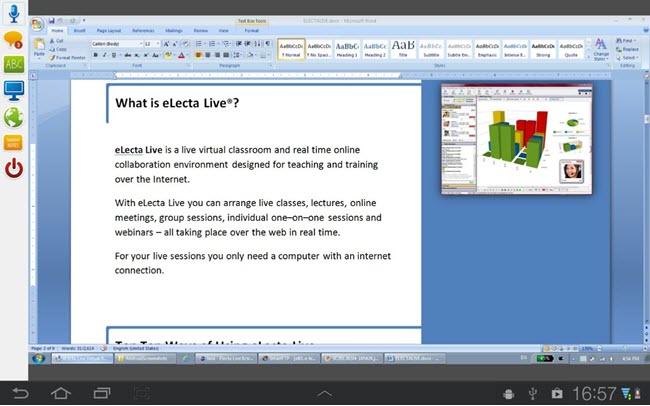 4. Eliademy
Eliademy is another tool for virtual classrooms. It allows to create,manage and share courses online in no time thanks to its one course editing button. It is user friendly,functions well and the customer care team is always there for help. The attractive interface engages teachers and trainees by offering them modern ways of creating courses and inviting students. With Eliademy,you can sync notes,calendar and access learning materials on the Internet,on smartphone and on your tablet. Where Eliademy shines is that it gives users certifications visible in social media. Therefore,if you sell your courses online,Eliademy is your best bet.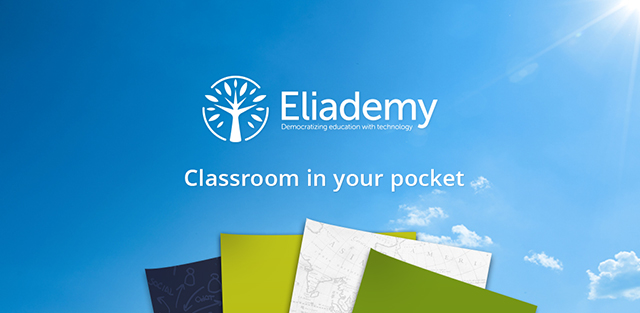 5. BrainCert
BrainCert,also one of the popular class tools,gives you all you need to teach,learn and collaborate online – all under one roof. Real-time collaboration,online testing and courses and powerful reporting and tracking are some of its key features. With BrainCert,instructors can invite their trainees to add and manage test and live courses thanks to its "Teacher accounts". It lives up to its promise of taking online learning to the next step by basing its tool on the 3 core functions – a course creating platform,an online testing system as well as a content management platform. Whether for live classes,online presentations or webinars,BrainCert connects allows students and instructors to connect seamlessly.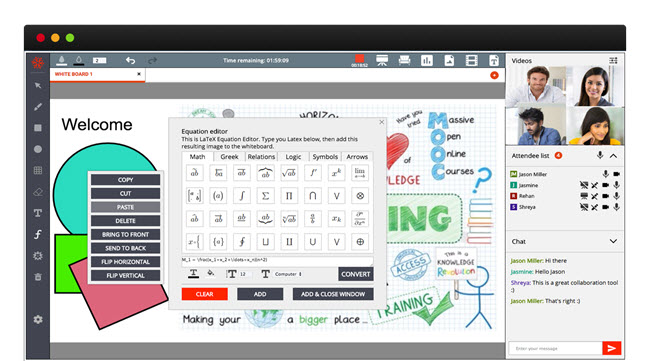 Conclusion
Today,it is easier to take online courses,regardless of where you are. But with hundreds of virtual classroom tools out there,choosing the right one can be difficult. Therefore,it is important to be careful when choosing a suitable one that will meet your needs.