Top 3 Virtual Meeting Room Solutions
A virtual meeting can be regarded as a virtual meeting space. In that space, the meeting organizer invites individuals from different areas to take part in a real-time meeting over the internet. However, in order for these meetings to go on smoothly, virtual meeting room solutions are needed. After reviewing tons of video or web video conferencing service, I have listed the following top solutions for our audience.
ezTalks Room Solution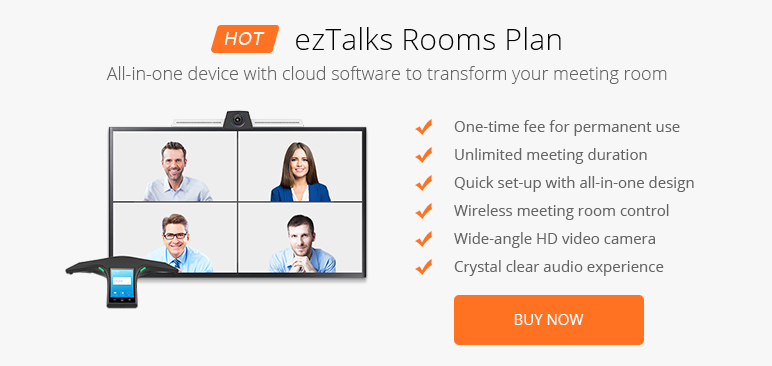 This is one of the leading virtual meeting solutions. Affordable and user-friendly, ezTalks is a preferred choice for many people because of its reliability and amazing features. It has been and is still one of the most used virtual meeting room systems because of the following features:
1. All-in-one Device integrated with cloud software;
2. Unlimited meeting duration;
3. Quick Set-up Process;
4. Wireless Remote control;
5. Full integrated HD Video conferencing;
6. Screen sharing and files sharing allows you to share videos, photos and other relevant documents online while having the meeting;
7. Audio conferencing;
8. Interactive whiteboard, that allows you to use different drawing tools to express your ideas and thoughts during the meeting;
9. Live chat support.
This solution should be considered by anyone looking for virtual meeting solution. It will suit you if you are looking for a room solution with a limited budget. It has the following advantages:
1. Easier retrieval of meeting discussions points;
2. Allow you to share files easily online with other meeting participants;
3. Permits you to join the meeting at any place or time;
4. By using this virtual meeting solution, you won't miss out on important details, since you can simply playback;
5. Provides a frictionless way of joining meetings, since there is no messing with cords, longing for AV help and struggling with instructions;
6. Low maintenance cost with no technician needed;
7. Excellent after-sale support.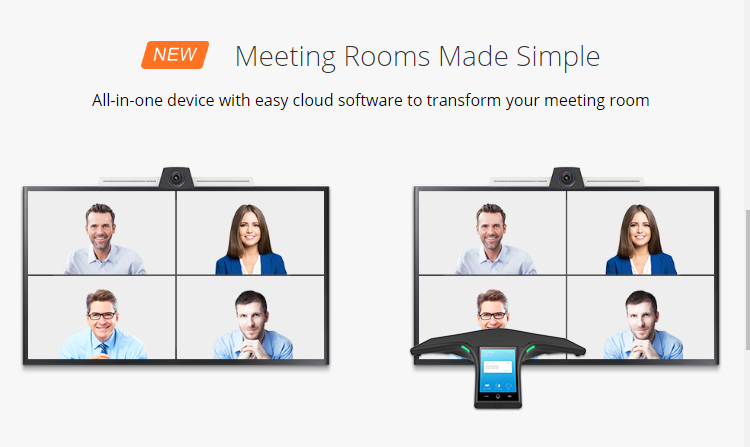 To enjoy the ezTalks room solution, simply click the "BUY NOW" key and complete the process. All the other process are settled by ezTalks team and you will be good to go. By using the required peripheral devices, you will ensure a beneficial virtual meeting.
Zoom Rooms Solution
Zoom Room solutions is one of the virtual conference solutions. It has all features of the original room-based video conferencing system alongside other features that ensure your virtual meeting goes on smoothly. These features include the following:
1. Wireless screen share
2. Increased content sharing options
3. Programmed Audio testing
4. Impartial scheduling display
with the extra benefit of distributing wireless screen share and global audio conferencing. It has the following advantages:
1. Has the ability to reuse present projectors, microphones, webcams and TVs to power your zoom room.
2. It provides wireless screen share so you won't need display cables
3. Introduce high quality but low-cost USB webcams and speak phones in case you lack that technology in your meeting room.
4. Starts instant and scheduled meetings at the click of tablet or iPad
5. You can control global audio conferencing easily
6. Controls the entire meeting
Users can easily enjoy them by following the setup process; Once you have the application installed, use pairing codes to connect your virtual conferencing computers with your zoom controller. Once that is done you will be able to conduct a virtual conference.
GoToMeeting Room Solution
This is another conference meeting room system that I would like to introduce. This system provides high-quality audio and video to your conference rooms. The room solution has the following reliable features:
1. Multi-stream HD technology;
2. Recording of free calls;
3. Meeting applications;
4. Screensharing;
5. Special designed iPhone and Android app;
6. Programmed bandwidth modification;
7. Integrated scheduling;
8. Instant meetings by a single click
With the above feature, your company's virtual meetings will be beneficial. This is due to the following benefits that will be brought on board;
1. Permits easier retrieval of meeting discussions, since the meeting is recorded
2. Allows quick and real-time collaborations among users to easily show the attendants what you are talking about.
3. Allows meeting participants to easily join the meeting proceedings
4. You can instantly start a meeting thus saving time
It is the reliable brand and the set-up process is also user-friendly. Connect the relevant devices for instance, computers, projectors and you will be set for a virtual meeting.
Conclusion
Virtual meetings are with no doubt a viable technological way of holding productive meetings. This is because it involves everyone regardless of their geographical positioning. However, that can only be achieved with an efficient virtual meeting solution. The above-mentioned solutions are all the leading one and users can choose according to their budget and specific requirements. Personally, if you are from a start-up with a limited budget, ezTalks Room Solution is recommended. This because of its exceptional performance drawn from its features and cost-effective with rich functions.