How to Run a Webinar for Free?
A webinar is a presentation that is conducted on the web. It can also be a workshop or a seminar which is transmitted over the web. Webinar comes with the main advantage of the offering, receiving and discussing information in real time, contributing to great convenience. This is the reason why you need to understand how to run a webinar for free.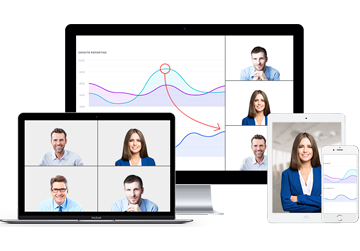 ezTalks - Best Webinar Software
Free for up to 100 Participants
Fluent Group Video/Audio/IM Chat
Screen Sharing and Whiteboard
Webinar Cloud Recording
Webinar Custom Branding
Sign Up Free Now
Daily Circumstances that Require the Use of a Webinar
• Promoting a particular brand
• Staff training
• Conducting a lecture or online course 
• Discussing the ideas on a workshop
• Holding educational conferences
Why Should Conduct a Webinar for Free? 
A careful choice should be made when selecting the best free online webinar platform. This is crucial because it is advisable to hold a webinar for free. Most people find it difficult to hold an online webinar for free because they are not aware of the factors that may prompt them into this decision. Therefore, to equip them with knowledge on why they should consider a decision to hold an online webinar for free, the following points will give a guide.
1. Online webinars can be monetized. Marketing firms may request for posting of ads on the webinar site. The people who have organized the webinar will now earn for every click recorded.
2. A webinar can promote brand awareness of a product. The organizers of a webinar might be executives in a certain company. In case their topic is about the launch of a new product, the online audience can receive this information.
3. If you can achieve the purpose as mentioned above and at the same time, you can hold an online webinar for free, you can save costs and earn more.
How to Run a Webinar for Free?
Hosting a webinar for free can be an easy task ever. This is because it only involves several easy tips on how to hold a webinar free for you and you can schedule the webinar or start the webinar immediately.
1. Build Your Content
The content needs to attract your attendees to ensure maximum engagement. You can conduct relative research via various ways to know what the audience would like. Besides, some of the webinar platforms own both polls & survey and feedback & report features. You can track the interest of a live audience and improve your next webinar. What's more, instant messaging chat and Q&A session are available to the audience in some free video collaboration apps, which gives your audience a chance to communicate and keep engaged. It is also advised to use images, stats, graphs, and other media to bring the information to the audience, instead of mere dense text.
2. Select the Best Free Webinar Platform
The initial step on how to do a webinar for free is to select the best free online webinar platform. Ensure that it has the best online webinar tools that will be utilized during broadcasting of the webinar. With lots of options available to your business, you just need to find one that suits your needs, considering the size of your audience, their requirements, and the user experience.
Features of the best free online webinar platform:
It offers a wide range of free online webinar tools like interactive whiteboard, online screen sharing and other features of interaction.
The best free online webinar hosting service should be capable of running in a variety of devices such as iOS, Windows, iPhone and Android.
The best free online webinar tool should support live recording of the events taking place through the webinar, which gives chance for future reference. 
All these main features facilitate to set up the best free online webinar. But if you would like to do it for free, you should make sure the platform you choose supports these features without spending a cent.
3. Install a Free Webinar App
This can be done by downloading the free webinar hosting platform from the download center or respective official website and then installing it. After installation, you should sign up for the free plan that some kinds of webinar software may provide. Log in and set up your webinar. You can invite your attendees by emailing, links or other means.
4. Create a Good Landing Page
A lot of skills are needed in order to ensure that a good design of the landing page is produced. The best criterion for doing this is by matching the landing page with the free online webinar. The landing page that features a summary explaining how the webinar will benefit attendees will attract more people. This forms part of the contact with the target audience. Besides, the relevant information pertaining to the audience should be included in the online form. A shorter form is most preferred because it will sound a simple task when the target audience will be filling it in.
5. Check Before Going Live
A lot of concern should be taken to avoid interference from pets, kids or any other form of interference from occurring in the case of a home-office webinar. If the location is in an office, a silent room is preferred to other noisy environments. This ensures that the information will be broadcasted effectively without a barrier in communication. Finally, carry out a test before you go live. Be sure to prepare your camera and microphone before you go live in the webinar. Testing your tools in advance helps to avoid frustrations which may arise due to the failure of any of them while conducting a free online webinar.
Closing Thoughts
To host your best free online webinar will be achieved by using the best free webinar hosting software. ezTalks Webinar will be the right tool that owns top-notch functions with the free trial version to satisfy your needs easily as mentioned above.