6 Best Business Meeting Apps
Planning and implementing productive business meeting has never been an easy task. Good preparation is the key to any successful business meeting. Meetings are part and parcel for the success of a business. This is due to the fact that it is through business meetings that the goals,new ideas and plans of business are communicated.
Business meeting apps helps in easing scheduling,participation and agenda drafting for the meeting. The apps create an easy and convenient means of monitoring the meetings. For instance,they do help a lot in remembering the people who attended the meeting. The apps are in Android and desktop versions. With the use of these apps you can send meeting invitations,create an agenda,share an agenda and run a paperless meeting.
Business meeting apps are necessary for coordinating clients or even working with remote co-workers. Business meeting apps helps save on commuting time,personal time and travel time. The meetings have become fun for all members. This helps in increasing the attendance and response to the meeting issues. As a result,the company becomes more productive.
Let us look at 6 best business apps that a company can use to organize for the meetings. These apps go ahead to help in creating an agenda and offering a smooth avenue to host business meeting.
1. Agenda Maker
As the name suggests,this app is used to assist in agenda creation. It is an iOS app. What you need to do is to feed in the agenda items. The app performs the rest of the actions. It makes drafting an agenda easy by assisting in sorting agenda items,allocating them each different time and updating them after deleting unnecessary details. All calculations are handled by this business meeting app. As you delete some agenda items,the app updates the remaining items,i.e automatic sorting,automatic time allocation.Sharing of the agenda is another feature that this app allows you to do. You can share the agenda via email in form of a PDF to different people instantly. You do not have to calculate the time needed to conduct a meeting since agenda maker automatically calculate the length of the meeting. Your task is only to come up with the agenda items.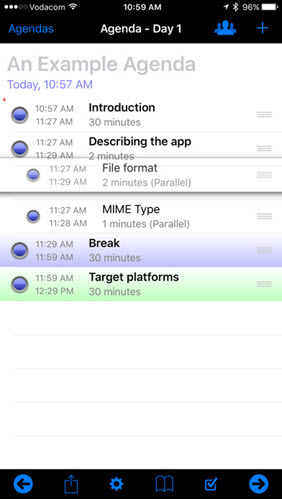 2. ezTalks Cloud Meeting
ezTalks Cloud Meeting allows you to join or even host online meeting at any place. The meeting app for business offers video conferencing option to join a meeting. You are able to easily and reliably attend an online meeting from your mobile device.
After logging in to ezTalks Cloud Meeting via Google account or a social media like Facebook,you are able to share screens and whiteboards with participants. During the meeting,the app allows you to chat with the attendees instantly. Other people can be invited by importing the contact list from your device and sharing with them. It allows you to monitor the meeting closely and note the number of participants.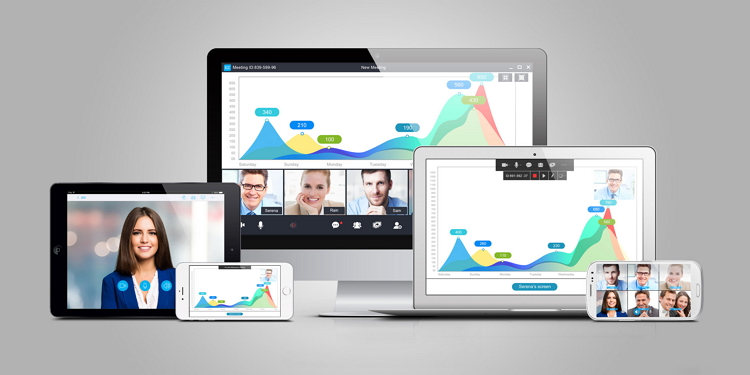 3. join.me
This meeting app for business is the best solution for globally dispersed teams. Through the app,attendees can make calls through telephone or VoIP. join.me also gives an option to record the online meetings. Through the use of preferred mobile device,the meeting can be personalized with screen backgrounds and customized URLs. Files are easily transferred between different devices.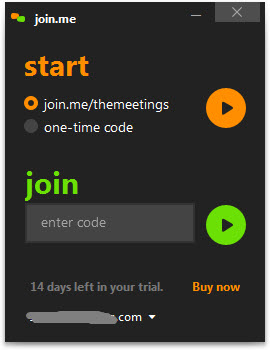 4. Azeus Convene
This is an app which helps in facilitating setting,managing and holding online meeting. It allows all the users to be able to participate in agenda creation,invite participants and store documents.
It is a cloud based business meeting app and therefore it allows updating of meeting documents instantaneously. The app extends to enhancing collaboration and training activities in the company. This is due to the fact that document sharing and updating are highly automated and synced with various supporting tools.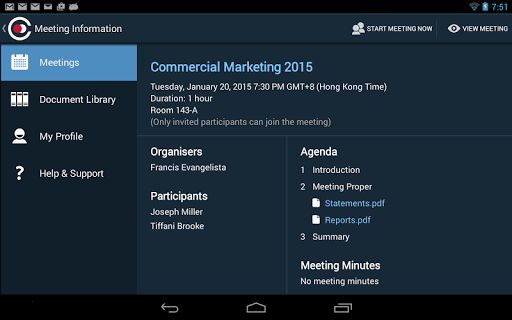 5. GoToMeeting
Just like ezTalks Cloud Meeting,GoToMeeting gives an alternative to conduct a meeting that cannot be conducted face to face. The difference is brought by varying time zones in various geographical locations. It gives room for real time communication.
The app helps conduct a real life meeting by letting you virtually communicate to your colleagues and employees thought the use of a camera in your mobile device. This app is the best option when the in house meeting cannot be conducted. It has an option for helping provide immediate visual feedback as the meeting proceeds. The app allows sharing of on screen documents,reports and presentation by the attendees among each other.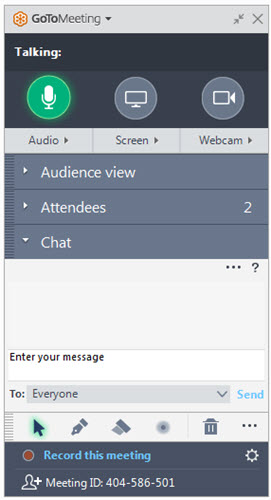 6. Doodle
The business meeting app provides an online service for scheduling online meetings. The app helps you understand when majority of the attendees are available. This is achieved through creation of polls. It is possible to create polls due to the fact that the calendar and the address book are integrated with this app. You then share the polls with the members.
This business app for meeting gives you a room to participate in polls comment and view the results via your mobile device. This app is of great help when setting up an agenda for the meeting.Picture source from Clipartkey,PNGitem,KindPNG.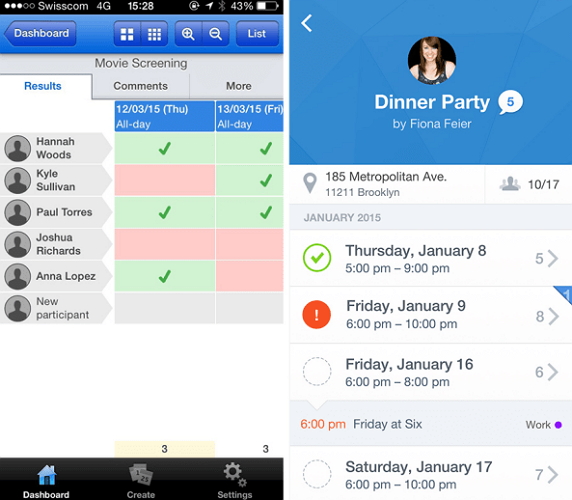 Business meeting apps have proven to increase productivity of the business meetings. With the use of these apps,anyone can host and attend the meeting at any place. Be it in the hotel room,at your own house,in a café.