How to Host a Pre-recorded Webinar?
A webinar is a powerful tool if used effectively for entrepreneurs who want to increase the market for their products or maybe concur more lead. Many businesses are creating a pre-recorded webinar to meet with their audience worldwide. One of the greatest advantage derived from using this form of online presentation is that you can pre-record the entire presentation in the comfort of your house, work, or garden without restriction. You don't have to sit I boardroom meeting or being required to travel pre-recorded webinars has simplify things.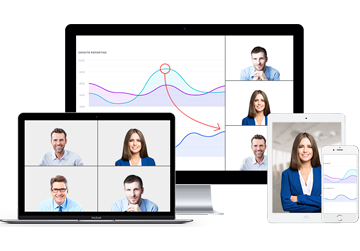 ezTalks Webinar Tool
Free for up to 100 Participants
Fluent Group Video/Audio/IM Chat
Screen Sharing and Whiteboard
Webinar Cloud Recording
Webinar Custom Branding
    Sign Up Free Now
When carrying out your work with pre-recorded webinar you don't need any special video conferencing equipment, all you need is a desktop pc or laptop and stereo headphones with microphone. With the pre-recorded webinar software, you can prepare an automated webinar easily and make it run automatically to finally come out with the best presentation that appeals you.
Steps for the pre-recorded webinar
You have two options in order to host a pre-recorded webinar. The first one is to create an MP4 file using the video editing software or the second one is to host a pre-recorded webinar using best automated webinar software like ezTalks Webinar, Anymeeting, WebinarJam automated webinar. This article will use ezTalks Webinar as an example to explain how to pre-record a webinar.
1) Sign up/in your ezTalks account
Go to the ezTalks website, and select the webinar option to register an account. Once you have had an account, you can sign in directly. Then, you can create your webinar on the dashboard. 
2) Schedule a Webinar and select Automated Webinar
Click on "Go to Webinar", then go for "Schedule a Webinar" and you can select Automated Webinar. After you select Automated Webinar, you will need to upload a video file in MP4 mode and choose the starting time of your webinar when the pre-recorded webinar will be automatically started.
3) Registration & Payment options
Registration option: If you need to collect the participants' information, you can turn on its registration option. Otherwise, you can turn it off.
Payment option: You can make it a paid webinar or a free webinar as you like. 
4) Other custom options
You can continue to finish the other sections of Waiting Room, Registration and Thank You Page. All these help to better impress your audience.
5) Share to participants
Once you publish the webinar, you can send the registration link or webinar link without registration to your participants. 
Note: If the host wants to join the webinar, he/she can also join as a participant by merely clicking on the webinar link.
ezTalks Webinar provides high-quality services in creating pre-recorded webinars for both small and large enterprise. You have the capabilities to host pre-recorded webinars with more than 100 interactive participants on the go. They also have a premium plan where you can upgrade and host up to more and the premium subscription for is available for both annual and monthly.
Advantages of using pre-recorded webinar
Research shows that video helps people to learn and understand problems by a large margin. This means demonstrating something using video explain into details about your product or project and in turn, have a positive impact on people. Many businesses are following suit-creating pre-recorded webinars to enjoy this benefit.
The pre-recorded webinar is convenient and saves time. You can chat and interact with clients all over the world without traveling and this saves you time and money.
Pre-recorded webinar software's enables you to interact with clients in real time. This cast the ghost of guessing your customer needs, you will interact with them and get what they love most about the things you offer. It helps promote business growth because that company will improve quickly on any shortcoming they have.
Pre-recorded webinar helps in building a good relationship with the customers, employees or audience. This interaction helps build good credit and improve service across all board with the audience you are having. When such interaction occurs audience grow and this leads to company viability.
Conclusion
The world today is a global village whereby many organization does their meetings through a webinar. Many businesses are creating a pre-recorded webinar to best maximize the business investments. The simplicity of creating pre-recorded webinars offer great opportunities for companies.