BrightTALK Review and 5 Best BrightTALK Alternatives
Webinars empower you to interact with and engage your prospects more directly. As one of the useful webinar platforms, BrightTALK helps to build channels for better communication and productivity. While according to BrightTALK reviews, its official website interface is outdated and not user-friendly, preventing observers to know its services systematically. As there is a 30-second delay, you have to load the slides before viewing the on-demand webinars. Besides, BrightTALK webinar pricing is quite expensive.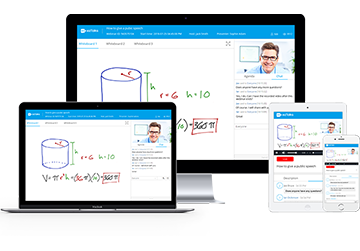 Best BrightTALK Alternative
Free for up to 100 Participants
Fluent HD Video/Audio Quality
Screen Sharing and Whiteboard
Polls, Survey and Recording
Rebranding and Paid Webinars
Sign Up Free Now
Considering the aforementioned disadvantages, are you now looking for some BrightTALK alternatives that offer better performance? Here are 5 best BrightTALK alternatives to help you out.
5 Best BrightTALK Alternatives
1. ezTalks Webinar
ezTalks Webinar stands out from the rest of powerful BrightTALK competitors. It is integrated with so many advanced, useful and intriguing features that are worth your attention!
Advantages:
a) ezTalk Webinar lets you perform an online webinar hosting for a maximum of 100 interactive participants & 10,000 audience.
b) Unlike complicated BrightTALK login process, you can use your existing ezTalks account or Google/Facebook account to sign in quickly.
c) You will experience a stable and high-definition video and audio webinar services.
d) Effective features include tools for online whiteboarding and seamless screen sharing, provision for webinar scheduling and rebranding, as well as options for polling and text chat.
e) For your marketing purpose, you can even run a custom webinar using your own brand name and logo, waiting page, self-designed email notification and registration. It is also possible to monetize your webinar via PayPal.
f) Robust reporting on webinar, register and participants is designed to track the trends and attitudes for follow up.
g) After recording a webinar, you can download and share recordings on social media platforms to extend your audience base.
Disadvantages:
It only offers a free webinar trial with 100 minutes duration. However, the time is enough for you to know how it works and its paid webinar is quite affordable.
Pricing Plan:
The starting plan for ezTalks Webinar will cost you $40/month. Likewise, you can even opt for its annual subscription plan with a total fee of $400. Compared to BrightTALK pricing, ezTalks Webinar is extremely affordable.

2. GoToWebinar
If you are searching for a BrightTALK alternative for your webinar needs, then you may consider using GoToWebinar. For BrightTALK vs GoToWebinar, the latter is easier and more popular that comes with more features and advantages.
Advantages:
a) A prevalent webinar platform for hosting, setting up and launching webinars easily.
b) Promote your webinar with our custom webinar invitations, registration page and automated email reminders.
c) Available features include polls, handouts, Q&A, automated emails, custom branding, online & local webinar recording.
d) You can record and reuse your events to bring in more viewers.
Disadvantages:
a) According to GoToWebinar reviews, its audio/video quality fail to provide satisfactory performance for the users when using phones to host a webinar.
b) Very expensive pricing plans.
c) Only 128-bit encryption for protecting the webinars in progress.
Pricing Plan:
The starter plan for GoToWebinar costs $89 USD/month, a bit more costly than other solutions.
3. EasyWebinar
EasyWebinar is considered to be an advanced BrightTALK alternative that combines powerful webinar technology and efficient marketing strategy just in one single tool. EasyWebinar also has some great features that can make any webinar more interactive. It focuses more on automated webinars, so its webcasting service may be not better than BrightTALK webcast.
Advantages:
a) Notable features include attendee management, live chat, email marketing, screen sharing, and social sharing.
b) You can have up to 4 presenters in a live webinar session. Each can use camera and microphone as well as share their screen.
c) Turn your live webinar into an evergreen webinar funnel as soon as your live event is over. 
Disadvantages:
a) Quite pricey pricing plans.
b) A few users have complained that it's a little bit tricky if using this webinar software for the first time.
c) EasyWebinar support is not responsive.
Pricing Plan:
Coming to EasyWebinar pricing, the standard plan (the basic plan) costs $59/month or $708/annual.
4. Webinato
Webinato is another BrightTALK alternative that is designed for hosting webinars. It is available to you to create more engaging and effective presentations in a fully branded, reliable and secure environment.
Advantages:
a) One of the major benefits of Webinato software is that it has a nice interface and great connectivity.
b) No software download is required.
c) A good number of interactive functions are available like polling, Q&A, and file sharing.
Disadvantages:
a) The subscription plans of Webinato software are extremely costly.
b) Webinato features are quite restricted. For example, their basic plan allows only 60 hours usage/month and autopilot recordings, which may not suit the demanding business needs.
Pricing Plan:
The basic plan will cost you $119/month.
5. WP WebinarSystem
WP WebinarSystem is widely considered to be one of the potential BrightTALK competitors. It allows you to run webinars within your WordPress website. WPWebinarSystem provides you with the tools to sell webinar tickets, manage your data and promote your webinars.
Advantages:
a) It lets you create different types of webinars, such as automated webinars, recurring (evergreen) webinars, member webinars, and paid webinars.
b) You can use the powerful live stream future of Google Hangouts on air, or any other prerecorded video from YouTube or Vimeo.
c) The platform supports 20+ languages.
Disadvantages:
a) The audio/video performance for live webinars offers a lagging and slow performance in most of the cases.
b) It lacks for a collaborative whiteboard for effective annotation.
c) Limited features are ready to be used with the free trial version.
Pricing Plan:
WP WebinarSystem comes with two subscription plans, Agency and Single Site. For Agency subscription plan, the fee is $497/year. The subscription fee of Single Site is $197/year, but it only supports limited features.
The Final Verdict
You have already revealed 5 best BrightTALK alternatives in the aforementioned sections. Among this list, ezTalks Webinar is the best webinar solution recommended for hosting a custom live webinars with a large audience. It comes with plenty of features (along with reasonable pricing plan options) that you can use to host unlimited webinars and interact easily with the audience.