Best Free Webinar Software with Recording
Webinar services can be conducted locally as well as globally. When it comes to choosing a webinar software, there are several features that you should look at. One of them is the webinar recording feature.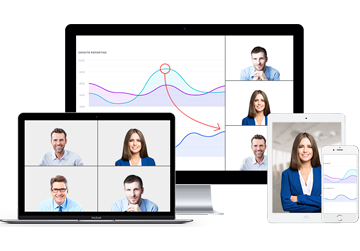 Best Webinar Recording Software
Webinar Cloud Recording
Webinar Custom Branding
Free for up to 100 Participants
Fluent Group Video/Audio/IM Chat
Screen Sharing and Whiteboard
Sign Up Free Now
Reasons for Recording
There are several reasons why you should record a webinar. One of them is for future reference. You can use the recorded version to remind yourself of the things that were discussed during the webinar. Another importance of recording a webinar is to engage with those who never attended. Some people who didn't manage to attend will still get the message that was conveyed in the webinar. In doing so, you will be able to reach more people. 
Free Webinar Software with Recording Feature
Are you looking for a webinar software that has a recording feature? Look no more. Here are several kinds of the best free webinar software with recording functionality.
1. ezTalks Webinar
Currently, ezTalks is one of the most preferred webinar services with recording feature. Its popularity is based on the fact that it can meet the needs of any organization. ezTalks Webinar has a flexible pricing plan that anyone can afford and even free trial version. The webinar software comes with top-of-range features which will definitely make your webinar successful. On top of that, ezTalks Webinar will allow you to record the whole webinar or the specific webinar session with easy start and pause as you like, whether you are running the software on a Mac, mobile app or Windows. You can choose either Local or Cloud recording for your need. The recorded files produced can be played on any media without having to be converted into suitable versions for more references.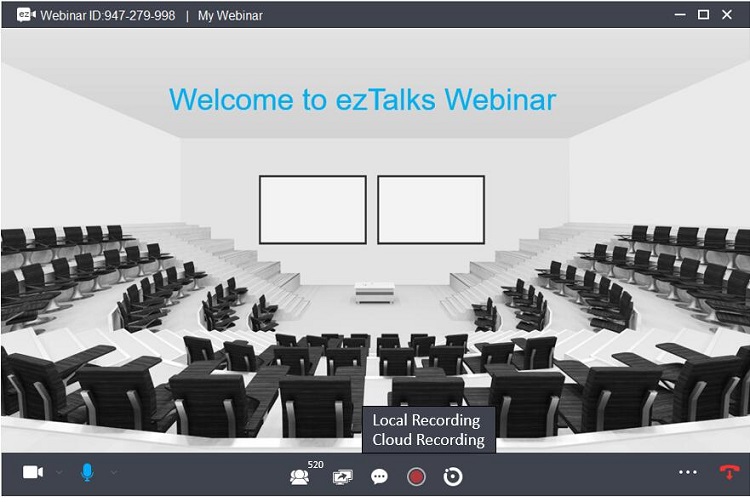 How do you record a webinar on ezTalks?
Lets first assume that you have already downloaded the software and created an account. If you are using a Windows OS, simply locate a red circle and click it. There is an option of pausing the recording and resuming. Once the meeting is over, you can click the "stop" button. This procedure is also applicable if you are using other devices.
The good thing about ezTalks Webinar is the quality of audio and video remain the same even when recording. They are not distorted like on other free webinar recording software. The software produces the recorded webinar in MP4 file format which is ready to be played on any video or audio player.
2. Zoom Webinar Recording
Zoom is another webinar platform that has a recording feature. Although it is not 100% free, it has a pocket-friendly pricing plan. The software has the capacity of hosting up to 100 participants and 10,000+ attendees at a time. Another practical way when you don't need professional online webinar tools is that you can hold a webinar via Zoom Meeting platform, as the latter supports free trial version. You can still enjoy the recording and auto-generated transcripts features to expand your impact with on-demand or recurring webinars.
3. GoToWebinar Recording
GotoWebina allows users to host and record their live webinars without experiencing any technical hitches. This free webinar software has a number of features that make it survive in this highly competitive market. Among them is the recording functionality.
This free webinar service allows users to record their webinars and store the files for future use. In most cases, users are presented with two recording options. You can choose the local recording or online recording. With online recording, the files will be automatically saved online. For local recording, the files will be stored on your device. But unfortunately, it only offers 7-day free trial version.
4. WebEx Webinar Recording
Another free webinar service that is ideal for people who want to record their webinar is WebEx. The software comes with a pack of features that can help you to host a successful webinar. WebEx allows users to record a whole webinar or webinar session without any problem. You simply need to activate the "record" function and select where you would like to store the recorded file. The software will start recording the webinar until you halt the process. But sometimes it may come along with a log of the recording.
It is worth to note that the WebEx recording feature is only available on Windows and Mac. You also need to download WebEx player and a separating editor to use this feature. This is because the webinar recording software produces .ARF and .WRF file formats only. You will use the editor to convert these files into MP4 formats.
Conclusion
As expected, the webinar software that you choose will determine the quality of the recorded files that you get. Some webinar recording services can give you clear audios and videos while others can deliver poor-quality files. You should always choose a webinar service that won't disappoint you. ezTalks Webinar may be the most reliable free webinar service with recording that you can trust.