Skype vs FaceTime, Which One Is Better?
In our previous article,we made a comparison between Skype and Google Hangouts,two of most popular video chat programs. And today,we will continue our trip with Skype and FaceTime comparison,both of which are widely used.Let's compare both on some important fronts and try to find out which one is the best video-calling service out there.
Not so long ago,Skypewas the only serious contender for calling friends,family and colleagues over the net. Yet a few years,andan unpopular major updatelater,Skype has gone down in the estimation of many Mac users.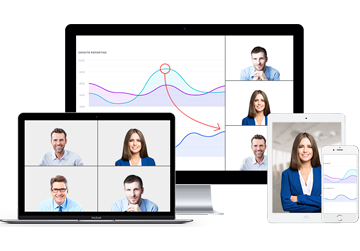 Free Group Video Chat App
Free for up to 100 ParticipantsOne-click to Join InHD Video and AudioUp to 25 Video StreamsRecording and PlaybackSign Up Free NowAt the same time,Apple released its answer to Skype -Facetime- which is rapidly climbing the download charts as a serious alternative. It's therefore about time we put Skype and Facetime head-to-head to see which is the king of calling.Interface:Until the update to version 5,most Mac users were satisfied with the interface of Skype. Since the latest version however,many have found the new large-screen interface intrusive,unintuitive and basically harder to use than previous versions. Some have even gone back to the much slimmerversion 2.8.Facetime meanwhile has a very simple interface which instantly detects your iSight camera on startup and makes calling contacts simple. Even better,it automatically detects contacts in your Address Book so you don't have to mess about adding them. However,it is still very basic compared to Skype at this stage of its development.Flexibility:Skype can be used on both Mac and Windows and you can call landlines or mobiles anywhere in the world. In terms of flexibility and interoperability between platforms Skype takes some beating.Facetime however is very much locked into everything Apple. Its not even available on Windows,works only on Macs or iPads,you can't call landlines and the only mobiles you can call are iPhones.Cost:Skype is free to download. Facetime costs $0.99 to download on the Mac App Store (although rumor is that it will be bundled free in new Macs sold with forthcoming Lion OS X) and there is no trial version. Both allow free calls between computers (Macs only in the case of Facetime) and mobiles with either Skype or Facetime installed.However,Facetime allows group video calls for free. Skype have now made this aPremium featurein version 5 costing $4.99 a day or $8.99 a month. Overall,it depends on your needs.Updates:Both allow auto-updating from within the apps. However,as many Skype users have already done so on Mac,you can easily roll-back to version 2.8 if you're unhappy with version 5.0 by simply downloading and reinstalling it.Not so with Facetime. As with all apps from the Mac App Store,there's no rolling them back if you're unhappy with the new look or features.Call Quality:This is a hard one to judge because much will depend on the quality of your internet connection. In terms of audio,both are about the same. In terms of video however,on a 1-Mbps connection Facetime offers incredibly high quality HD video chats of 720p. Unfortunately though,HD quality is limited to new MacBook Pros due to the iSight camera requirements. Every other MacBook user has to do with VGA quality which is still pretty good.Skype also offers HD calls but both you and the person you're talking to need Skype 4.2 for Windows or higher plus HD webcams. For everyone else,Skype video calls are in the same 640×480 VGA resolution as Facetime. Both Facetime and Skype support full-screen video too.Despite both being very capable video calling apps and each having its own pros and cons,recommending one over the other is fairly easy,and it will depend entirely on your needs.Overall,while Facetime is very promising,Skype still remains the superior calling tool because of its flexibility. Facetime can only be used with other Mac and iOS devices and that will be a major drawback for many users. Skype allows you to call anyone,anywhere and that remains its over riding appeal.