What Is Portable Video Conference System
Up until not so long ago,video conferencing hasn't been a portable communication medium. Video conferencing has begun as a medium of communication generally relying on robust computer systems featuring high-end hardware,coming with large projection screens and sophisticated audio systems.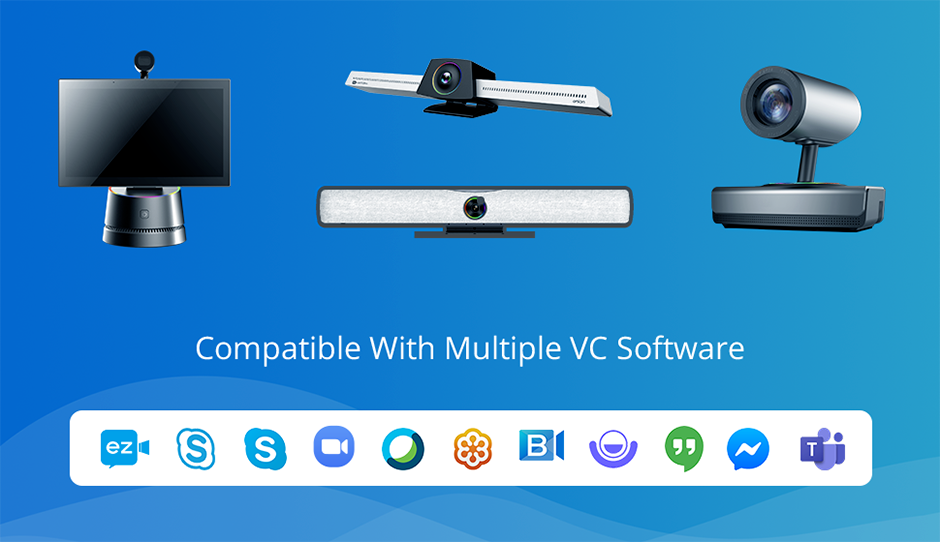 ezTalks Hardware
Supports Multiple VC AppsezTalks all-in-one video conferencing devices work with most popular VC apps like ezTalks,Skype for Business,Skype,Zoom,WebEx,GoToMeeting,BlueJeans,Lifesize,Google Hangouts,Facebook Messenger,Microsoft Teams and more as you require.Request A DemoService providers are able nowadays to extend their video conferencing solutions to portable new platforms,thanks to the development of more sophisticated mobile technology. Now,software dedicated for video conferencing apps can be found on everything from the mobile phones,to popular laptops and highest-end PCs.Many developers have started to consider the possibilities and benefits of video conferencing due to the great potential for video conference systems especially for open source platform like ezTalks hardware that allows users to choose the preferred video conferencing software likeezTalks,Microsoft Teams and more as required.Developers are looking into new software and hardware designs that can improve this model. For instance,with the development of Apple's FaceTime,the users have now new video connectivity possibilities in the palm of one's hand.Ricoh has also developed its own portable video conference system,the P3000 Unified Communication System. The 1.6 inches (40 mm) tablet-sized package comes with a microphone,camera,speaker,push-button console and network connectivity. It supports the H.264/SVC video compression standard that adjusts compression,frame rate and resolution in order to accommodate the bandwidth available.Portable video conferencing tools such as the P3000,as with any new technology,are also having their concerns. Due to questions about the reliability of connection and audiovisual quality,video conferencing still struggles with public hesitance. When quality is already a reason of concern,it can be even more difficult to sell a mobile product.There are also some questions,in addition,as to whether it is absolutely necessary to have a mobile device specifically devoted to portable video conferencing. With the increase in popularity of Android and iOS running smartphones,people have become used to "all-in-one" mobile devices that can meet their various needs. In such a competitive environment,it's still not certain whether or not separate devices dedicated to portable video conferencing solutions will be able to gain enough market interest.
Benefits of Portable Video Conference System
The development of portable hardware and software dedicated to portable video conferencing is an exciting one. At every step of the way,new doors for new opportunities will open due to the possibility to apply existing technology to these new mediums.
Even if a small portable video conferencing system may not be for everyone,it cannot be denied that they have their draws. Especially for those people who carry an unpredictable schedule or need to travel for work frequently,having a mobile device able to connect to a conference from any location it may be an absolute necessity. Aside that,mobile devices can be usually more affordable than high-grade PCs. This makes the market for portable video conferencing solutions to be more attractive for those having a tight budget.
A Powerful Portable Video Conference System: ezTalks Onion
Among the new products that came on this new market for portable video conferencing solutions,the ezTalks Onion is a very powerful one. The company that is behind developing and manufacturing the ezTalks Onion portable video conference system is an innovative video conferencing service provider. In order to finish the mass production of this innovative all-in-one video communication device,the product has been funded through a crowdfunding campaign on Indiegogo.
The ezTalks company is video conference service provider with more than six years of experience on the market. The company has already launched another two video conference solutions: ezTalks On-Premise video conferencing system and ezTalks Meetings. They are dedicated to meet small and big enterprises remote collaboration requirements across a wide range of industries.
The ezTalks Onion all-in-one video conferencing equipment aims to change the current price structure of video conferencing devices. The current price structure on the market for video conference systems is set by traditional service providers like Polycom,Cisco,Zoom and Lifesize.
Telepresence technology and professional video conferencing solutions should benefit the work of all ordinary people. Instead of complicated devices,huge investment and the necessity of IT support for meeting rooms,the portable video conference systems should be as affordable and easy to install as any personal digital products instead. With its smart features and high-end design,ezTalks Onion,is specifically designed to lower to an unprecedented cost-effective level the threshold of setting up a room for professional video conferencing.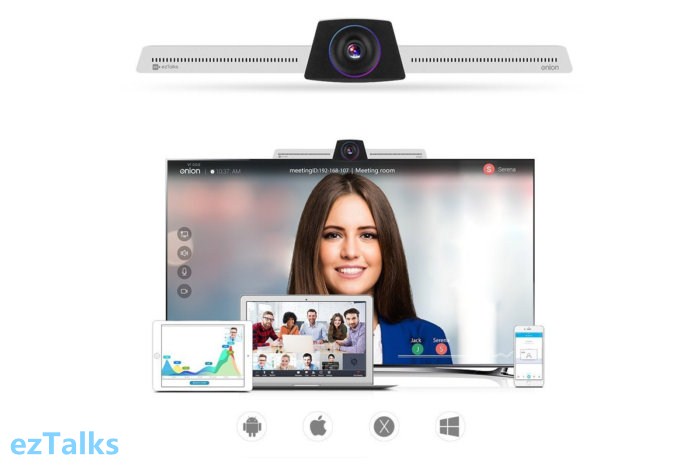 The all-in-one video conferencing equipment ezTalks Onion (Meet S) supports live broadcasting,HD video conferencing,screen projection,screen sharing,and whiteboard annotation. The system comes with various online meeting control features such as mute audio,recording,live chat,lock meeting room,make presenter,remote control and more.
Users can easily connect the all-in-one device to any display or TV via HDMI for online meetings,video conferencing,live broadcasting,and online trainings. ezTalks Onion (Meet S) can be managed via any device,and seamlessly transfer calls from any device to a display or TV and switch back. With one single high-end device individuals and teams working remotely can benefit of crystal-clear video and audio experience. The ezTalks Onion device has the additional advantage of not requiring any onsite technical support.
The device is designed with full frequency HD speaker,dual stereo microphones with 5m pickup radius,and 1080p 12.0 megapixel video camera that features 120 degrees wide angle lens. The ezTalks Onion (Meet S) runs fast and smartly,being equipped with quad core processor. IT comes in an aluminum alloy unibody casing. The all-in-one portable video conference system debuted in Mumbai,in September 2016,at InfoComm India.
ezTalks Onion (Meet S) offers up to 16 streams of HD video and audio for high-quality video conferencing through live broadcasting and TV to users from anywhere using any device. This device is smartly designed,making video conferencing possible with any display flexible and easily. With its 120 degree field of view,the wide-angle camera is able to capture the entire room so that everyone can be seen in the room.
Conclusion
Companies that have traveling employees who need to get work done on-the-go may find that their communication hurdles can be solved thanks to the portable video conferencing services. These conferencing systems offer an in-person meeting personable environment combined with a phone conversation's convenience. As long as a portable video conference system can guarantee reliable quality of audio and video,this may become a new niche market for developers of video conferencing hardware and software solutions.