Top 7 join.me Alternatives
Video conferencing tools are becoming very popular day by day because of its outstanding usability in businesses,organizations,schools,colleges and in day to day life. With the help of these different video conferencing tools,people can think of attending business meetings by sitting at the comfort of their office or home without even travelling to different cities,states or countries. There are a number of video and audio conferencing tools are available through which people can communicate with each other easily and quickly,and one of such video conferencing tools is join.me.
Introduce join.me
Join.me is a video conferencing tool that allows you to host different online events such as business meetings,collaboration and business online presentations easily and quickly. Join.me allows you to initiate a meeting within fraction of seconds without having to download any software,or plug-ins. This is a very good tool for conferences and online meetings,but the tool involves a monthly fee,which means that smaller businesses might not find this tool suitable with their budget.
Seven Alternatives to join.me
Luckily,there is a lot of join.me alternatives are available in the market that offers equal or more conferencing facilities. Here,we have listed out 7 best join.me alternatives from which you can choose the best one based on your preference.
1. ezTalks Meetings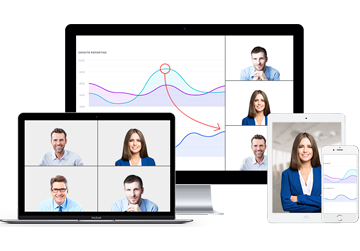 Why Choose ezTalks Meetings?
Free for up to 100 Participants
Fluent Group Video/Audio/IM Chat
Screen Sharing and Annotation
White Board and Collaboration
Record and Playback
SIGN UP FREE NOW
ezTalks Meetings is one of the best alternative to join.me that offers outstanding video conferencing call services for free. With the help of this superb video conferencing software one can join the business or personal meetings within seconds from their devices.
The Key Features of ezTalks Cloud Meeting:
•Facility to add up to100 participants in a single meeting for free,and up to 500 participants with premium plan.
•Easy Login systems with Google account or Facebook account.
•High quality video calls with options to adjust resolution and volume of the meeting.
•Facility to chat with all participants or a single participant during the meeting.
•Screen sharing features to allow you to easily share and show your screen to other participants.
•Equipped with an interactive whiteboard for drawing,planning and sketching out your thought.
•Work perfectly with brilliant video conferencing equipment – ezTalks Onion. Fully compatible with Windows,Mac,Android and iOS.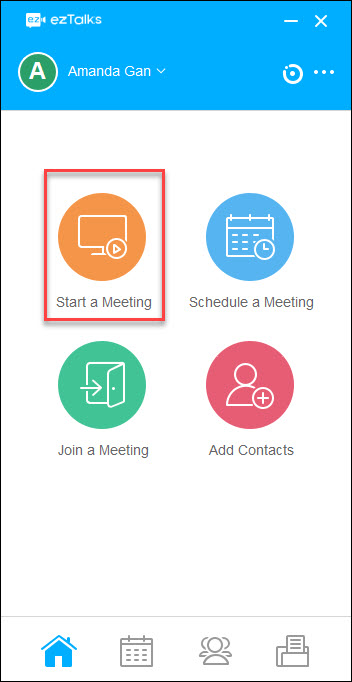 2. Adobe Connect
Adobe Connect is another great alternative to join.me that not only offers excellent conferencing facilities but something more than that. With Adobe Connect you can join,collaborate or host an online meeting instantly from your mobile device or computer.
The Key Features Of Adobe Connect:
•Rich video and audio conferencing experience for both mobile and desktop users.
•Manage conference easily with Start,Stop and Manage Meeting options.
•Features to allow or reject a particular person from entering meetings.
•Emoticons to allow users to express their reaction such as raise hand,like,dislikes,agree/disagree and more.
•Share screens with members,share content,view and edit content and more.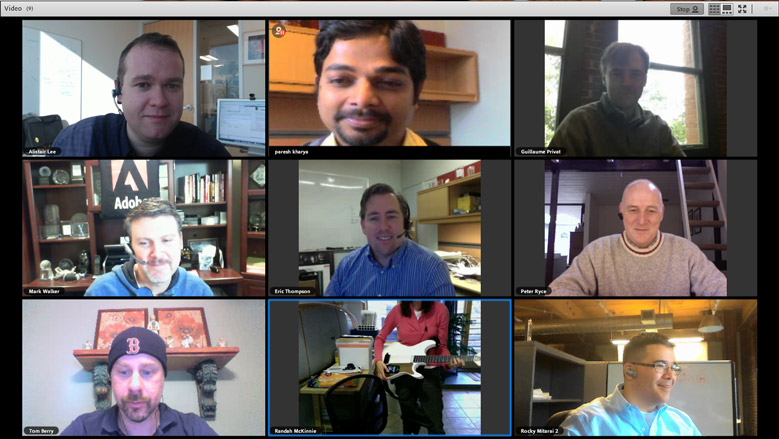 3. AnyMeeting
When it comes to video conferencing tools,AnyMeeting is one of the most popular names that come into account. It is a great tool,and a join.me alternative free that offers outstanding video and audio conferencing experience to its users for free. AnyMeeting is a perfect video conferencing tool for small and mid-sized businesses.
Key Features of AnyMeeting:
•Facility to add up to 200 participants without any time limit.
•6 way of video conferencing facility.
•Hold unlimited meetings,share screens,presentation and send personal meeting URLs to other attendees.
•Chat with every attendees together or a particular attendee based on your requirement.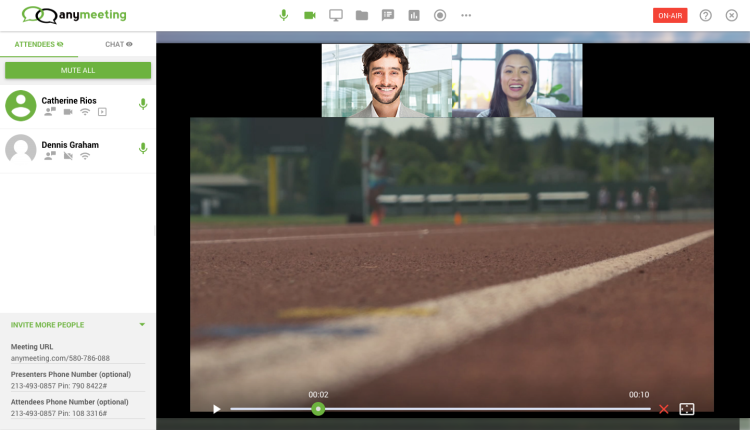 4. Zoom.us
Zoom.us is an award winning video conferencing solution which offers high quality video conferencing facilities completely for free. With it,you can easily make video call with up to 50 people for instant meeting. This is a very easy-to-use solution which let you connect with your meeting no matter where you go.
Key Features of Zoom.us:
•Features high quality video and screen sharing facilities.
•Invite other attendees from your email contacts,mobile contacts or company contacts easily.
•Facility to join a meeting as an interactive participant or only as a view-only attendee.
•Clock to view duration of the meeting,or to view how long you have been connected to the meeting.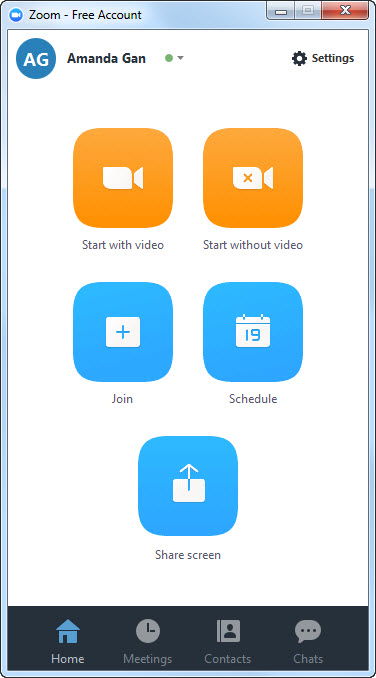 5. Google Hangouts
Google Hangouts is another excellent free join.me alternative which is suitable for you when you already uses Google Apps for your other business purposes. Google Hangouts offers very easy & quick group chatting,audio calling and video calling features.
Key Features of Google Hangouts:
•Add up to 150 people for starting a group chat.
•Use Emojis,maps,photos,GIFs,videos and stickers to represent your words more professionally & clearly.
•Join into video calls or share your screen with up to 10 contacts for a conference or meeting.
•Message your contacts anytime,even if they are not connected.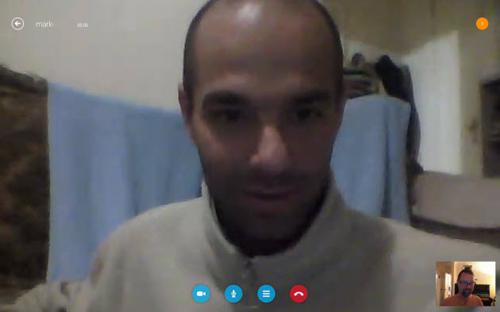 6. GoToMeeting
GoToMeeting is a superb video conferencing app and also make a great alternative to join.me. The availability of this conferencing tool in your device will allow you to connect to important business meetings without missing one.
Key Features of GoToMeeting:
•Join or host a meeting instantly whenever you want.
•Get important meeting alerts and attend the meeting just on time without getting late.
•Chat with multiple attendees,all attendees or a particular attendee based on your requirement.
•Add up to 100 attendees for a single meeting.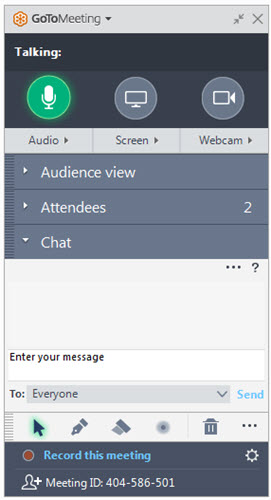 7. Skype
If you are looking for the best join.me free alternative tool,then Skype is definitely one of the best tools among many. Skype has been known for its great audio and video messaging & calling features since its emergence,but recently the addition of group video calling features has made this tool as one of the best video conferencing for small businesses.
Key Features of Skype:
•Make Skype video call or audio call with up to 25 people from different corner of the world for a conference or meeting.
•Share photos,presentations,files,video messages,locations and emojis to share your thoughts and ideas.
•Join video calls from your mobile devices or PCs as per your requirement.
•Join group chat with up to 300 people.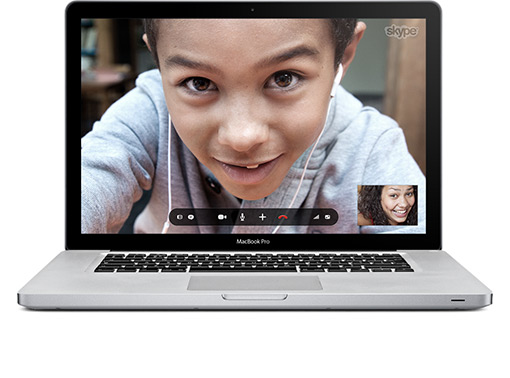 The above given join.me alternatives offer excellent video conferencing facilities that you can use for your business meetings,school meetings,personal meetings or others as per your requirement. You can use these tools in place of join.me to save some bucks from your business or personal expense.