Top 6 Free Web Conferencing Software
With a free web conferencing platform,now you can link with the attendees from all parts of the world utilizing simply an internet connection. No downloads needed,no time taking installations required. Web conferencing software provides the callers the perfect in flexibility for participating in the free web conference. Video meeting,dial in numbers and screen sharing services fit together with the web conferencing platform,offering the participants the liberty to join the web conference when they pick. Today,we are going to introduce top 6 free web conferencing software to meet your needs.
1. ezTalks Meetings
Utilizing ezTalk Meetings software service,you will be able to make calls and virtual meetings with people in different locations,as if you were talking to each other face to face. It provides one to one,and one to a large number of people and many-to-many voice calls. ezTalks offers a free plans that supports up to 100 participants simultaneously during a video meeting. The free web conferencing software also contains rich features,such as file and content sharing,innovative whiteboard and co-annotation,cross-platform group and private chat,and so on. This is one of the online web conferencing software that is useful for many companies.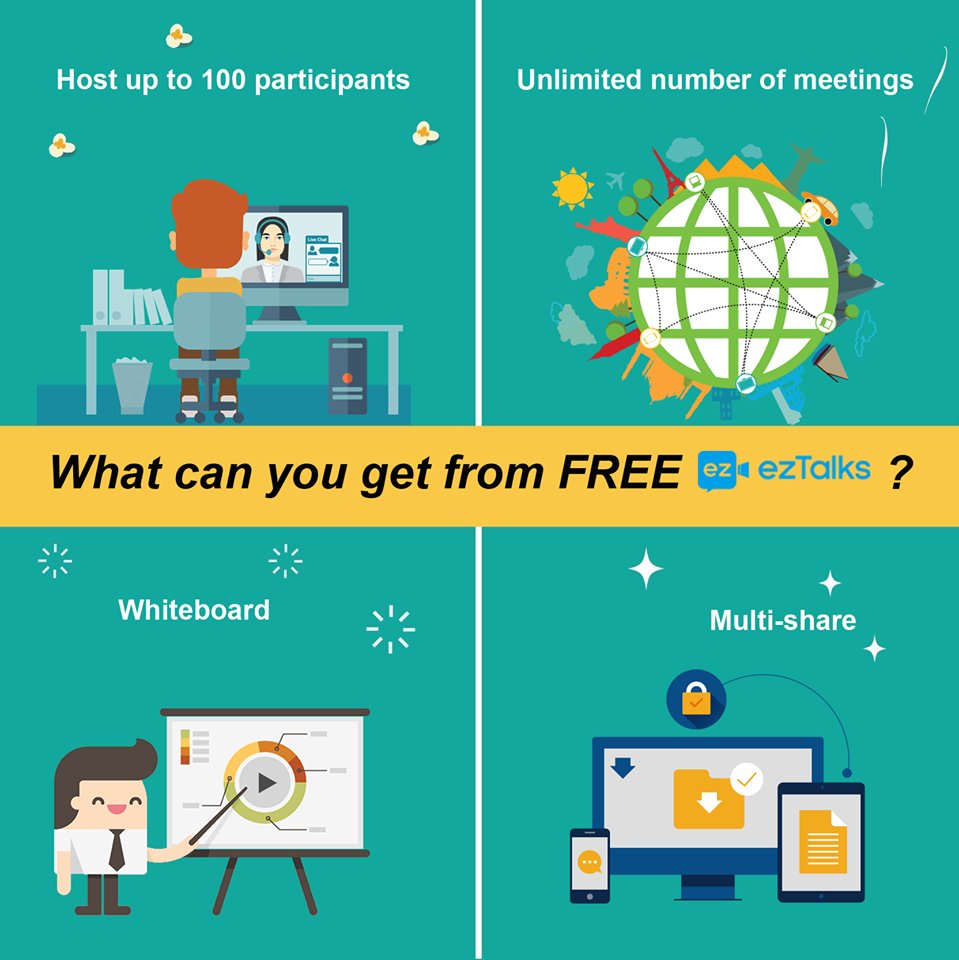 2. Zoho Meeting
Zoho Meeting is free web conferencing software that allows you host meetings online perfectly and remove travel costs. It is made for organizations with large number of teams in various places,hence they can combine in real time. Its mixed audio conferencing lets you to share the desktop and conduct meeting directly with customers. Explain the software product all over the world without the need to move from office. You can even transfer control to clients at the time of product presentations. This web conferencing free software works with Mac,Windows,Linux OS,you can also avail it through safari,Firefox,Google Chrome and some famous browsers.
3. Mikogo
Mikogo provides a free screen sharing solution,that large number of organizations all over the world avail to support the meeting and web conferences on the internet. It is a free web video conferencing software solution for the companies. Free screen sharing software lets users to see and share a computer desktop and transfer the limit to another individual who is connected. This software is especially beneficial in supporting web conference,online sales demos and training of persons and groups. It can assist improve communication and calls by permitting users to combine with each other and see the similar details in actual time.
4. WebEx Meetings
One can raise the effectiveness and efficiency of the company by offering WebEx Meetings to each department. It is fully integrated with best quality audio meeting services. This free online web conferencing software creates it all easy to introduce or join meetings on the internet,providing participants the chance of joining the audio through landline telephone,mobile or computer and it does not matter about the place. One can communicate details and share documents,applications and presentations like you would do in a direct meeting.
5. Join.me
If you want to conduct a meeting in a hurry,with a team of people who all contain various chat customers and who do not need to go move the length of the sign up procedure to link,join.me software is one of the best video conferencing solutions you are looking for. It is a light weight system that allow you audio,share video and the screen with lot of users quickly. After placing,this software allow you invite customers through email with add people option. You can even invite them to join through sending a link to your room. After you are prepared to go,this software offers you the chance to present the conference with audio and video.
6. GoToMeeting
GoToMeeting is a web conducted service made and promoted by the online services. It is a desktop sharing,online meeting and video conferencing software which helps the users to meet with the customers,computer users,colleagues and clients through the internet in real time. It is made to broadcast the desktop view of a computer to a team of computer attached to the hose by online. Transmission are secured with best security encryption and chosen passwords. By mixing a web hosted service with software placed on the computer,transmissions can be sent through highly limited firewalls.
Conclusion
While seeking for installing free web conferencing software,do a free web conferencing software comparison. Free web conferencing software review also helps you to get the best free web conferencing software for you. With web conference software you will be able to host a meeting efficiently and effectively. You can also save your time and cut travel cost .Availing this software,you could offer sales presentations to clients in different countries and on several continents in the similar day and all without moving from your office. Most of the software can deal the audio part of the conference also.