Top 5 Video Conferencing Kit for Small and Medium Rooms
Video conferencing technology is one of the most helpful,reliable,and effective tools for today's business. With the advent of technology,video conferencing kits for small and medium rooms are nowadays available that ensures rich and quality audio and video communication experience in real-time.
Video conferencing kits for small and medium rooms include conference camera,speakers,microphones,all required software,and more.Here are top 5 video conferencing kit for small and medium rooms recommended.
Reveal Top 5 Video Conferencing Kits for Small and Medium Rooms
1. ezTalks
If you are looking for a reliable video conferencing kit,ezTalks will be the most recommended option for you. This solution is implemented by a leading web,audio,and video conferencing service provider that has profound experience in the underlying industry. ezTalks video conferencing kit also allows you to choose your preferred video conferencing software includingezTalks,Skype for Business,Skype,Zoom,WebEx,GoToMeeting,BlueJeans,Lifesize,Google Hangouts,Facebook Messenger,Microsoft Teams and more as required.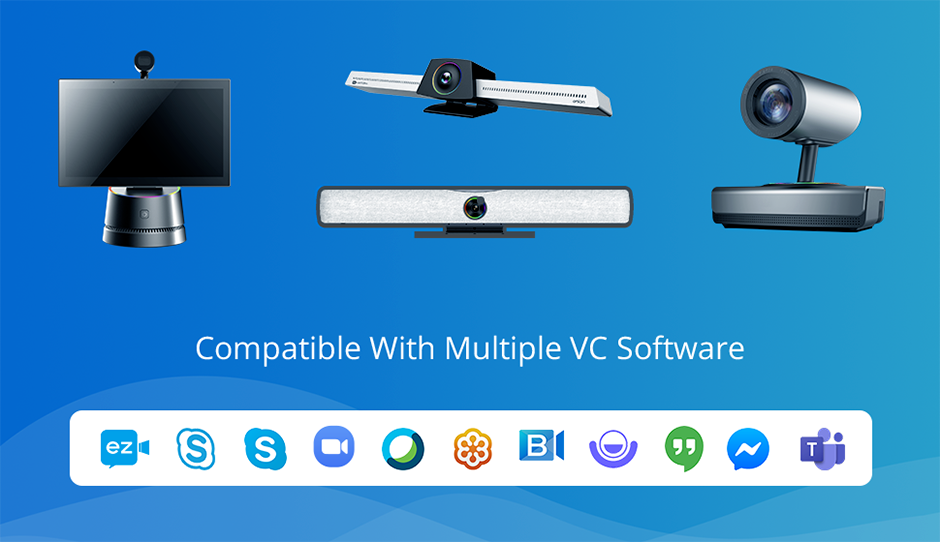 ezTalks Hardware
Supports Multiple VC Apps
ezTalks all-in-one video conferencing devices work with most popular VC apps like ezTalks,Microsoft Teams and more as you require.
Request A Demo
Meet Pro
Meet Prois asmall conference room solution that can accommodate up to 12 people. It is integrated with HD camera,speaker,microphone,codecs and software (you can choose the software you prefer) to deliver premium video conferencing experience. High-performance processing technology ensures high-performance encoding/decoding capability for excellent video and audio experience when streaming. 4K sensor and wide-angle lens help to capture superior sharp clarity for video while with the ePTZ control,users get dynamic images without any delay. Meet Pro's 4 far-field linear microphone arrays with Automatic Echo Canceler and Automatic Noise Reduction technology ensure no interfere in your meetings. 5-meter sound pick up range allows wider space for meetings. Also,you can easily control and manage your room via desktops,laptops,tablets,Macs,mobile devices and T-Voice 100.
Meet X
Meet X is a premium video conferencing equipment for medium to large meeting spaces with up to 20 people. 1080P PTZ camera is able to grasp everyone in detail even in a large space. adopts high-performance built-in codec,which can support 1x1080P hardware encoding,3x1080P hardware decoding,and up to 25 video feeds by software decoding. In addition,it supports for dual displays to meet various presentation needs. The most attractive point is that it can be also easy to set up in various installation ways and also supports various video conferencing software.
T-Voice 100
When it comes to the video conferencing kit,T-Voice 100 should be in the list as it is a smart conference speakerphone with outstanding audio experience and easy meeting control with touch screen. It is feasible to capture sound from 360 degrees in the meeting room of up to 80 square meters. Noise Cancelation technology delivers uninteruptible meetings with no delays. It can also served as a wireless meeting controller with HD touch screen and built-in ezTalks software.
H310U
ezTalks H310U is the PTZ conference camera with 10 digital zoom lens and ptz control,delivering HD video experience for medium conference rooms. You are able to see every detail with HD video and 10x zoom and it works well with your existing video conferencing applications. Besides,you can enjoy nearby or far away control with such a conference room kit.The plug-and-play USB connectivityand standard UVC 1.5 protocol definitely offer great flexibility for creating your meeting room.
M310/M310 Pro
ezTalks M310 is the wireless conference speakerphone for medium conference rooms. It can pick up sound from 360° with 3 meters sound range. Its built-in battery makes it a portable device and its wireless connection optionensures the simplicity of installation. There is no doubt that M310 guarantees exceptional clarity with advanced digital sound processing technology. Please note thatM310 Pro is perfect for both small and medium rooms,while M310 is suitable only for the small room size.
ezTalks Software
ezTalks provides dedicated cloud-based video conference room software with wireless content sharing,multi-screen video calls,cloud recording and interactive whiteboard for any of your conference room. It can be used for free,and alternatively,its standard room planat $32/ mo/room is perfect for any size of rooms.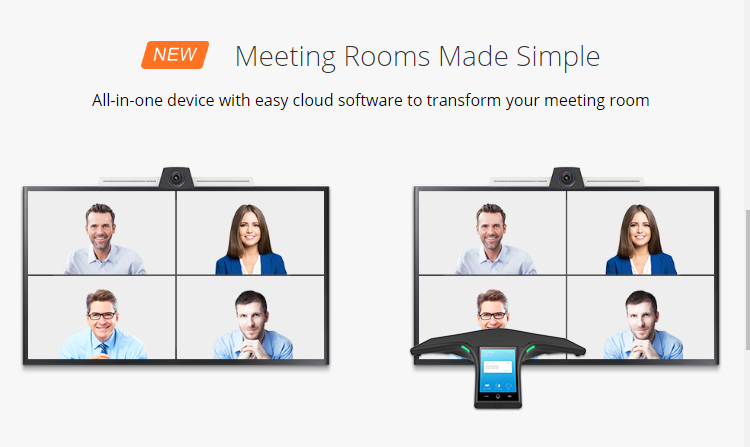 Features
I) ezTalks offers all-in-one video conferencing equipment (Meet Mini,Meet S and Meet Pro) that's packed with a built-in HD camera,mics,and cloud video conferencing software. Also,it offers other conference room accessories like H310U,M310/M310 Pro and M410 for outstanding video and audio performance.
II) Capability for efficient image captureand excellent audio effect.
III) Able to provide high-performance processor with H.264 video codecs
IV) ezTalks'microphone is integrated with noise reduction and echo cancellation capability.
VI) No matter the hardware or software provided by ezTalks,it provides various usefulfunctions.
VII) Wireless meeting room control via T-Voice 100 with 5.5-inch multi-touch screen
Advantages
Advantages
I) A cost-effective solution,only one-time fee for permanent use,which means you can enjoy the endless meetings with the devices.
II) Exceptional audio and video quality without any annoying lagging.
III) Easy to set up and simple to use.
IV) Other benefits include audio calls,video calls,telephone join-in,IM,whiteboard,screen sharing,and more.
Pricing
The conference room solutions start from $699 to $2399,more cost-effective than other competitors. As for the video conferencing kit for meeting rooms,they starts from $499 to $699.
2. Cisco Spark
Cisco Spark Room Kit is another good video conferencing kit for business. This powerful collaboration solution is suitable for medium and small-sized meeting rooms.
Features
I) Cisco Spark Room Kit is loaded with the following features,for example,codec,and camera.
II) Other notable features include content sharing,dual screens,and end-to-end security.
Advantages
I) Superior audio and video quality that facilitates real-time business communication among participants.
II) The software can automatically detect meeting participants & offers ideal framing.
Disadvantages
I) Cisco Spark Room Kit can accommodate only seven people.
II) Cisco Spark Room Kit Plus can accommodate only fourteen people.
III) The pricing is highly expensive.
Pricing
I) The Cisco Spark Kit costs $3,990.
II) The Cisco Spark Kit Plus version costs around $7,990.
3. Polycom
Polycom RealPresence Group Series is another choice for its good voice,video,and real-time collaboration experience.
Features
I) This software has a lot of features,such as ultimate voice clarity and automatic background noise reduction.
II) Other key features include content collaboration and real-time content sharing.
Advantages
I) It's one of the suitable tools for group video conferencing experience.
II) Polycom is certified by Office 365 and Skype for Business.
Disadvantages
The pricing of Polycom video conferencing kit is pretty high. Hence,for small and medium-sized business owners that are running on a restricted budget,this software won't be an ideal choice.
Pricing
Polycom video conferencing kit price can be as much as $100,000. Note,the actual subscription price largely depends on your type and size of business.
4. HighFive
This company has developed an all-in-one,sleek,and beautiful device that can be mounted on a TV or directly on the wall. Once installed successfully,HighFive video conferencing kit will deliver an HD quality video and audio experience.
Features
I) It delivers an unmatched quality video and audio conferencing experience.
II) The installation process is simple and easy.
Advantages
I) The interface of this video conferencing kit is intuitive.
II) Participants can join the web conference through Highfive URL. No download is required.
Disadvantages
I) Participants are limited
II) The subscription plans are costly.
Pricing
I) The starter plan (Select plan) costs $99/room (per month) for features like HD camera,and CPU.
II) The next level plan (Select Plus plan) costs $199/room (per month) for an additional feature i.e. Dolby Conference Phone.
III) There's one more plan (Select Premium plan) which can be customizable as per your needs.
5. Logitech
To make your business communication process easier,seamless,and effective,Logitech has introduced a all-in-one video conferencing kit for meeting rooms. The best part is -- it's easy to deploy,use,and manage.
Features
It's integrated with the following features,such as calendar integration,a sturdy 10.1" touch screen,a built-in HDMI input (for content sharing),and quick launcher screen etc.
Advantages
I) It's an optimized solution for tight spaces.
II) It comes with a customizable on-screen dashboard.
Disadvantages
I) Participants are limited
II) The subscription plans are costly.
Pricing
There are two plans for Logitech meeting rooms,such as Standard meetup kit and Premium Meetup kit. The pricing of these plans has a starting price of $999 USD. But you also need to pay for its software service monthly or yearly.
Conclusion
In the above list of 5 video conferencing kits,ezTalks certainly stands out from the rest. Not only the pricing of ezTalks video conferencing kit is affordable and inexpensive,but also,it's integrated with so many outstanding features that will make your business collaborative absolutely faultless.
So,what are you waiting for? Want to transform your small or medium rooms now? Use ezTalks video conferencing kit for meeting rooms and improve your business communication process.