Top 5 Must-Have Conference Room Equipment
In this contemporary era,remote conferences have become an integral part of the business communication and workflow,and it is imperative to have a great video conference room for this purpose. Remote conferences help the companies to hold virtual meetings as an affordable solution for achieving a plethora of objectives. Apart from a decent conference room,it is also essential to have the proper conference equipment.In the following paragraphs,we have mentioned the 5 must-have conference room equipment on the market.
1.ezTalks Meet S (Previously named Onion)
ezTalks Meet S is the affordable all-in-one meeting room equipment for huddle rooms. It is integrated with software & built-in HD camera and high-quality microphone speaker with a quick conference room equipment setup process.It can meet your audio,video,screen sharing and even other requirements at the same time with only one equipment.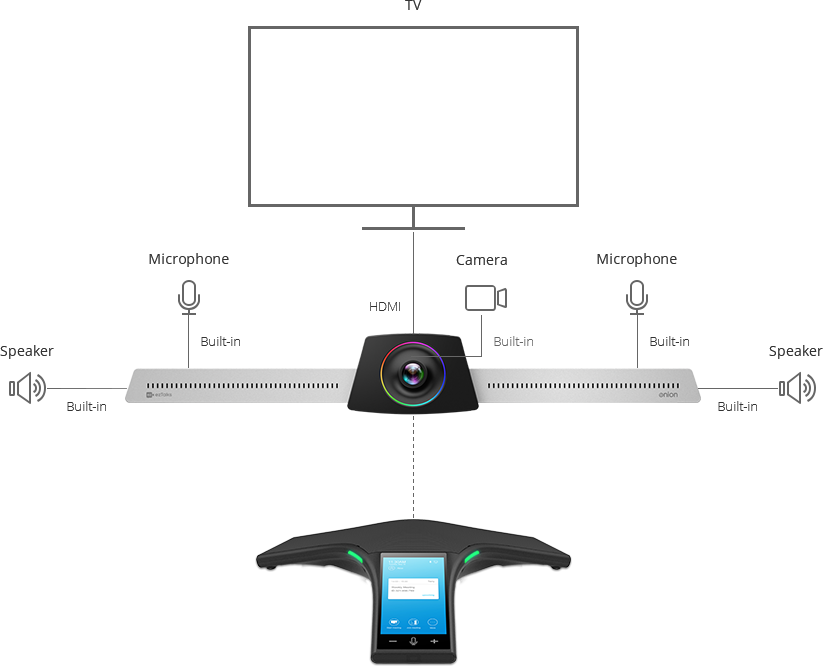 Features:1. Fantastic connection
2. Remarkable all-in-one design with integrated audio as well as ultra-clear video
3. Multiple screen or file sharing
4. Seamless collaboration functionality including annotate,whiteboard,and live chat
5. Innovative meeting control which includes mute,make presenter,recording,and so forth
6. Quick set-up processwith no need to rely on techniciansPricing:This astounding conference room equipment only costs $899 for permanent use of Meet S including the hardware as well as the software. This will transform your normal meeting room into a perfect meeting room.Application:ezTalks Meet S happens to be a comprehensive gadget which has been integrated properly with a microphone,speaker,conference room camera and also video conferencing software. It does not take much time to commence a meeting with this remarkable solution,and the product features some powerful control options including like group video chat,mute,interactive whiteboard,screen sharing,file sharing,and so on. On top of this,the product comes with an innovative all-in-one cloud-based hardware and software.Now,ezTalks constantly launches more and more conference room solutions for any size of the business,including Meet Mini (focus rooms),Meet Pro (small rooms) and Meet X (medium to large rooms).
2. ezTalks T-Voice 100
ezTalks T-Voice 100 is a smart conference speakerphone which comes to deliver the outstanding audio experience.
Features:
1. Simple to setup
2. Captures voice from 360 degrees with a remarkable 5 pickup range
3. Crystal clear audio experience
4. Act as the controller in ezTalks Room solution
Pricing:
ezTalks T-Voice 100fixes a price at $699,offering an outstanding meeting experience. ezTalksMeet S with T-Voice 100,cloud-based package and excellent service support,only costs $1399,which is suitable for medium and large conference rooms.
Application:
The simple installation procedure helps to save our time given that there is no need to go through any instruction for the installation. It is possible for the users to easily share,present as well as send from their preferred gadgets including desktops,mobiles,and tablets with the help of the application which can be downloaded on this device anytime.
3. Highfive Meeting Hardware
Features:
Screen sharing
1. Simple installation
2. Background audio canceling
3. Unlimited conferences
4. Wireless TV projection
Pricing:
The product offers as many as 3 pricing plans to choose from. These happen to be Essential ($ 99 per month) and Professional ($ 199 per month). All these subscriptions have to be paid annually.
Application:
There is no requirement for installing any special equipment. Highfive happens to be a fantastic all-in-one device which will help to eliminate the need for any additional headset or microphone. The image and sound quality also deserve special mention. Another important highlight of this product is the innovative screen sharing which comes with the software package itself.
4. Hello Video Communication Device
Features:
1. Includes an innovative 4K conference room camera sensor along with multiple microphones which help to transform your TV into video and audio communication gadget
2. The device is compatible with Skype,WebEx,Google Hangouts,BlueJeans,Amazon Chime,Facebook Messenger,GoToMeeting,and so on
3. The integrated Miracast,AirPlay,and Wireless Display apps enable genuine cross-platform wireless sharing
Pricing:
The Hello device is available at a price of $449 and you can use it in your small & medium conference rooms.
Application:
This conference room equipment happens to be arguably the most powerful all-in-one collaboration software on the planet which aids in 4K and HD conferencing along with wireless sharing,video as well as audio calls,live broadcasting,and so forth.
5. Lifesize Icon 450
Features:
1. Smart-framing Sensor
2. Fantastic HD display
3. Seamless Call Escalation
4. HD conference room camera
Pricing:
The price of this product happens to be approximately $5,000.
Application:
The Icon 450 is not going to disappoint you in case you are searching for some simple way to install integrated conference room systems across your video conference room. The innovative LifesizePhoneHD,as well as the Lifesizecloud-based service,will offer you a portable touchscreen control along with remarkable audio quality. It is undoubtedly one of the best video conferencing camera at present.
Conclusion:
ezTalks Meet S,as well as ezTalks T-Voice 100,are definitely two of the most innovative as well as affordable video conferencing solutions which can be adopted by any business at present. Their breathtaking all-in-one design along with fantastic audio and video quality has fascinated lots of businessmen over the years. One can always expect to enjoy enhanced collaboration,better communication,as well as greater affordability with these video conferencing equipment. Consequently,do not hesitate and purchase these cutting-edge conference room equipment which will help you to enhance your business workflow and communication to a great extent.