The Best Screenhero Alternative and Competitor
Any decision in an organization or a company should be based on the discussion of team members and this is also called "team collaboration". As now we are in the Information Age that workforces and business partners are distributed in different places,remote collaboration happens. A lot of teams requires tools to fulfill the needs of remote collaboration and invent programmes to achieve it. One team took their experience of building sharing software to create the entire collaboration and real-time sharing experience,with their product named Screenhero. It is popular once but since acquired by Slack,it pushed some of its users to move to other alternatives or competitors. In this article,the reasons why users discard Screenhero and its best alternative to you.
Part 1 What Is Screenhero?
Screenhero is a collaborative tool that enables users of screens sharing and video communication for effective team work. It is okay to share if you are using Windows system and your partner is using Mac because it supports both. While the function is very simple,user experience seems quite awful. Here is why the customer wants to look for an alternative.
1. Limited Access
Since it is acquired by Slack,it is only available to Slack paid users and if your company does not use Slack,you do not have the free access to this screen sharing function. But for other software,there is still free version to give a trial. This is one of the aspects that users are not satisfied with.
2. Audio or Screen Sharing Lagging
Some users are complaining the audio lagging even in the high-speed network. It is the basic elements for collaboration to have smooth audio communication and this is the key point that some users can not stand with.
3. Lack of Recording Function
Teams are tending to record the discussion for review after the meeting. And it also helps to summarize the whole project when it achieves the goals. However,this Screenhero does not support this function.
4. No Customer Support
Screenhero now has been built into Slack and discontinued the support for standalone applications. There is no ongoing support for the users anymore.
Part 2 The Best Screenhero Alternative
After viewing tons of collaborative tools,I should recommend ezTalks Meetings as your best solution for team collaboration. It makes your meetings as easy as a breeze.
Recommended
Easy & Free Screen Sharing Software
ezTalks is an ideal software for screen sharing. It's free for up to 100 viewers,with clear and fluent screen sharing quality,and other effective features like white board,co-annotation,group/private chat,remote control and Record,etc.SIGN UP FREE NOW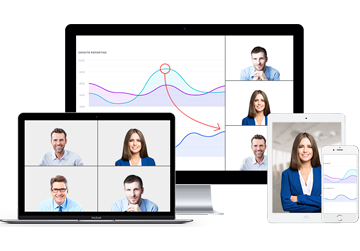 1. Up to 100 Participants for FreeIt is the cloud-based software that allows you to invite up to 100 participants per meeting for free. You can try it without any cost and the free plan will never expire.2. Smooth Audio and Screen Sharing ExperienceThis software delivers very good audio experience which makes everyone to be heard in the meeting. The screen sharing can be very quick even in network with low bandwidth. When you apply to be the presenter,you can share your screen to your participants for annotation. And if you do not think it is good occasion to release the control,you can get the control again without hassles.3. Record and PlaybackYou can record your meetings as well as whiteboard and save into your local disk. When you need to review,you can open these files to help you summarize.4. 7/24 Customer ServiceThe support team of ezTalks is 7/24 online and their customer support is really excellent. Even if you are at midnight to chat with them,there is still someone online answering your questions,not a bot. I really like the customer service of ezTalks.Besides the mentioned above,the software also enables you to have group video chat,whiteboard and annotation. You can start your meeting via your desktop,tablet,mobile as well as your phone.Since Screenhero is the history,why not give other good software and team a try. Anyway,it is free and cost you nothing.