How to Use Video Conferencing on Your Brand New Samsung Galaxy S8
The global smartphone leader Samsung just debuted its latest flagship product Galaxy S8 (S8 Plus) at the press conference on March 29, 2017. The new smartphone is turned out to be a bellwether for the phone market. Samsung Galaxy S8 (S8 Plus) makes it possible for you to do what you want. Lots of new frontier technologies have added to the phone, such as curved display, water-resistant body and new AI assistant Bixby, etc. Besides, Galaxy S8 (S8 Plus) can also be used as an office tool. For example, you can use it to host or join an online video conference in business.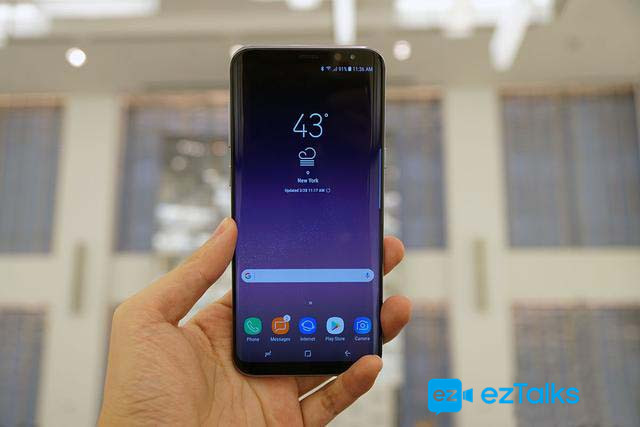 Here we'd like to tell you how to use video conferencing on your brand new Samsung Galaxy S8 (S8 Plus). Take ezTalks Meetings, the first SaaS solution with up to 100 participants for free, as an example.
Step 1: Download and Install ezTalks Meetings
First of all, download an ezTalks Meetings app at the Google Play and then install it on your Galaxy S8 (S8 Plus). You can get the latest version of ezTalks Meetings via the following download button.

Step 2: Sign up ezTalks
Open your ezTalks Meetings app, and come to the interface. If you are new to ezTalks, you can sign up here for free. If you have already become a member of ezTalks (whether you sign up on a PC or iPhone), you can just put in your email address and password, or sign in with your Facebook/Google account.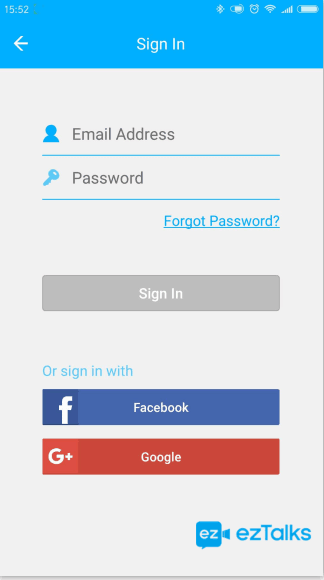 Now, you can use ezTalks Meetings to start a free online meeting after signing in the app. Before that, make sure your camera, microphone and speaker are open. Wait a few seconds, and then you will enter into a virtual conference room. Then you can invite others to attend the meeting by sharing the link or the Meeting ID in a form of Mail or Messaging. Now, all the steps are done, and you can start your virtual meeting after all your participants are coming.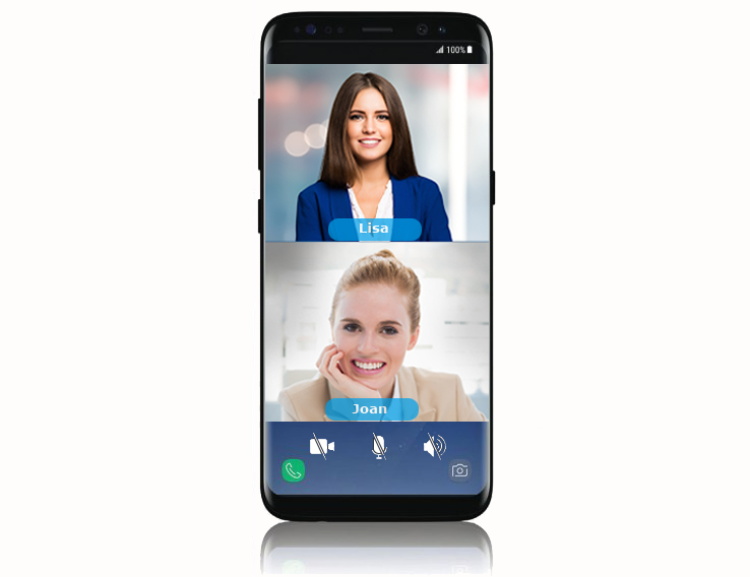 Besides, you can also schedule a meeting with ezTalks Meetings app on your Galaxy S8 (S8 Plus). And then you can invite participants directly after scheduling the meeting successfully. Of course, you can also join a meeting as an attendee from ezTalks Meetings app.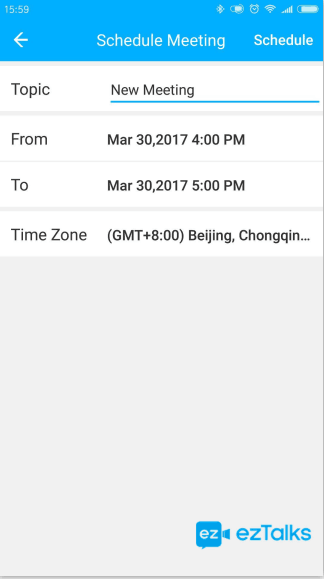 The purpose of video conferencing is to make communication and cooperation easy for those in different locations. Mobile devices make video conferencing more convenient. Now you know how to use video conferencing on your new smartphone Samsung Galaxy S8 (S8 Plus) after following the steps from ezTalks Meetings, your collaborative business will become more productive and effective.