Join.me vs GoToMeeting: Which One Is Better?
Video conference software has become immensely popular as they help business to connect with those team members that may not be present in the city or in the office,to improve communication,collaboration,and also productivity. Apart from ezTalks,which is one of the most popular video conferencing software,there are other two that are also quite popular – Join.me and GoToMeeting. But which amongst these is better,which one should you opt for? If such are the questions now running in your mind,then a comparison of these software will help make things easier. But before we begin with the comparison let us get to learn about these 2 software in brief.
What is Join.me?
Join.me is a cloud-based tool that helps businesses,organization,and people meet online for various reasons. It has a user-friendly and simple structure,and using it companies can easily attend or start a meeting,discuss business,and collaborate to share their ideas from different parts of the world. Its flexible priced plans and friendly interface makes it a good option for small companies and startups. Since this system needs no expensive training and complex installations,it makes the tool all the more attractive.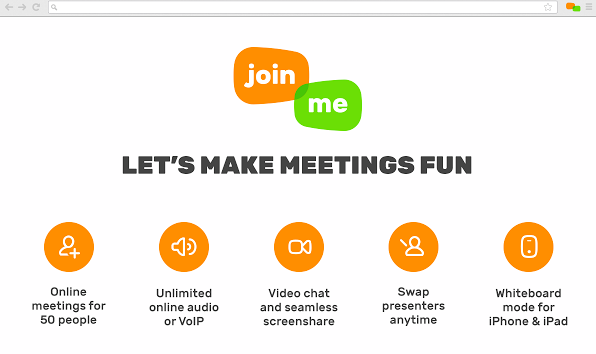 What is GoToMeeting?
GoToMeeting is a straightforward and simple web conferencing system with interesting international features which makes it a perfect option for businesses that have international branches or have colleagues and clients living in other countries. The software has a user-friendly interface and you can start your meeting in just a few moments. GoToMeeting is a great option for companies that have outgrown video and web conferencing tools and need something more extensive.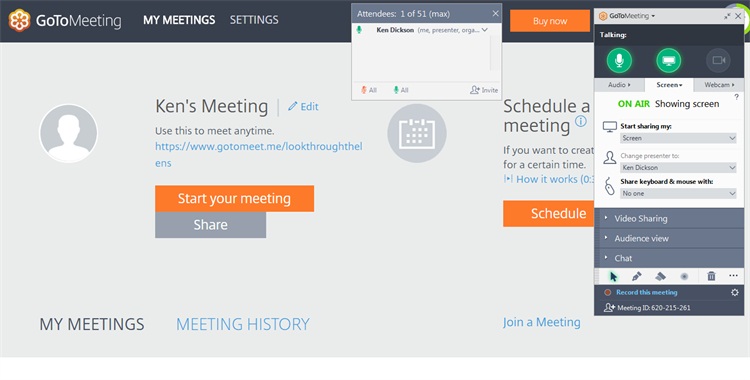 Join.me vs GoToMeeting – A Comparison
Overview of Benefits:
Join.me
Join.me makes business presentations,meetings and collaborations simple and easy. By just pushing a button you can attend or start a meeting. Some of the benefits that this tool ensures you will enjoy are listed below.
• Join.me runs on an absolutely secure platform and has been created and is maintained by the best developers.
• It has been created to match today's workplace and allows its users the chance to be continuous,spontaneous and widespread.
• Owing to its intuitive interface it becomes very easy for anyone to communicate and work together no matter how distant they actually may be.
• You do not need to sign up or download the software to start using it. All you need to do is click on the "join" button if you want to join a meeting or click on the "start" button to initiate one.
The free edition of Join.me allows you to enjoy VoIP and the facility to add up to 10 participants. If,however you need more members you can opt for its paid plan that comes along with many interesting features.
GoToMeeting
GoToMeeting is an affordable,robust web and video conferencing solution that is used by many businesses. It allows its users to enjoy the functionality and simplicity offered by a few other tools,but at a comparatively lower rate. GoToMeeting makes it very easy to join or initiate web-based conferences,and this is yet another thing that users love about this software. Let us now get to learn about a few benefits that this software allows you to enjoy.
• Starting and joining a meeting with this software is very easy. Once you create a meeting you simply need to send the participants a custom URL,and they just need to click on the same.
• Users can join the meeting from their smartphones and tablets which make it easier for them to be a part of the video conference even while on the go.
• With features like multi-national toll-free numbers,this tool makes it easy to connect with international clients.
• Its PIN-based entry makes things safe and secure. To join the conversation participants have to enter a code or PIN,which is something not offered by many other similar tools including Join.me.
It also offers a free plan and a few paid plans and you can choose one that you find the best according to your needs.
Features Compared:
1. Conference Features
GoToMeeting,as well as Join.me,has managed to impress many businesses with a list of interesting features that they offer. Some of the common conference features that both offers are annotation and drawing tools,application sharing,desktop sharing,audio,file transfer,screen sharing,webcam/video,remove an attendee from a meeting,and instant messaging.
However,GoToMeeting also offers co-browsing and break-out session which is not offered by Join.me,and Join.me offers whiteboards and full screen/partial screen mode,something that GoToMeeting does not offer.
2. Security Features
Both these tools have interesting security features like user authentication,security control over desktop sharing,and encryption,but GoToMeeting also offers one-time password facility,something that is not included in the Join.me plans.
3. Meeting Follow-up Features
While Join.me only offers a single meeting follow-up feature that is meeting recording/playback,GoToMeeting together with this also allows you to enjoy surveys and polls,participant reporting,and inactivity time-outs.
4. Invitation Features
As far as the invitation features are concerned both have the same to offer,schedule recurring meetings,schedule meetings,a calendar for meetings,and ad-hoc/instant meetings.
5. Integrations Compared
While Join.me supports integrations with the application and business systems including Salesforce,Google Calendar,and Outlook,GoToMeeting has a longer list and includes Salesforce Sales Cloud,Slack,Zapier,Microsoft Office 365,Acuity Scheduling,Hatchbuck,1CRM,Podio,and Accord LMS
6. Pricing Plans Compared
Both Join.me and GoToMeeting have various plans for their clients to choose from. While Join.me offers a 3 SMB protocol,GoToMeeting offers a 4 SMB protocol.
Both have a free version. The free plan of Join.me allows you to include up to 10 participants,enjoy 5 video feeds,easy screen sharing,and internet calling,whereas the free version of GoToMeeting allows you to add up to 3 participants,and enjoy screen sharing,1-click meetings,and web audio facility.
Next is the Pro Plan of Join.me which is priced at $18/month and together with its free plan features it also allows you to add up to 50 participants,and enjoy 10 video feeds,online meeting together with productivity features,unlimited audio and international calling,and customization. The next level plan of GoToMeeting is the Starter plan,priced at $19,which together with features from its free version also offers dial-in conference line,HD video conferencing and ability to add up to 10 participants. Though both the plans are priced almost similarly,Join.me has more benefits to offer.
The third paid plan of Join.me is the Business Plan which is priced at $25 per month and together with the Pro plan features it also offers advanced management and premium meetings,user management,feature management,enterprise authentication and the freedom to add up to 250 participants. On the other hand,the next paid version of GoToMeeting is the Pro plan,priced a little higher than that of Join.me,at $29 per month,and together with its Starter plan features,it also offers drawing tools,recording,mobile apps,personal meeting rooms,mouse and keyboard sharing,call me,and the ability to add up to 50 participants. Though the price is slightly higher and the number of participants less,but GoToMeeting does have quite a few interesting helpful features to offer.
Additionally,GoToMeeting has yet another plan,the Plus Plan,Priced at $49/ month,together with every feature from the Pro plan,this plan allows you to add up to 100 participants,sight board,and active directory.
If the number of participants is to be considered,Join.me certainly is better,but if you compare the features,GoToMeeting has a lot more to offer.
Both Join.me and GoToMeeting have its own share of interesting features and both are popular in the business world. If,however,you are interested only in the best and want even better features that too at nominal rates,then ezTalks is the best option for you.