How to Set up Google Hangouts Meet Hardware for Your Conference Room?
What is Google Hangouts Meet?
Google Meet,fully integrated with G Suite,is always viewed as an upgraded version of Google Hangouts. It is tailored to serve various businesses purposes such as video conferencing and for hosting webinars. Google Meet comes with a number of new features that has made it easier for users to conductvirtual meetings from remote locations.With Meet's specially designed iOS and Android apps,meetings can be seen for the day with all the important information from Calendar,then you can join with a tap.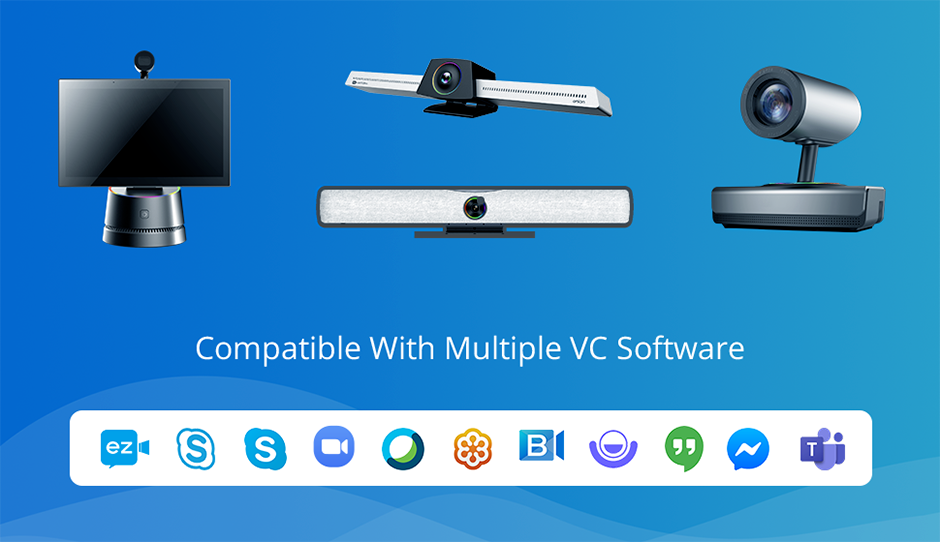 ezTalks Hardware
Supports Multiple VC Apps
ezTalks all-in-one video conferencing devices work with most popular VC apps like ezTalks,Skype for Business,Skype,Zoom,WebEx,GoToMeeting,BlueJeans,Lifesize,Google Hangouts,Facebook Messenger,Microsoft Teams and more as you require.
Request A Demo
With the Basic,Business,and Education editions,you are allowed to hold meetings with up to 25 people. With the Enterprise edition,you can hold a meeting with up to 50 people and broadcast your meeting to up to 100,000 people.
Google Hangouts Meet Hardware List for Conference Rooms
Here is the common Hangouts Meet hardware kit list for setting up your conference room:
a) Conference room camera
b) Conference room speaker
c) Microphone
p.s. You can also adopt Hangouts Meet speakermic to act as both a conference room speaker and microphone.
d) Device (to run meetings or webinars)
e) Big screen display (a TV screen works well HDMI presentation)
f) Hangouts Meet hardware touch controller for remote control
Rather than preparing a series of scattered Hangouts Meet kits for each conference room,it is possible to make the setup & maintenance simple and easy by virtue of the all-in-one devices which help you save time and budget. The ezTalks Meet Series are here to meet your requests.
How to Set up Google Meet Hardware for Your Conference Room?
Unlike Google Meeting room hardware,all ezTalks Meet Series are compatible with multiple VC Softwareincluding ezTalks,Microsoft Teams,etc. You can expand and upgrade your conference room of any size with both such powerful equipment and your current VCsoftware at hand flexibly withina few minutes!
From all-in-one video conferencing solutions to HD video cameras for any size of conference rooms,ezTalks room solutionshave what you need to maximize your Microsoft Teams experience. How to set up Google Meet Hardware that can be suitable for your conference room?
★ Hangouts Meet Hardware Kit for Mini Rooms
Meet Mini + Hangouts Meet Android App
Features
Meet Mini
Meet Mini takes pride in its unique all-in-one design which is integrated with a touch screen,HD camera,coder,microphone,speaker,WiFi and built-in multifunctional software for seamless video communication,easy to set up and use for anyone. Advanced built-in battery enables its portability,flexible to host a meeting or webinar whenever and wherever possible. Also,its powerful 64-bit CPU ensures high-performance processing ability to deliver seamless audio/video effect.
Hangouts Meet Android App
Hangouts Meet Android app allows you to get HD video and audio,multiple collaboration tools,file/screen sharing,calendar integration,instant messaging,etc. You can view presentations with high-resolution content and pinch-to-zoom function even on the mobile app.
Pros
1. Able to expand or upgrade your conference roomwith the cost-effective hardware and various multifunctional software like Hangouts Meet Android app in an extremely hassle-free way;
2. Unlike Google Meeting Room hardware,ezTalks Meet Mini can be portable and convenient;
3. The combination of mobile app and portable hardware helps you set up mini conference room at any time,from anywhere. It greatly reduces your worries when considering what is required for video conferencing.
Pricing Plan
The cost of this Hangouts Meet hardware kit is only $699 (not includeHangouts MeetSoftware subscription fees),which isalso quite affordable forsmall business or start-ups.
★ Hangouts Meet Hardware Kit for Huddle Rooms
Meet S + Hangouts Meet Android App
Features
Meet S
Meet S (formerly named Onion) is popular for its all-in-one design with both hardware and software working together to make each huddle meeting room perfect. Its elaborate design ensures theconvenient installation process with only three steps required. It is worth mentioning that Meet S delivers HD video & audio via a 1080P camera with 120 field-of-view and dual microphones. Flexible control is also reachable even when you're using Hangouts Meet Androidapp on your mobile devices.
Hangouts Meet Android App
It takes the headaches out of joining a video call at workand participating in audio conferencesforincreased collaboration and productivity. With Hangouts Meet Android app,you can join a meeting by simply clicking a link or calling into the meeting on your phone. During the meeting,you can not only send chat messages,but also present your entire screen or a specific window.
Pros
1. An affordable video conference device with great popularity workswith multiple VC Softwareon the market including professional Hangouts Meet Android app.
2. Enhanced life-like HD video & audio communicationfor huddle room conferences.
3. Can control your Meet S room anywhere you want via various devices including Android devicesand T-Voice 100as long as the software supports.
Note:If you would like to expand the audio experience,there are many speakerphones recommended like T-Voice 100which is the perfect match for Meet S in a huddle conference room. It is a smart conference speakerphone with a touch screenand owns the ability to capture sound from 360 degrees and deliver crystal-clear audio in the meeting room of up to 80 square meters with no need to rely on ceiling or satellite mics.
Pricing Plan
It only costs you $899 (one-time fee) for permanent access. It is much cheaper than that of Google Hangout Meet hardware.
★ Hangouts Meet Hardware Kit for Small Rooms
Meet Pro + Hangouts Meet Android App
Features
Meet Pro
Meet Pro supports digital pan,tilt,and zoom (ePTZ) with remote control,and 4K sensor with HDR video capture. Its dual microphone arrays with 5-meter pick-up range deliver crystal-clear audio performance. It comes with the speaker,mic,camera,codec and multiple video conferencing software including Hangouts Meet. This all-in-one design also ensures the easy and convenient installation process like Meet Mini and Meet S mentioned above.
Hangouts Meet Android App
Google Hangouts Meet provides an easy way for your business to hold video meetings online. It provides plenty of functions for real-time connection and collaboration. Especially,it is integrated with text messages sending and receiving functions for quick communication via your Android devices. Besides,it also adds GIF support and a new location-sharing button,which allows you to send their GPS location to your contacts.
Pros
1. All video and audio streams in Meet are encrypted to increase the reliability.
2. Unmatched video quality is ensured by ePTZ with remote control and the 4K camerasensor and wide-angle lens while the brilliant audio quality is ensured by dual microphone arrays with 5-meter pick-up range. All members can still focus on the content in a small conference room instead of being affected by the poor audio & video quality.
3. As for the hardware,there are no too-much wire cables or scattered components; as for the software,there are no plug-ins or specific account types needed to join a meet.
4. Can get dynamic images and ultra-clear sound without any delay by virtue of its powerful Processing Technology which results in high-performance encoding/decoding capability.
Pricing Plan
You only need to pay $1299 for Meet Pro and you can enjoy the smooth video conferencing experiences in small conference rooms.
★ Hangouts Meet Hardware Kit for Middle Rooms
Meet Plus + Hangouts Meet Windows Client
Features
Meet Plus
Meet Plus boasts of digital pan,and 4K sensor with HDR video capture. You can get dynamic images without any delay. Its dual microphone arrays enables 5-meter pick-up range while its all-in-one designenables the easyand convenient installation process with only three steps required. The powerful and intelligent CPU+GPU are adopted in Meet Plus,ensuring high-performance encoding or decoding capability.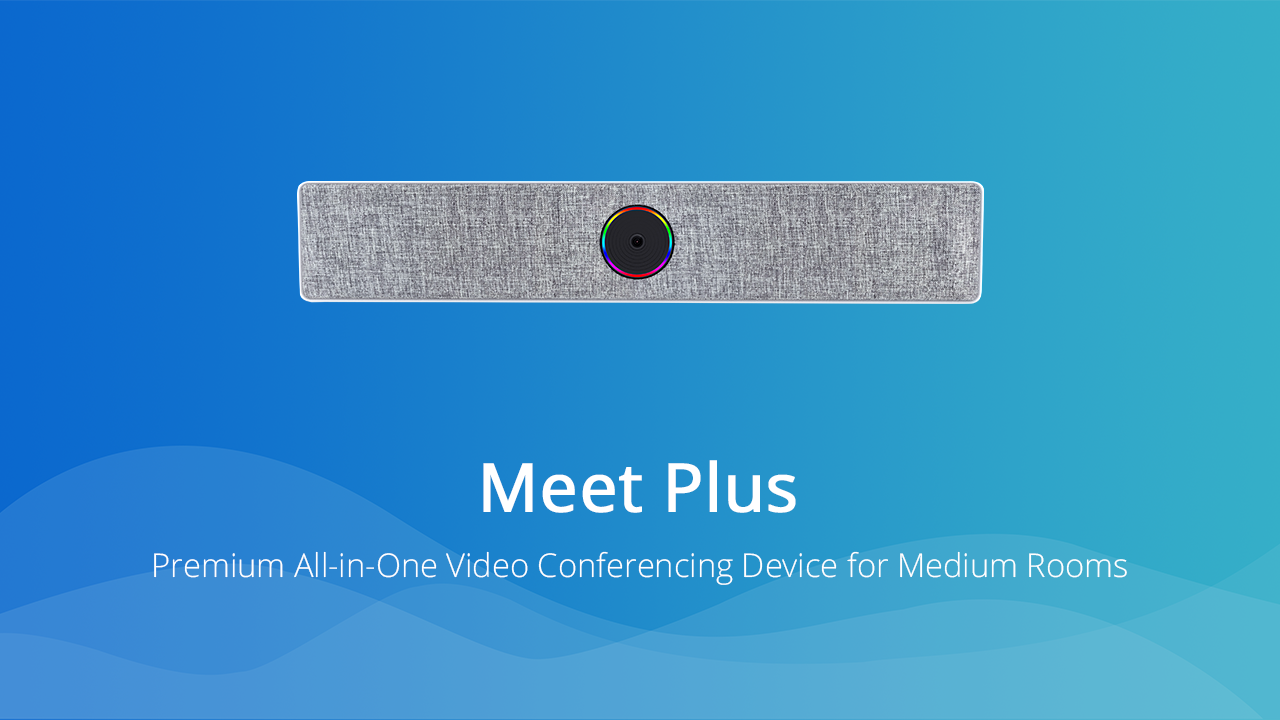 Hangouts Meet Windows Client
Hangouts Meet is integrated with G Suite. Google Calendar information is available directly within the meeting so you can quickly catch up on the agenda and meeting details. Broadcasting becomes a breeze as you can share your meeting with up to 100,000 viewers! Recording is easy,too. Host and others can watch the meeting later,once they're feeling better.
Pros
1. Setting up a middle conference room within minutes that can contain up to 20 people by virtue of the auspicious Meet Plus and useful Hangouts Meet Windows Client.
2. Audio and video streams are specially encrypted,so meetings or online webinars are yours and no one else's.
3. ezTalks hardware provides HD-quality video cameras and speakers that reduce echoes,contributing to the seamless and effective collaboration.
Pricing Plan
Meet Plusis available at only $2899,a one-time fee for your permanent use. This is the one that can give you easy-to-use middle conference roomand reduce you business expenses as well.
★ Hangouts Meet Hardware Kit for Large Rooms
Meet X + Hangouts Meet Windows Client
Features
Meet X
Meet X is a medium-large video conference room solutionwith integrated camera,codec and software. It can captureeveryone in picture with 1080P PTZ wide-angle cameraand surprisingly,it supports dual displays for flexible meeting presentation with up to 25 video feeds. All these provide unparalleled meeting experience for your team collaboration. Besides,it is easy to set up in variousinstallation wayslike put at the top of the display,fixed to a tripod,placed on the table and installed on the wall or ceiling.
Hangouts Meet Windows Client
Even if someone isn't in your organization,they can join your meeting,and you can even start a meeting on the fly!Also,you can drop a Hangouts Meet link in the Calendar invite,and you won't have to worry about everyone fitting into the same conference room. As for the reporting API,more than 50 different reporting metrics.
Pros
1. ezTalks Meet X can suit for every kind of business. It can hold a meeting with up to 30 people.
2. Compared with Hangouts Meet hardware,the optimized ezTalks Meet X device provides advanced video performance and brings an immersive audio experience to our users even in large conference room.
3. ezTalks Meet X allows dual display for flexible meeting presentation.
Note: If you would like to expand your Hangouts Meet hardware kit with standalone speakerphone for crisp audio in the larger conference room. Purchase M310 / M310 Pro or M410.
√ ezTalks M310 digital wireless omni-directional speakerphone enables 360° direction sound pickup while 3 meters sound range for each satellite mic enables perfect audio experience from any corner of the large Google Hangout conference room. Its built-in battery makes it a portable and convenient device.
√ M410 is a premium conference speakerphonealso with5-meter sound pick up range from 360° directionand sensitive touch &3D gesture control. Powered with advanced digital signal processing technology,exceptional clarity can be guaranteed by M410.
Pricing Plan
Everyone can host meetings in a medium-large at $2399 to uplevel your conference room! Picture source from Clipartkey,PNGitem,KindPNG.
Conclusion
Those mentioned above are the easiest and most effective portfolios for you to set up Google meeting room. Choose the one that meets your needs of Google meeting room. All of them strive to boost the convenience,flexibility and compatibility by virtue of powerful ezTalks Meet Series and Google Hangouts Meet Software. Go and have a look.