How to Select Conference Room Software?
Together with other furniture,conference room software is also needed to make sure the meeting,particularly the online one,turns out to be smooth and successful. Now,there are many,many conference room systems available but not all are equally good. So,how do you find out the best? Well,all you need to do is look for the following features.
1. Ease of Use
As already mentioned,there are many options available but one of the most important features of good conference room software is its ease of use. For example,ezTalks Rooms Software Solution is one of those conference solutions that designed for any size of room. You may never have used such a software ever before and yet you will not face any difficulty as ezTalks is one of the simplest yet most effective solutions. All you need to do is –
a)Download the conference room software and install on any of your android system that connected to a display;
b) Connect your camera,microphone and speakers;
c) Download and install ezTalks app for Windows,Mac,iOS,Android in the official website and sign up an free ezTalks account;
d) Sign in ezTalks with ezTalks app and add ezTalks Rooms;
e) Schedule or start a meeting in the ezTalks Controller app.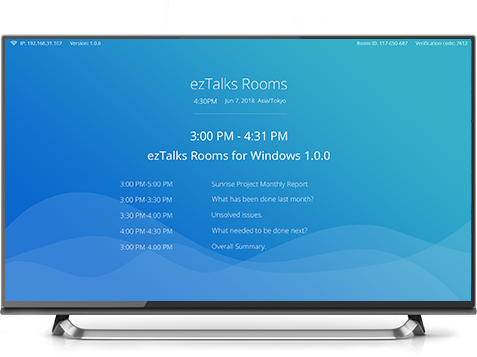 After you have your speaker and microphone ready you need to log in to your primary window and then click on "Start Meeting". Select the "Invite" button to add others to your conference. You will notice a pop-up window wherein you can add the email address and then click "invite". Also,you can invite by sharing your room ID that you will find at the upper-left side.
2. A Real Feel
Okay,you are in an online meeting but the best conference room systems will be able to give you the feel of being in a real one. ezTalks conference room software,unlike various other complicated software,offers the users an immersive collaboration experience by helping create an environment that is so real that you and the participants will forget the technology and focus only on the meeting. You can easily control the software through your mobile device and you need no technician to guide you with this.
3. Great Compatibility
Together with a conference room system that is flexible on the room size just like conference room solutions we also must look for one that is compatible with the devices needed in a conference room setup. No matter what conferencing equipment you plan to use it will be compatible with ezTalks conference room software as long as it has a display. This kind of software will prove to be beneficial for large organizations and also the start-ups.
4. Calendar Integration
Would it not be great if the conference room solution that you are using has conference room schedule display and will itself schedule meetings with the help of calendar integration? Also,it will include hosting/scheduling meetings via Outlook,setting meeting reminders,sending invitations through the email contacts,and also offer you an updated list of the upcoming meetings. Well,these are all that ezTalks conference room software ensures you will enjoy.
5.Screen Sharing and Multi-Screen Video
When in a meeting you obviously would want to see the speaker,the other participants,as well as the content,and this is also how ezTalks conference system works. It has a three-screen option which allows you to see the content,the speaker,and enjoy a gallery view. You can easily share content along with video and audio. There also is an interactive whiteboard that you can use for team collaboration. Furthermore,you can present content from your mobile or laptop wirelessly and need no dongles,cables,or chords.
6. Free Trials
Most of the conference room software will promise you many different things but it is only after using it that you will understand if it really offers what it ensures. It thus will be beneficial if the software you plan to use offers a free trial. ezTalks offers a 100 minute free trials for its users so that they can explore and understand what all the conference room offers.
7. Ease of Control
When you are hosting a meeting you obviously would want to enjoy a proper control over it and ezTalks conference room software is one such software that allows you to enjoy this and in an amazing way. Using it you will be able to control meetings on any device with Mac/Windows/iPad/iPhone/Android systems. Whenever necessary you can manage the meetings by muting/unmuting any participant and can even lock the meeting if necessary.
8. The Price
Last but not the least you would want your conference room solution to offer all the features mentioned above and that too at an affordable price. ezTalks conference room software has been created to allow the users to enjoy the many benefits but at a very reasonable price. The normal price rate is just $40/month.
So,these are some of the features any good Conference Room software must offer. Do look for these when making your choice,and if the software you choose meets all these requirements like ezTalks does then you can be sure it will help you enjoy the best online meeting experience ever.