How to Pick the Best International Video Conferencing Services for Your Business
Video conferencinghas become a major tool used by businesses to connect with customers,suppliers and partners from all over the world. With cloud-based international video conferencing solutions,a company can meet with the major business players or stakeholders using minimal resources. That way the business not only saves on time but also avoids spending a great deal of money booking hotels and meeting venues.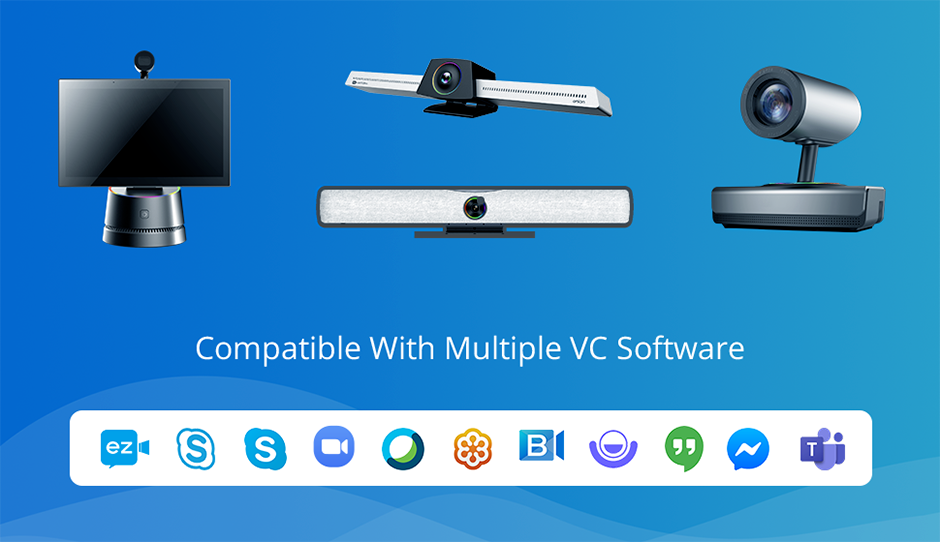 Advanced Video Conferencing
For Any Conference Room
ezTalks all-in-one video conferencing devices work with most popular VC apps like ezTalks,Skype for Business,Skype,Zoom,WebEx,GoToMeeting,BlueJeans,Lifesize,Google Hangouts,Facebook Messenger,Microsoft Teams and more as you require.
Request A Demo
However,with the availability of many vendors in the market,it can be a rather daunting task to choose the best international video conferencing system to work with. Regardless of the size of your business,you should aim at finding a service that fits your budget and meets the specific needs of the company.
How to choose the best international video conferencing services for your business:
Choosing the best international video conferencing tool that will meet your international business needs can be an easier task if you know the major aspects to consider. The idea is to evaluate each solution to identify one that best meets your needs.
Here are some of the most important aspects to consider when choosing an international video conferencing software or service:
1. Scalability
Before purchasing or subscribing to an international video conferencing system,you should consider the typical size of video conference you'll be hosting. How many people can participate in a single video conference using the software? How far can it go in terms of handling large groups? At the same time,think about whether the system will be connecting people from multiple locations or it only offers remote one-to-one interaction. Since you're dealing with international customers,employees and suppliers finding a robust system capable of connecting multiple locations at once can be a great idea.
2. Capabilities
The video conferencing service you choose should be capable of providing real solutions for the kind of business you're running. A typical video conferencing service should allow for screen sharing,file transfers and provide chalkboards for illustrations. It should also be compatible with different devices and operating systems to ensure participants from different parts of the world connect more conveniently.
3. Quality
A company or business doing business internationally needs to acquire a high quality audio and video conferencing system that will exceed its expectation. Crisp HD video is the best for any businesses connecting with employees,customers or partners from various parts of the world. It's important to consider the amount of bandwidth that you'll need to get clear high-definition video when holding meetings.
5 Best International Video Conferencing Services Ideal for Any Business
1.ezTalks Meetings
ezTalks so far offers the best free international video conferencing solution including Meetings,Rooms and Webinar to businesses operating all over the world. The software allows up to 100 participants to join meetings online for free either instantly or at scheduled times. Businesses with larger audience can upgrade to the ezTalkspricing and planthat allow up to 500 participants per meeting at the same time. The starting price is $12.99 per month per user. That can be great especially for a business that conducts businesses globally.
Some of the key features delivered by ezTalks Meetings include the following:
-HD video and voice for all online meetings
-Desktop and application sharing options
-Whiteboard tools for drawing and illustrations
-Private or group chats
-Record option for later playback
-24/7 live support
The Rooms offers conference room solutions for teams of any size and webinar offers the best online event platform for up to 100 interactive video participants,which together consists of the full portfolio for ezTalks unified communication.
2. Skype for Business
Skype for Business,from Microsoft Corporation,is among one of the best unified communication platforms you can use in carrying out international video conferencing. This service supports all platforms including Windows,MacOS,Android and iOS. It also features MS Office support for Business Essentials/Premium and allows businesses to integrate it to Outlook for convenient scheduling of meetings.
With Skype for Business a company can also enjoy such powerful features as:
-Perfect integration with MS Office
-$7.70 cost per user/month
-Meetings of up to 10 participants for the Skype Free Plan
-Meetings of up to 250 participants for the paid plan
-Up to 1 TB of file storage and sharing
-Digital whiteboards
3. Join.me
Join.me video conferencing software comes with all the core features a business needs to link up with international clients,employees,suppliers and partners. The software supports all platforms: Windows,macOS,Android and iOS and also comes with MS Office documents support. A business can use Google Calendar Office 365 or Outlook to schedule meetings.
This is probably one of the latest video conferencing software that does not come with many technical hurdles. With Join.me,a business does not require to install apps,plug-ins or remember any dial-up codes. First time users can try the system by engaging with up to 10 people for free before upgrading to the premium service.
Some of the notable features of this software include:
-Allows of file transfer or sharing of documents
-Allows for integration with conference calling in the absence of a camera
-Works with HipChat,Trello and Slack
-Provide meeting tools like presenter swap and annotation
4. WebEx
WebEx is among the software providing the best international video conferencing solutions to businesses. It's ideal for use between the business and employees,clients and partners located anywhere in the globe. Its well-designed platform is perfect for larger businesses that require professional video conferencing software. WebEx's free plan allows for only two people to connect while its paid plan accommodates up to 100 participants.
Some of its key features include:
-VoIP audio support
-Integration with MS Outlook
-Whiteboard sharing
-Presenter wasp option
-Recording ability for later playback
-High-definition (HD) video support
5. Zoom
Zoom is among robust video conferencing software that offer great subscription plans for international businesses. The service allows up to 50 people to join an online meeting and enjoy 40 minutes free. Zoom's premium plan can support up to 500 participants who can simultaneously join the meeting online. With such a great paid plan,businesses can easily connect with clients and stakeholders world over using minimal resources.
Some of the keys features of the software include:
-HD video and crystal clear audio
-Whiteboards and screen sharing
-Meeting recording option
-Private text messaging
-Next meeting scheduling
Conclusion
International video conferencing services are slowly becoming part of bigger and medium-sized companies and businesses operating globally. Adopting the best software will ensure you use minimal financial resources,save on time and improve productivity. Using the above listed international video conferencing solutions can guarantee you greater convenience,reliability and quality live video streaming. It all depends on your company's budgetary allocations and the specific needs it plans to meet. Otherwise the software can really do a great job in fostering international business.