Hardware and Software Requirements for Video Conferencing
Majority of today's businesses are adopting video conferencing system in running meetings and conferences. This mode of connectivity not only brings efficiency and productivity but also cuts down on business costs. However,to ensure proper communication,there are a number of hardware and software requirements for video conferencing that must be met.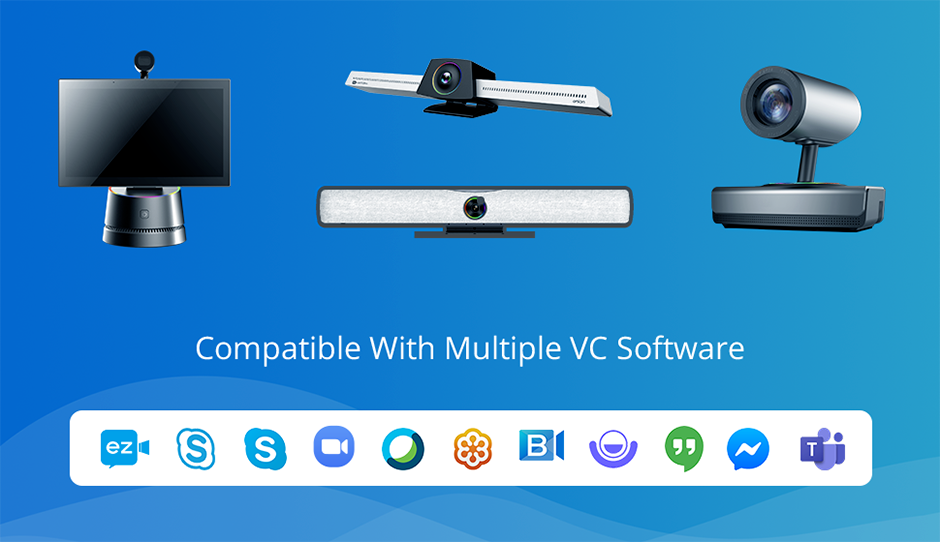 ezTalks Hardware
Supports Multiple VC AppsezTalks all-in-one video conferencing devices work with most popular VC apps like ezTalks,Skype for Business,Skype,Zoom,WebEx,GoToMeeting,BlueJeans,Lifesize,Google Hangouts,Facebook Messenger,Microsoft Teams and more as you require.Request A Demo
Meet Your Hardware and Software Requirements for Video Conferencing Easily
ezTalks Meet Mini
ezTalks Meet Mini can be the right pick if you don't want to consider such elaborate issues. It is a portable all-in-one video conferencing device especially designed for focus rooms. What's amazing is the open source platform that allows you to install any vidoe conferencing software you prefer. You will never bother about the compatibility with your existing video conferencing tools.
★ Work with Multiple VC software
Compatible with most popular VC apps like ezTalks,Microsoft Teams and more as you require.
★ Unique All-in-one Design
Fully integrated with a touch screen,HD camera,coder,microphone,speaker,WiFi,built-in battery and built-in multifunctional software,it definitely brings you unparalleled meeting experience with ease of use. You can no longer doubt whether you can meet the video conferencing setup requirements.
★HD Touch Screen
Equipped with 11.6"full High-definition touch screen with flexible tilt range and pan range,Meet Mini provides more clear images in a perfect visual angle and more responsive touch control.
★Professional Wide-angle Camera
Meet Mini adopts a high-quality 1080P HD camera with the professional image sensor to make everyone and even every detail visible.
★Crystal-clear Audio Quality
Meet Mini has two built-in high-fidelity speakers with 2-channel & stereo surround sound,as well as two built-in professional microphones,contributing to fluent communication.
★High-Performance Processor
Powerful 64-bit CPU enables the high-performance processing ability to ensures seamless audio/video effect.
★Useful Dual Screen
Meet Mini supports simultaneous display in dual screen without any conversion device.
Meet Mini greatly at $699 (One-time fee) reduces your worries when consideringwhat is required for video conferencing. You will no longer be afraid of forgetting the functional requirements for video conferencing that must meet to enable efficient and fluent business communication.
ezTalks Meet S

★ Work with Multiple VC software
Compatible with most popular VC apps like ezTalks,Microsoft Teams and more as you require.
★Enhanced Life-Like HD Video & Audio Communication
Meet S comes with an intelligent system that can facilitate a real-time lifelike video meeting with ultra HD video and audio. Its 1080p camera allows meeting participants to see crystal clear images smoothly without any problem. They can enjoy important details of a presentation like body language and facial expression. Also,the 120-degress wide angle lens allows the camera to focus on the entire room in a lager view. Then,dual microphone delivers an enhanced voice performance with echo cancellation and noise reduction.
★Interactive Collaboration
There are several kinds of practical features that can drive interactive collaboration. For example,users can instantly share screen or other important files related to a given project. Also,colleagues can intuitively present their ideas relevant to the given topic on interactive whiteboards.
★Greater Flexibility
Its attractive all-in-one design helps you to install the device with no need to wait for the technician. You can also control your Meet S room anywhere you want. With ezTalks software,you can manage your room via desktops,laptops,tablets,Macs,mobile devices and T-Voice 100.
★More Cost-Effective
It only costs you $899 and it is the one-time fee for permanent access. In the long run,this will help your business achieve greater efficiency,improved performance and reduced collaboration costs.
Why not get one to be close to success? It can also better meet your hardware and software requirements for video conferencing.
ezTalks Meet Pro

★ Work with Multiple VC software
Compatible with most popular VC apps like ezTalks,Microsoft Teams and more as you require.
★Unmatched Video Quality
Unmatched video quality is ensured by ePTZ with remote control and the 4K sensor and wide-angle lens. No need to worry about missing the facial expression details of each participant!
★Flawless Sound Quality
Meet Pro's 4 far-field linear microphone arraysmake you access the "natural" sound that you hear as clear as you do in the real-life meetings.
★Advanced Processing Technology
Users can get dynamic images and ultra clear sound without any delay by virtue of its powerful Processing Technology which results in high-performance encoding/decoding capability.
★Easy Installation
Thissmall conference room solution which integrated with HD camera,codecs and software helps you leave alone complicated installation process. This greatly saves your time!
You only need to pay $1299 and you can enjoy the brilliant video conferencing experiences in small conference rooms forever!
ezTalks Meet X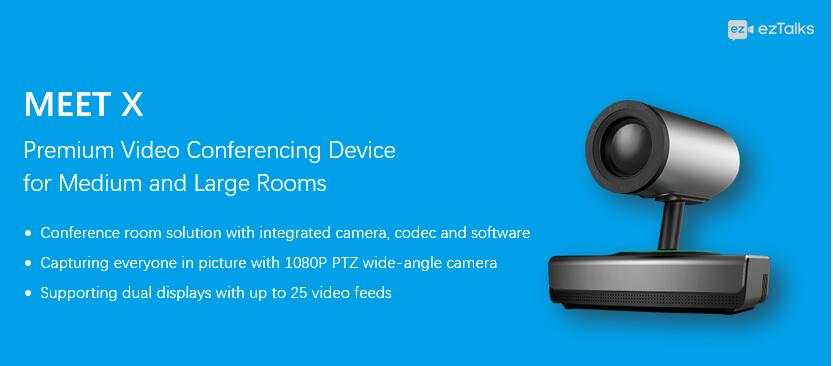 ★ Work with Multiple VC software
Compatible with most popular VC apps like ezTalks,Microsoft Teams and more as you require.
★Stunning Video& Audio Performance
You can experience high-quality video and audio performance even in a larger space. Its 1080P PTZ camera with powerful specifications brings best-in-class image quality.
★Strong Processing Ability
It adopts high-performance built-in codec,which can support 1x1080P hardware encoding,3x1080P hardware decoding,and up to 25 video feeds by software decoding.This greatly improves your immersive video conferencing experience.
★Flexible Dual Display
With dual-screen support,you can share content on one screenwhile keeping video feeds from remote attendees on the second screen.Various presentation needs can be met with Meet X.
Everyone can host meetings in a medium-large efficiently now! Get one at $2399 to uplevel your conference room!
Here we will still make the video conferencing requirements checklist,as all the components can be integrated into one device known as conference room solution to meet thehardware and software requirements for video conferencinglike ezTalks Meet Mini or connected as the separate units to fulfill the function.Both are ok as long as it meets the following list.
Video Conferencing Hardware Requirements:
1. Camera
One of the most basic hardware requirements for video conferencing system is the camera. This camera is basically used to record a video signal sent to people on the other end of the live session. Businesses particularly need high-definition (HD) conferencing cameras that come with advanced features like remote control pan,tilt and zoom. In medical applications or educational conferences,participants may need to use additional or secondary cameras to ensure more clarity. Adopting HD cameras simply ensures participants enjoy the highest resolution even with the largest images.
2. Codec Unit
Another important hardware required for video conferencing is the CODEC (coder-decoder). Its major work is to take audio and video feed,compress it and then transmit it via an IP network. It also decompresses or expands incoming audio and video stream and maintains the network's data link.
3. Video Display
It is mainly used to provide monitor display for live video conference sessions. Some of the most common video conferencing displays available in the market include LCD,HD Plasma display,LDP Projector and XGA PC Type Display. Majority of businesses prefer high-definition display ranging between 720p and 1080p because they offer the best resolution. Such displays also offer extra viewing space compared to standard monitor devices.
4. Microphone and Speakers
Microphone and audio subsystems are also an important part of hardware needed for video conferencing. Analogue microphone pods can be used to meet video conferencing needs,especially for a small group of people. Participants need microphones or headsets to communicate with attendees on the other end during a live session. Intermediate video collaboration systems adopt a gated selection of digital microphones that run on integrated software. These types of collaborative microphones are used in large group interactions. Microphones used in video conferencing should be able to deliver instant connectivity and cancel any background echoes.
To complete the video conferencing requirements checklist,a business needs to find a good set of speakers like ezTalks T-Voice that produce clear audio. Poor quality speakers can lead to participants not hearing everything or missing out on important details of the meeting.
Software Used for video conferencing:
1. Desktop End-Point Software
Desktop endpoint applications or browser-based interfaces are software in a PC that facilitate access to instant video conferencing. These kinds of software used for video conferencing simply rely on existing built-in cameras or external USB-connected devices to relay information. For the audio system to work perfectly,it must work with integrated microphones,speakers or any other USB-connect devices. Many video conferencing providers,likeezTalksand Lifesize,released its own software used for video conferencing,which are fully compatible with Windows,Mac,iOS and Android. Browser-based clients can also make use of WebRTC (web real-time communication) capabilities of browsers like Firefox and/or Chrome to support video conferencing.
2. Broadband Internet Access
In order to enjoy instant video conferencing streaming,a business needs a high-speed internet service. Getting a broadband modem can help with the huge bandwidth that's involved in running live conferencing sessions. The aim of having a stable internet access capability is to ensure smooth instant streaming,clarity of audio/video and consistency in making presentations. PCs used in connecting to video conferencing sessions can establish internet access through routers fitted in the business offices.
3. Mobile Apps
Mobile applications can enable meeting attendees to participate in video conferences via their smartphones,tablets or iPads regardless of wherever they're located.
4. Web Conference Software used for video conferencing
Adopting web conference software can help add a number of important features to a business' video conference needs. These video conferencing software not only facilitate VoIP (Voice over Internet Protocol) communication but also allow for video streaming,application sharing and private text chats. Most of the software used for video conferencing also come with record and playback ability,whiteboards,instant messaging and inbound faxing. They can simply be a perfect addition to your list of hardware and software requirements for video conferencing.
Conclusion
These are among some of the video conferencing hardware and software requirements that you needto considerespecially for a small business. While acquiring all these components can cost you extra money,it will pay off in the long run. Having a stable video conferencing system will ensure efficient communication,higher productivity and reduced costs. Investing in hardware and software for video conferencing is simply worthwhile.