Top 5 Video Conferencing Companies
Today technology has evolved in all the fields. One of the most soaring aspects is communication,which includes video conferencing,video teleconferencing,smartphone networks & availability of affordable network. In today's fast paced life,video conferencing is blooming as a vital element in maintaining real-time communication.Below is a list of video conferencing companies which provides you with powerful and simple-to-use video conferencing solution to let you communicate and collaborate with colleagues at any time from any where.
1. ezTalks Technology Company
ezTalks Technology Company is one of the professional and leading HD video conferencing companies,which offers great video conferencing experiences. It has Meetings,Rooms,and Webinar service which covers most of the needs for remote communication.You can choose the most suitable video conferencing solution to stay connected with colleagues wherever they are. ezTalks lays great emphasis on privacy,and protect your financial and personal data with full encryption and advanced fraud protection. You can feel relieved to use its video conferencing solutions compared to other video conferencing companies.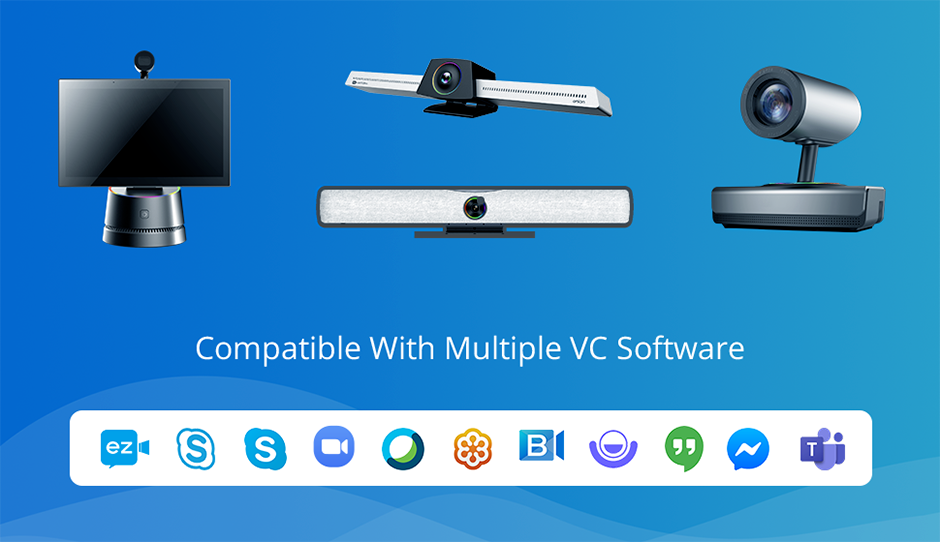 ezTalks Hardware
Supports Multiple VC Apps
ezTalks all-in-one video conferencing devices work with most popular VC apps like ezTalks,Skype for Business,Skype,Zoom,WebEx,GoToMeeting,BlueJeans,Lifesize,Google Hangouts,Facebook Messenger,Microsoft Teams and more as you require.
Request A Demo
Among its video conferencing solution,the conference room solution named ezTalks Rooms allows video conferencing from size of any meeting rooms with all-in-one design,4k camera,remote control from mobile devices and fast after-sales service. It also features in desktop and application sharing,interactive whiteboard sharing,meeting control,HD video,HD voice,private and group messaging,full screen and gallery view,recording and playback and more. It makes it extremely easy and convinient to connect your colleagues at any time no matter where they are.
The amazing thing about ezTalks conference room solution is that ezTalks video conferencing devices are compatible with most popular video conferencing Software including ezTalks,Microsoft Teams,etc. Thus you are free to use the all-in-one VC devices for seamless video meeting experience with your favorite meeting app.
2. Vidyo Company
Vidyo company is a private venture-funded company offering high-end video conferencing solutions as other video conferencing companies. It provides high-definition,low-latency and multipointvideo communicationacross various different networks. Hangouts & Gmail have implemented Vidyo's services for its phone & video calls,making it one of the top video teleconferencing companies.
Vidyo also co-developed the services for the Nintendo Wii U gaming console. Vidyo Company was the first one to develop a video conferencing solution in HD quality. Today it is popular for its high-quality cameras,& good sensing microphones.
3. Polycom,Inc
Polycom,Inc is an among the best American video conferencing companies that develops efficient video conferencing solutions,providing best-in-class user experience. Polycom,Inc offers friendly collaborations between clients. The most striking feature of it is the Acoustic Fence,which blocks the extraneous noises,thus preventing distraction & hindrances. In the field of video conferencing,it has several of solutions depending upon your establishment size & capacity.
Polycom,Inc features enterprise class video & audio communications with intergovernmental organisations like North Atlantic Treaty Organisation (NATO),indirectly contributing towards world peace. Besides,it provides an ecosystem-friendly service with standards-based interoperability,aiding in effective outreach to their clients.
4. Blue Jeans Network Company
Blue Jeans Network was founded by Krish Ramakrishnan. It has its headquarters in Canada. It is another cost-efficient video conferencing company. Blue Jeans mainly aims to make its services more budgets friendly & effective than other companies. It is a straight-forward video conferencing solution meeting the need of IT oriented users. It also manufactures telecommunication & video conferencing equipment.
Blue Jeans offer free demos & trials for the satisfaction of their first-time clients. It also offers a feature called Prime Time,where you can broadcast your live videos with thousands of participants,helping you to use social networks like Facebook Live. Check out the blog section of their website to discover more about the extensive features offered by Blue Jeans.
5. Cisco Systems,Inc
Cisco Systems,Inc is one of the American telecommunication & video conferencing companies which is known for manufacturing & developing networking hardware,telecommunications equipment,and other high-technology services and products. Cisco Systems,Inc is the largest networking company in the world. It also provides video conferencing solutions with Cisco cloud solutions. The cloud solution feature hybrid cloud solutions & cloud protection.
Cisco Systems,Inc is also known for organising frequent informative seminars & webinars. For large projects,Cisco Systems,Inc also provides financing options & various offers to satisfy its clients. Cisco Systems,Inc also features its branded IP phones,which are in great demand today.
The above list of top video conferencing companies eloquently conveys that rapid development of video conferencing. Apart from them,there are many more companies specializing in video conferencing services. These video conferencing companies are extending their services with an aim to deliver easy and real-time business collaboration. Among these top video conference companies,ezTalks & Blue Jeans are the pioneers in providing cost-effective services. If you are looking for a company which primarily focus on HD video conferencing solutions,then you can check out Vidyo & ezTalks.