5 Best Video Conferencing Software of 2017
Video conferencing has become an important and helpful tool to let you collaborate with colleagues at any time when you are not in the same room. With so many video conferencing software launching to the market,it's difficult for you to pick out an awesome one from the rest. To help you narrow down your search,we've looked into an amount of video conferencing software and list five best video conferencing software of 2017,on the base of features,pricing,practicability,reliability as we well as user experience.
1. webEx Meeting Center
2. GoToMeeting
3. ezTalks Meetings
4. Zoom
5. Skype for Business
1. webEx Meeting Center
webEx video conferencing software is an awesome third party tool developed by Cisco to enable you to work and collaborate with colleagues from where you are. It is pretty easy to install and to use. It works well and empowers you to have colleagues from home or all over the globe on the same page to collaborate. Once you sign up,it gives you a chance to experience 14-day of Premium 25 that you can host online meeting made up of up to 25 participants in HD video. It frees you from downloading any software,you can easily host an online meeting from its official website on any computer.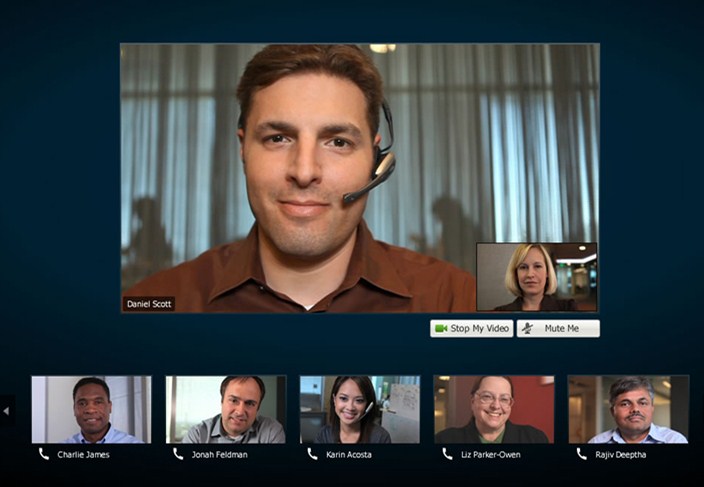 Key Features:
• Host up to 100 participants at a time (Paid Plan: Premium 100)
• Support application and whiteboard sharing,Outlook integration
• Pass over the presenter role from one to another
• Support VoIP or phone call-ins
• Allow to edit or mark up documents
• Enable to save every online meeting by recording
2. GoToMeeting
Like webEx Meetings Center,GoToMeeting is also one of best group video conferencing software. It's not free,but offers you 14 days free trial. Once the expiry date passes,you have to upgrade to its paid plan for continual use. It claims to be an extremely easy yet powerful way to start or join online meeting from anywhere. No matter whether you're a Windows,Macintosh or Linux user,GoToMeeting is a right tool for you.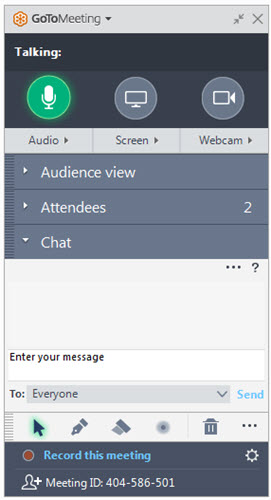 Key Features:
• Host up to 100 participants in one online meeting (Paid Plan)
• Allow to join an online meeting by simply answering a phone call
• Enable to share up to 6 HD video feeds per session
• Allow desktop and application sharing
• Hand over keyboard and mouse control to anyone at any time
• Record the audio of online meeting and share with others for playback
3. ezTalks Meetings
As one of the best free video conference call software,ezTalks Meetings enables 100 participants to attend online meetings instantly or at a scheduled time from a variety of locations for free. It's professional and trustworthy,and deliver HD video and HD voice for online meetings. If your team is larger than 100,you can easily upgrade to its paid plan which gives you the power to host up to 500-participant online meeting.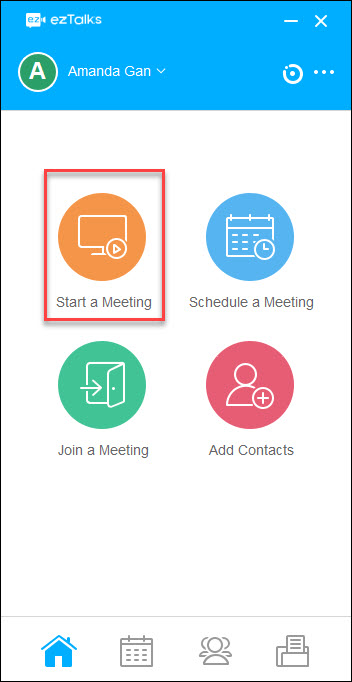 Key Features:
• Host meetings with up to 100 participants (Free Plan)
• Host meeting with up to 500 participants (Paid Plan)
• HD video & HD voice
• Support desktop and application sharing with anyone
• Allow to draw and paint your idea with built-in whiteboard tool
• Support annotation on the shared screen
• Enable to chat with someone in private,or chat with a group,and save chat history
• Authorize anyone to be the presenter
• Empower to record meetings to keep track of everything that happens
4. Zoom
Another top video conference software we'd like to share is Zoom. It has a good set of features,which allow you to stay connected with colleagues wherever you go. As is mentioned above,ezTalks Meetings provides you with a free plan and paid plans,so is Zoom. With Zoom's free plan,you have the ability to start or join a 50-person online meeting for 40 minutes with high-definition video and high-fidelity voice face to face. To meet more persons,you can upgrade to its paid plan at any time.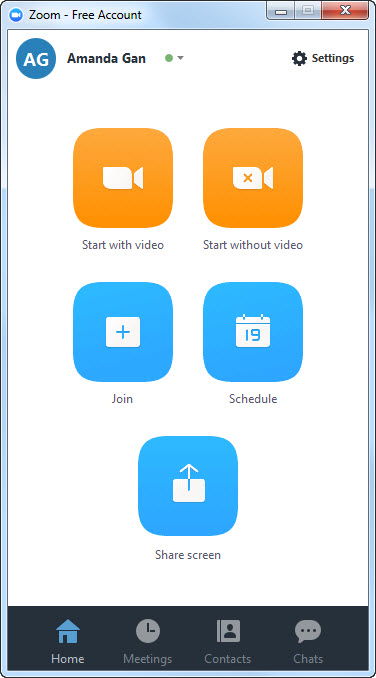 Key Features:
• Host up to 50-person online meeting (Free Plan)
• Host up to 500-person online meeting (Paid Plan)
• High quality video and audio
• Support interactive whiteboard sharing and screen sharing
• Allow to send private text messages or group message chat with the built-in IM
• Allow to record audio of meeting for later playback
5. Skype for Business
Skype for Business is one of best video conferencing software developed by Microsoft Corporation,targeting business. If you have ever used Skype,you must have a favourable impression on Skype for business. As a replacement for Microsoft's Lync,Skype for business is integrated with Microsoft office 365 users,which lets you work with colleagues living or staying in various places seamlessly.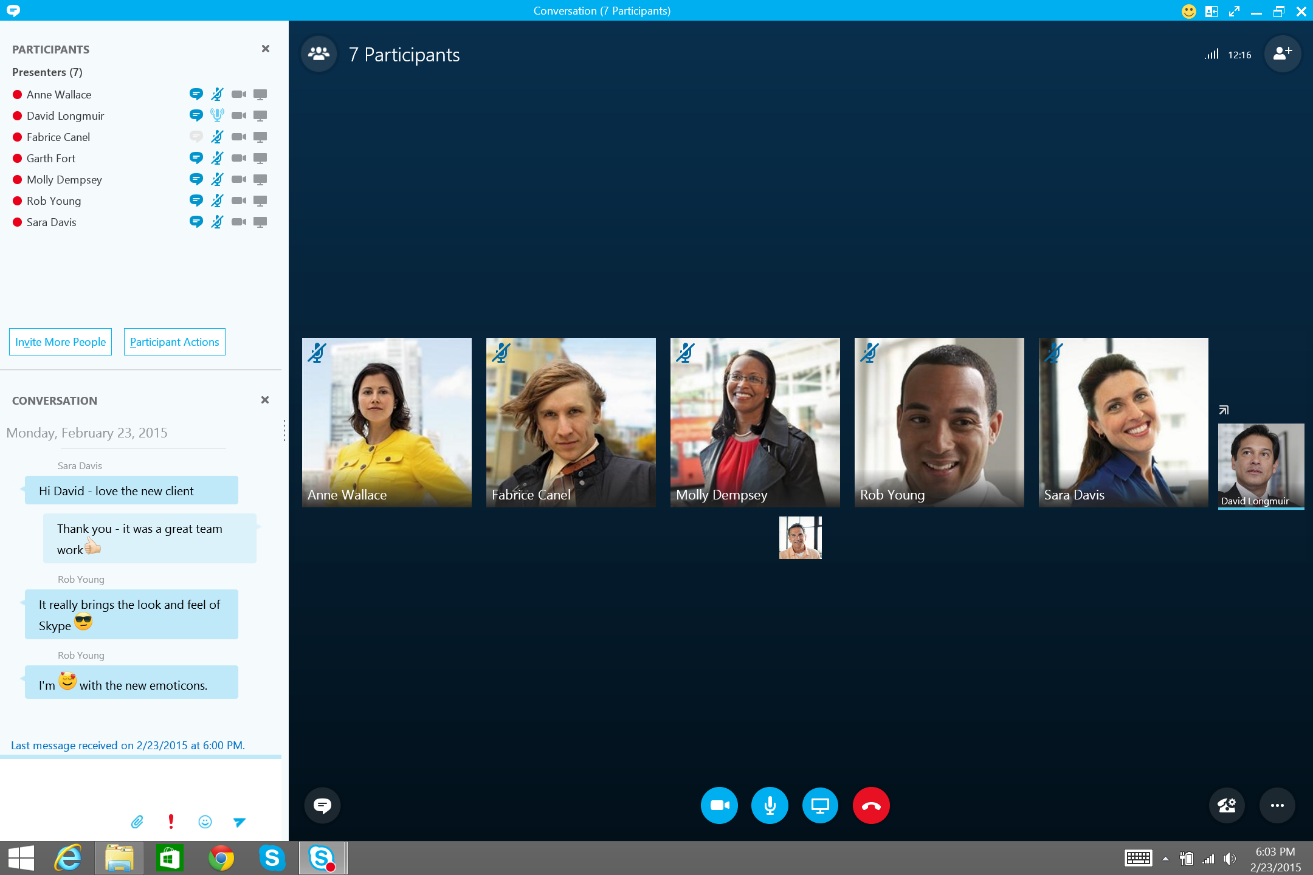 Key Features:
• Allow to start online meetings with up to 10 persons (Free Plan)
• Allow to start online meetings with up to 250 persons (Pain Plan)
• Support screen sharing and PowerPoint collaboration
• Support 1TB file storage and sharing
• Offer Online versions of Office
You Might Be Interested in
• Advantages of Video Conferencing in Business Communication
• Five HD Video Conferencing Solutions
• Benefits of Video Conferencing in Different Fields
• Main Difference between Teleconferencing and Video Conferencing