Enterprise Video Communications Through Video Conferencing Is Super Easy
The market always moves fast in today's global economy. To keep competitive in the fierce competition of the market,cross-regional and multinational enterprises must pay great attention to relationships,operations and collaborations between branches and headquarters. That makes it an absolute necessity for enterprises to establish real-time and effective communications. Thanks to intuitive and cost-effective features,today's enterprises prefer video communications to conference call and business trips. If your business spans the globe and are looking for a highly effective and practical enterprise video communications,you're already in the home stretch.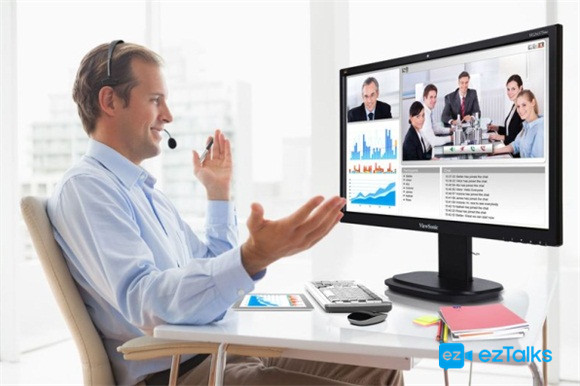 Part 1: Why Enterprise Rely On Video Conferencing for Online Video Communications?
Part 2: How to Start Internet Video Communications Through Video Conferencing Easily?
Part 1: Why Enterprise Rely On Video Conferencing for Online Video Communications?
Now you have an awareness of the importance of video communications. In which way can you start video communications with your coworkers and customers? That's a question that ever troubled many enterprises.If it troubles you too,take it easy. All you need to do is to rely on video conferencing. Video conferencing makes it super easy to bring your coworkers,customers and you located in two and more different places on the same video page by means of transmission lines and multimedia equipment to have live video communications. In the course of video communications,you can watch their looks,observe their body languages,collaborate on a same project,sharing something like your desktop,files,whiteboards,make annotations,and more. It seems as if all of you were in the same place.There're three common types of video conferencing provides you with video communication services,which include telepresence video conferencing,room-based video conferencing and desktop video conferencing. Each Type of video conferencing has its own advantages of disadvantages.
Part 2: How to Start Internet Video Communications Through Video Conferencing Easily?
The part above tells you the reasons that enterprises prefer video conferencing to conduct video communications and introduces you three types of video conferencing. Among these type video conferencing,we recommend you the desktop video conferencing which is quite popular and works perfectly.
To use the desktop video conferencing,first of all,you need to install a professional web video communication tool - ezTalks Meetings. With it,you're able to start or join a video communications with up to 100 participants for free. It delivers HD video and HD audio smoothly that let you see anybody else and hear their voices clearly on your computer. Apart from communication via video,you enable to use the built-in intuitive whiteboard tool to help illustrate your ideas,and share your desktop so that anybody else can follow your thought. Its versatile management allows you to take the video communication under full control.
In the following part,we'd like to walk through how to use ezTalks Meetings to start video communication with easy steps.
Step 1. Launch and Sign In This Video Communication Tool on Your Computer
To start with,download and install this video communication tool - ezTalks Meetings on your computer running Windows OS. If you wanna install it on your Mac computer,please click Download Center to download it.

After launching it,you should sign in it with your email address and password. If you have no account,you can register it or you can just sign in with your Facebook or Google Plus account.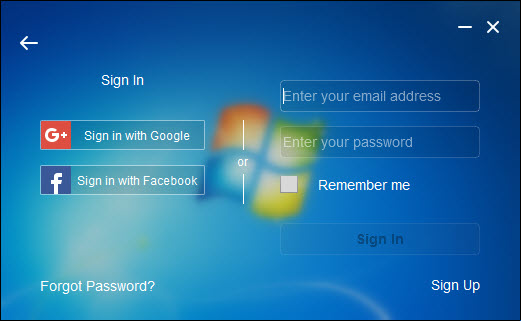 Step 2. Start Enterprise Video Communications Right Now or at A Fixed Time
When you sign in your account,you come to the main window. Ensure microphone,speaker and webcam are in the right place. To start enterprise video communication right now,you can click Start Meeting. This brings you a personalized video communication room. Share the room ID or send invitations via email to invite coworkers and customers in. When they join,you can start the video communications.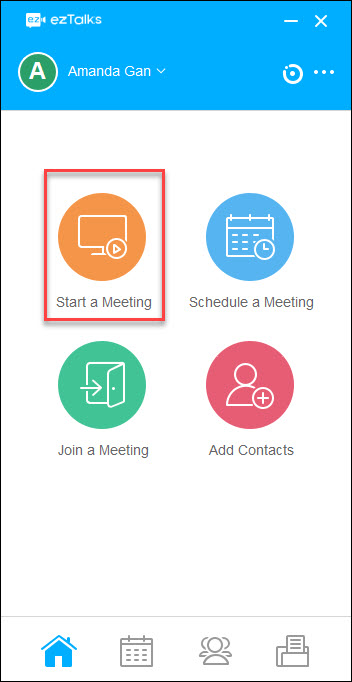 If you don't want to start video communications at once,but at a fixed time,you can click Schedule Meeting. In the Schedule Meeting window,enter participants' email address,topic and scheduled time. Then,all invited participants will be well informed of the scheduled video communication.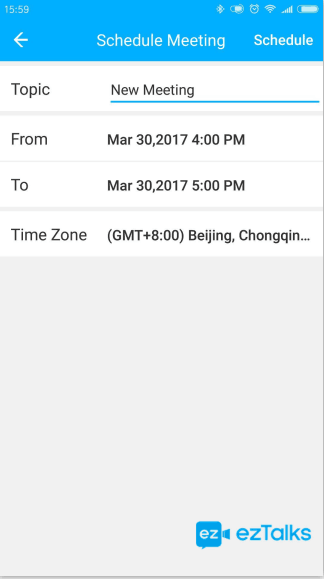 With the help of video conferencing,It's extremely easy for you to conduct enterprise video communication. By doing this,you can keep connected with coworkers and customers at any time and keep a watchful eye on the growth of your enterprise wherever business takes you.