Affordable Huddle Room Video Conferencing Solutions for Small Business
Introduction
Communication is one aspect that plays a great role in the growth of a business. One needs to communicate with people around the globe to promote his/her business. This may involve regular traveling which can be costly especially for small business. Small businesses are looking for ways to minimize operating cost. Huddle room technology is the answer. It enables easy sharing and discussing ideas without the need to travel around. This not only saves the businesses travel hassle but also saves cash and time. This makes them stay ahead of their rivals in the business world. Generally,video conferencing for companies,especially for huddle rooms boosts productivity and efficiency.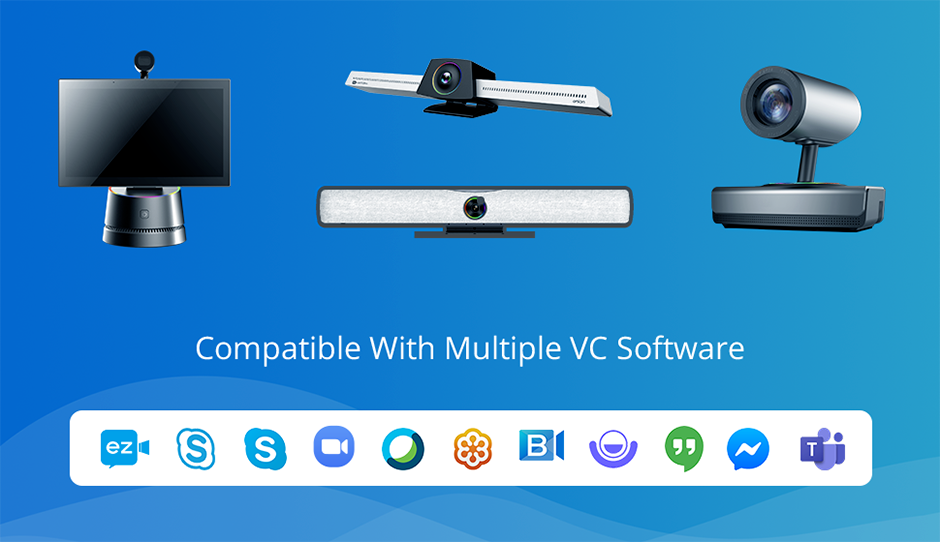 Advanced Video Conferencing
For Any Conference RoomezTalks all-in-one video conferencing devices work with most popular VC apps like ezTalks,Skype for Business,Skype,Zoom,WebEx,GoToMeeting,BlueJeans,Lifesize,Google Hangouts,Facebook Messenger,Microsoft Teams and more as you require.Request A Demo
Affordable Huddle Room Video Conferencing Solutions Brands
The following are three recommended huddle room video conferencing brands that can help small businesses save more.
1. ezTalks Meet S
Meet S is an ideal video conferencing solution that enables small businesses to participate in online meetings and partnership in real time. With this solution,it doesn't matter where one is located; they can host or join unlimited HD business meetings. ezTalks Meetings gives a business an opportunity to try it with a meeting of 100 participants before purchasing the paid version. The paid version supports a maximum of 500 participants which is more than enough for small businesses.Meet Sis perfect for huddle rooms with the following features:
i) All-in-one hardware with multiple embeded VC apps
ezTalks room solution is perfect for huddle room for its all-in-one hardware with mic,speakerphone,camera,codecs as well as embeded ezTalks software. It is easy to set up and you can start your meetings within minutes due to this quick process.
Apart from ezTalks App,Meet Sis also compatible with other popular video communication apps includingSkype for Business,Microsoft Teams,etc. Thus you can use Meet Mini to enjoy the seamless meeting experience with any meeting app you prefer.
ii) Fast access to HD meetings
Joining a meeting with this huddle video conferencing solution doesn't involve a lot of processes. Huddle room solutions are meant to save time,and this solution doesn't fail on that. One only requires a name and a meeting number to enter a meeting when they receive an invite.
iii) Excellent HD video and audio quality
For a video conference meeting to be successful,audio and video should be of high quality. ezTalks doesn't fail in this. The solution offers various resolution qualities for users to choose one that best fits their needs depending on their bandwidth. The highest resolution is 1920 * 1080 HD which enables smooth and clear video and audio transmissions.
iv) Live chat capability
So will you do when you need to send info that can't be relayed over audio like a URL? Or you may want to talk to one of the participants without disturbing the meeting? A live text chat feature is there for that purpose. You can text the participants privately or public using this feature.
v) Recording capability
ezTalks ensures one doesn't miss any important details of a meeting. It has a recording capability where one can go through audio or a video after the meeting to get clarity on details he/she might have missed. Besides,the recording can be shared with other members who couldn't make it to the meeting due to unavoidable reasons.
vi) Screen sharing capability
Want to share a presentation with other users? That is made easier with this huddle room video conferencing solution. It has easy to use screen sharing capability which enables easy collaboration during a meeting.
vii) Meeting Control Settings
ezTalks provides the host with various meeting control features to ensure everything stays in order during the meeting. The host can invite,mute,or remove a participant. If a person wants to share a screen or a file,the host can make him/her the present. All these functionalities make a meeting orderly and smooth.
What makes ezTalks the best huddle room solutions provider?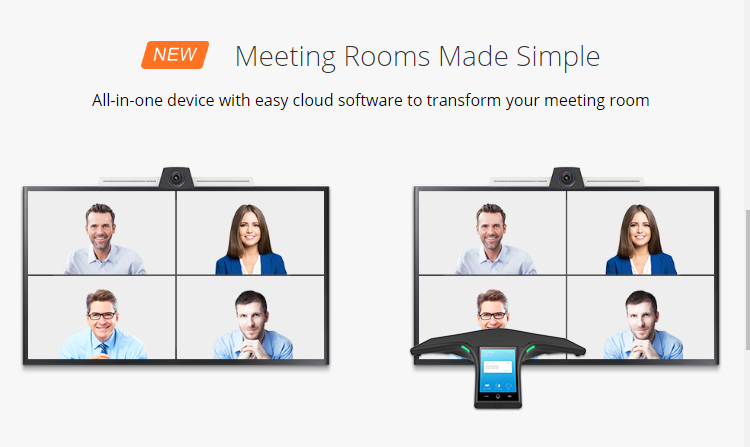 ezTalks Meet S is the perfect solution for small business because of its all-in-one design,quick set-up process,rich functionalities and excellent hardare quality. This solution supports all major operating systems to cater for wide range of users. Whether one is using,iOS,Windows,Android,or Mac device,connecting to a video or audio conference is possible with ezTalks. This enables small businesses to try it before investing their money in it. This makes it cost-effective which is what small businesses are looking for.
2. HighFive
Highfive is a cloud-based video conferencing solution that enables small business to communicate and share information through video conferencing.
Wha are the features of HighFive?
i) Easy setup
Highfive is easy to set up as it doesn't require the installation of devices like headphones and mics.
ii) Noise cancellation
Highfive has a high-quality audio sound that cancels background noise.
iii) Wireless sharing
With this solution,cables for connecting devices aren't required. You can present content wirelessly from a device or laptop. This eliminates clutter in a meeting.
iv) Supports a wide range of devices
This video conferencing solution enables a Mac,Chrome OS,Linux,and Android device to access HD video and audio.
v) Personalize it to your brand
You can use your logo,photos and brand colors on your TV and mobile app screens. Besides you can use own Highfive domain which other participants can easily remember.
vi) Scheduling
Highfive supports integration with Google Calendar,Outlook and Slack to enable scheduling meetings.
vii) Easy dial-in
Joining a meeting is easy as it doesn't involve complicated security checkups like passwords or PIN codes.
Advantages of Highfive
Powered by Dolby for crystal-clear audio and video
Works in-browser,so you only need to click a URL to join a meeting
Fully-integrated for seamless user experience.
Disadvantages of Highfive
The screen share functionality seems to be missing
Expensive service
Requires either the Mac app or Chrome extension installed for it to work
Mysteriously Crashes occasionally
3. BlueJeans Network
This is a cloud-based video conferencing solutions provider that enables businesses to stay connected using various platforms and gadgets.
What are the features of Blue Jeans?
i) Single Click Scheduling
It doesn't require complicated security procedures like passwords to schedule a meeting. It allows adding a video call to any Google Calendar or Outlook with only one click.
ii) Screen Sharing Capability
You can share presentations and documents with other participants instantly with this feature.
iii) High-Quality Voice Audio
This video conferencing solution's audio is powered by Dolby which ensures it is of high quality. Besides,it has noise cancellation feature which ensures participants don't miss any details during a meeting.
iv) Recording
It is possible to record audio,video,and documentation for sharing or going through after meeting to get clarity on details.
v) Room compatibility
Participants can join meetings from Lifesize,Polycom,Cisco,and various other SIP-based room software services.
Advantages ofBlue Jeans
Easy to set up
Supports a wide range of access points including desktop app,web app,mobile devices among others
Has the screen sharing capability
Disadvantages ofBlue Jeans
Technical issues in engaging audio
The system is not designed to work as a conference line replacement. BlueJeans accounts are tied to a named participant where it can cause a problem if the named participant is the leader and is unavailable.
Conclusion
Video conferencing is an excellent way for small businesses to reduce their operating costs in huddle rooms. It suits to the business type and free of hassle to start a meeting for any discusttion. Huddle room solution helps business save time,money,energy,encourages productivity and nurtures creativity. All you need is good internet connectivity and a good solution provider. Personally I suggest ezTalks becaue it is the effective and easy-to-use video conferencing solution through our research to enable smooth and enhanced communication in your small businesses.