7 Best Instant Messaging Apps for Business
Instant messaging allows you to send and receive the information of chat conversation in real time over the Internet. It is normally used by the individuals as a tool for social contact,but several companies also use it in their routine business activities every day.
In order to make instant messaging easier,several companies have developed various types of apps that are compatible with Android and iOS phones. The benefits of instant messaging apps provided here will help you to understand their importance in your daily life more easily.
Why Instant Messaging Apps Are Helpful for Business?
• Cost effective: Two persons situated in any part of the world can communicate with each other in real time by using these instant messaging applications. These apps save lots of their money as they need not pay any charges for long distance messaging done on domestic network or international network. It would have been very expensive if you have used the plans offered by several phone companies to make these calls. It can be more beneficial for the freight and shipping businesses as they have to spend lots of money otherwise.• Convenient: The person you have called on the phone will have to stop his work to attend your call and communicate with you. However,in case of instant messaging,the receiver can continue to work on his computer as he need not use his phone to communicate with you. Instant messaging allows for quick conversations in real time without disturbing your work schedule.
Seven Top Instant Messaging Apps
1. WhatsApp
It is one of the best instant messaging apps which have enabled encryption across the platforms that messages sent by you can be read only by the sender and the receivers. In this way WhatsApp not only protects your conversations,but also allows you to verify whether it has been intercepted and passed on by someone else as they provide with you a security code for this purpose. This instant messaging app is available for the users of iOS and Android devices. Initially you must have a verifiable number of any mobile networks to register you.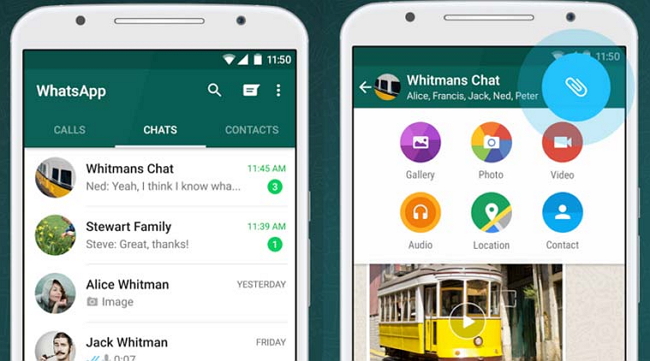 2. ezTalks Cloud Meeting
It is a best instant messaging app that allows you to handle group and private text chats in an instant,conduct video conference calls with several people located at different places in this world. It also offers cloud based solutions for the business to help them in controlling their workforces remotely along with communicating and sharing screens and files with them to effectively complete tasks. It works perfectly on your Android and iOS devices. You can use its services as per your requirement as it offers free as well as paid services.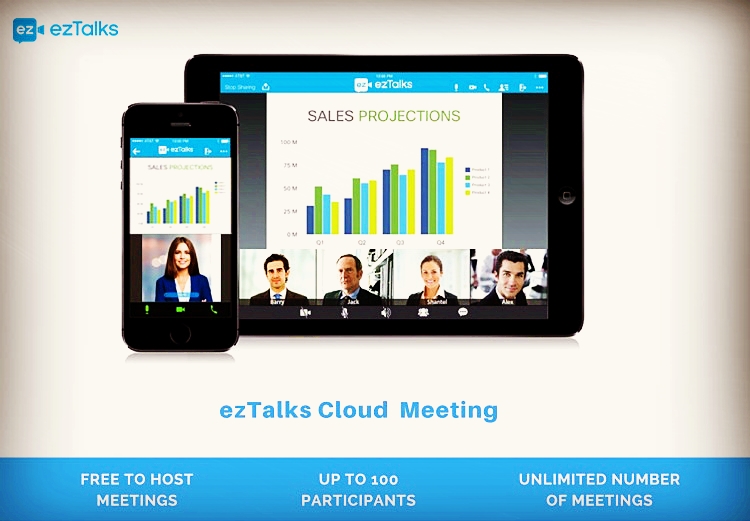 3. Signal
Signal is conscious about your privacy. This instant messaging application app is not only easy to use,but also encrypts end-to-end conversations like WhatsApp. The vulnerability of the source code of this app is consistently checked online by the experts to ensure the security of its users. However,this app available for iOS and Android users does not store any information about you and your messages.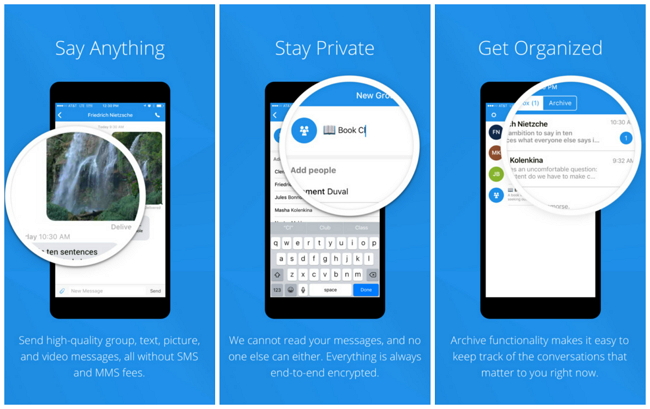 4. Viber
It connects millions of people all over the world through its free phone calls and messaging service. You can send your messages,make calls and share files with anyone anywhere in this world through Viber Messenger if you have Internet connection. You can share live videos,photos,cool emojis and stickers or make voice calls with your colleagues through this instant messaging app. It also allows you to make free international calls.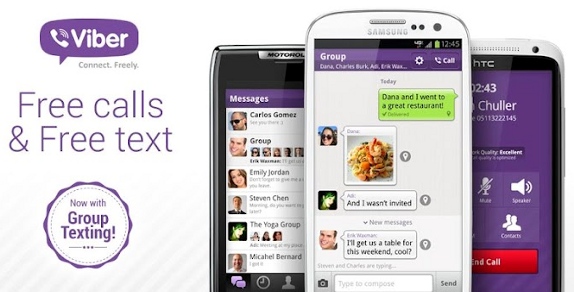 5. ChatSecure
It can be used by iOS users only,as its Android version is not available now. You will see the digital fingerprints of the person in conversation with you in the very start,to ensure your messages are not intercepted. You can also use its new feature while messaging contacts to conceal your location. This feature is commonly used by the XMPP server to keep your conversations more secure.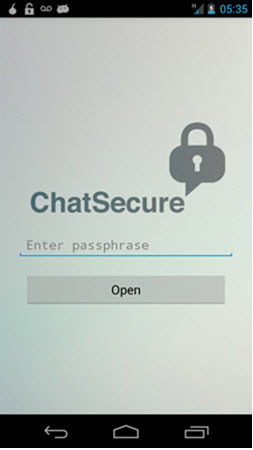 6. FrozenChat
Being an open source,FrozenChat also supports the open protocol of XMPP used by thousands of servers run by volunteers. Thus,it cannot be taken down or seized as there is no central server to control its activities. This instant messaging app offers complete encryption with Off the Record messaging along with other facilities matching to its interesting design and cool name.
In other words,this app allows you to verify to whom you are speaking along with protecting your messages. It also allows you to deny your message as your message can be forged after finishing the conversation. It will not be possible to prove that you have sent that message. It is available only for Android users.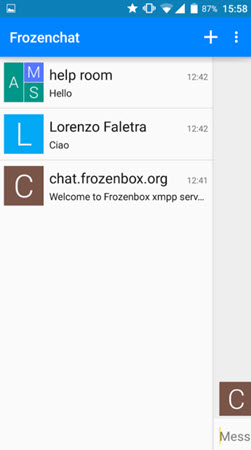 7. Silence
It is a wonderful instant messaging app for regular users of Android devices. It has an encrypted database to store all the messages received by you. It automatically uses end-to-end encryption to send texts,if it is used by two people for this purpose. Otherwise,you can use it as a regular application to send SMSs. The most important thing about this app is that its vulnerability of its source code can be checked by the experts any time as it supports open source.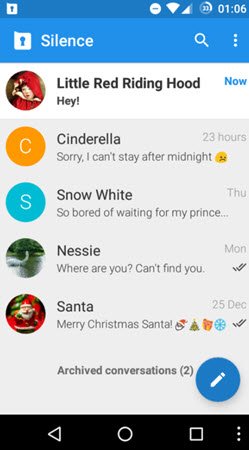 The above is a list of instant messaging apps. After reading their reviews,you can choose the best instant messaging app for you according to your business needs.