6 Free Web Conferencing Services for Small Entities
Actually,there are really some web conferencing service providers who offers the services for free. It is,therefore,important for smaller entities or individuals that operate on a tight budget to consider these as potential place to start from. It is noteworthy that free web conferencing services are always provided with limited options. In this perspective,before you set out to search an entity providing free web conferencing services,it is important to establish what matters most to your organization. Listed below are 6 best free web conferencing services for your organizations.
1. ezTalks Meetings
ezTalks Meetings is a popular free web conferencing services because of its perceived ease to use. It is considered to be cost effective and has unlimited number of host offers during a meeting. Above this,the free web conferencing service provides high quality HD video conferencing. It also easily accommodates up to 100 participants in a single meeting on its free offer. The video as well as audio conferencing as considered to be the best that one can have access to. In addition to this the free web conferencing services also provides tools for sharing content as well as screen sharing.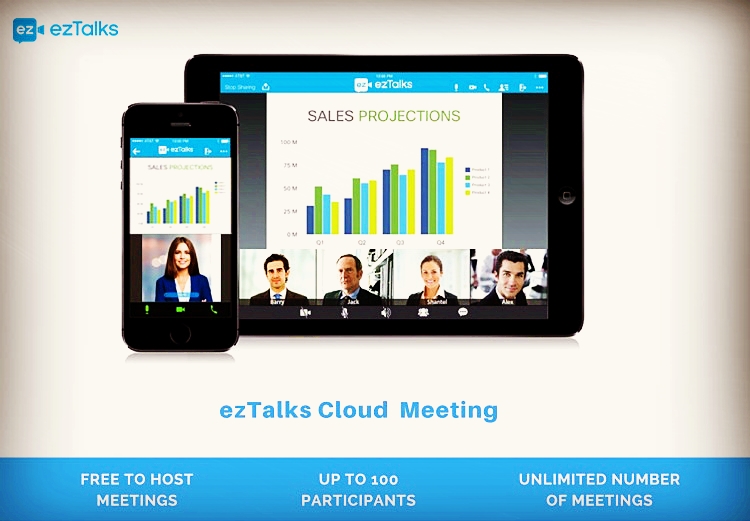 2. Cisco WebEx Meeting
The other entity that offers free web conferencing services is Cisco WebEx Meeting. This entity misses on the top of the list of entities which provide free web conferencing services because it only offers space for three or fewer people. Despite the limitation,one still has access to other collaborative tools offered by the entity. This aspect makes the free web conferencing services offered by Cisco WebEx to be outstanding. On top of these,the other services that it avails are the ability to see and speak to other participants. This can be done through both the VoIP and the webcam. The entity also provides annotation tools that can be used to mark shared files. It also has a chat box which permits private as well as group chat. For you to utilize the services of Cisco WebEx you only need to download the application as well as create an account.
3. AnyMeeting
AnyMeeting is another distinctive free web conferencing services provider. The provider was initially known as the Freebinar. It is considered to be a distinctive one because it provide features that matches those of its paid for counterparts. The provider is ad-based. This implies that users will have to put up with some minimum advertising in order to utilize the tool effectively. It is however not intrusive for both the host and the attendees. It is exceptional because it can offer up to 200 attendees. It allows screen sharing,VoIP as well as phone sharing. It allows recording of the meeting and provides an option to make a follow up on the meeting. The provider is web-based. This means that to utilize its services downloading a plugin that would permit screen sharing is necessary.
4. BuddyMeeting
BuddyMeeting is another free web conferencing service that stands out in the market. The provider allows up to 25 participants in a single meeting. The provide supports conferencing tools like chat,voice,video as well as interactive whiteboard. It also enables slides sharing of files. Screen sharing is also possible with the provider. The provider utilizes the flash. This means that you do not need to download anything. The only requirement is to have a flash player installed in your computer. The only exceptional with this provider is that it does not support recording of meetings as well as playbacks.
5. GoToMeeting
The last free web conferencing services provider is the GoToMeeting. This web conferencing provider is not distinct from Cisco WebEx. This is because it provides diverse tools but supports only three participants in every conference. In order to utilize these entity`s services you only need to click the get started button on the website of the company. Different from other providers GoToMeeting does not require you to download anything or create a login. It works by directing you to a private meeting room. There you are provided with links that you can utilize to invite the other two participants. Once the meeting has been initiated one can share files and you can also share your screen. The only distinctive aspect about this provider is that it does not have many tools to utilize while interacting with other participants.
6. Fuze
Free web conferencing services offered by entities like Fuze have proved to be beneficial for small entities; because it gives a wide range of opportunities for small entities which do not have a large budget to spend on web conferencing software. It provides space for efficient collaboration by supporting up to 25 participants in a single conferencing session. There are no entities which support participants of this magnitude minus charging a fee. This makes Fuze an exceptional plan for a startup entity. On top of this,the entity also offers other free services like 1 GB free cloud storage,audio-video feeds,applications and desktop sharing,VoIPaudio conferencingand a 12 simultaneous HD video feed meeting space. Nevertheless the free web conferencing services offered by Fuze as other limitations. These include the inability to record the meeting. In order to be able to access these additional services,an upgrade is considered important.
But now,Fuze don't offer free plans now,we think this is a bad decision.
Free web conferencing services are widely available in various other providers. However,nature and limitations put tend to vary from one provider to another. However one can utilize the free options offered by the providers to meet his or her business goals. Actually,there is no need to spend a lot of finances on web conferencing when entities like ezTalks can provide you with a wide array of options to utilize. Startup entities are therefore able to utilize these limited options available and still meet the overall objectives of communicating.