5 Great Cloud Video Conferencing Solutions
New technologies that can help companies save money and time for conducting meetings have emerged. One of those is cloud based video conferencing. Cloud based video conferencing solutions introduce the possibility of engaging in face to face video conferencing. Forming connections and communicating with clients,colleagues,and partners is a must in any organization. Businesses and institutions can benefit from using cloud video conferencing. There are many cloud based video conferencing software available. Find the right one for you and your collaboration needs. Let this article be your guide and discover the 5 great cloud video conferencing solutions available.
1. ezTalks cloud video conferencing
ezTalks is a competent cloud video conferencing solutions provider that promotes better communication and collaboration in a business organization with Meetings,Webinars ans Rooms. High quality audio and video is made simple with ezTalks cloud video conferencing. It is cost-effective,convenient,and easy to use. So is its hardware. All ezTalks hardware offers great compatibility that allows you to choose the preferred VC software like ezTalks,Skype for Business,Skype,Zoom,WebEx,GoToMeeting,BlueJeans,Lifesize,Google Hangouts,Facebook Messenger,Microsoft Teams and more as required.If you are searching for cloud video conferencing solutions for your business conference rooms. Then ezTalks conference room solution is a good choice for you. The cloud video conferencing software named ezTalks Rooms Software Solution is designed for business conference rooms of any size. It enables instant meetings easily with fluent,smooth and low-latency meeting experience.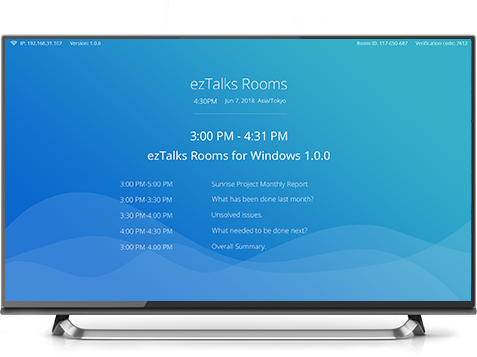 Key features that are included are:High definition video quality
Clear voice quality
Cloud based video conferencing recording
Whiteboard
Content sharing
Secured data
2. Zoom cloud video conferencing
Zoom cloud video conferencing solutions enable hosting of online meetings,sending group messages,and hosting conferences that is easy to use. Users can experience great audio and video quality along with its wireless screen-sharing option while communicating with a person or group of persons. It is compatible with different operating systems and platforms such as Windows,Mac,Linux,iOS,and Android. Zoom provides for a hassle-free video and web conferencing that are good for making collaborations happen.
Key features that are included are:
High definition video
High definition voice with dynamic voice detection
Full screen view
Simultaneous screen sharing
Whiteboard
3. Lifesize cloud video conferencing
Lifesize connects people to promote an interactive and productive workplace. Lifesize is more than a decade-long company that still strives to provide better video conferencing solutions. Experience one-on-one audio and video calls and online meetings to maximize the communication line within a company. Its cloud based video conferencing solutions foster good simultaneous communication among different people who are in different places through the use of different compatible devices.
Key features included are:
Plug and play system
High definition cameras
Interoperation capability
Directory-based calling
4. Cisco cloud video conferencing
The cloud based video conferencing from Cisco offers flexibility and the ability to customize options for different user needs. Virtual meeting rooms can be used according to user preference. Cisco improves businesses' communications through online collaborations. Visual communications are possible anytime and anywhere for everyone who is part of an organization's team. It doesn't matter if you are new to cloud video conferencing or not since Cisco delivers with its simple collaboration technology.
Key features included are:
High quality multiparty conferencing
Flexible deployment options
Simplified conferencing
Third-party endpoints compatibility
5. Polycom cloud video conferencing
Polycom cloud video conferencing solutions is just one of its available products that can be used in a workplace environment. Polycom supports the video conferencing needs of each company through its flexible and scalable video conferencing solutions. Host collaborations with confidence through its trustworthy video conferencing solutions.
Key features included are:
Always-on virtual rooms
Interoperable solutions
Flexible subscriptions
Enterprise-grade security
Cloud based video conferencing solutions are good investments for long-term cost-effective,speedy,and interactive meetings and collaborations. From the different providers,choose the best one for your business. Each provider has its own innovative and useful features. In deciding about which one works best,determine the present communication needs of your company and match it with what providers can offer.