5 Best Video Conferencing Hardware
Increasing business productivity is only possible when communication between team members and clients is outstanding. Otherwise,productivity will be generalized as poor! Correspondingly,solutions that make communication better and even possible over long distances are essential. Below we listed 5 best video conferencing hardware to enable you to communicate effortlessly with team members and clients wherever they are.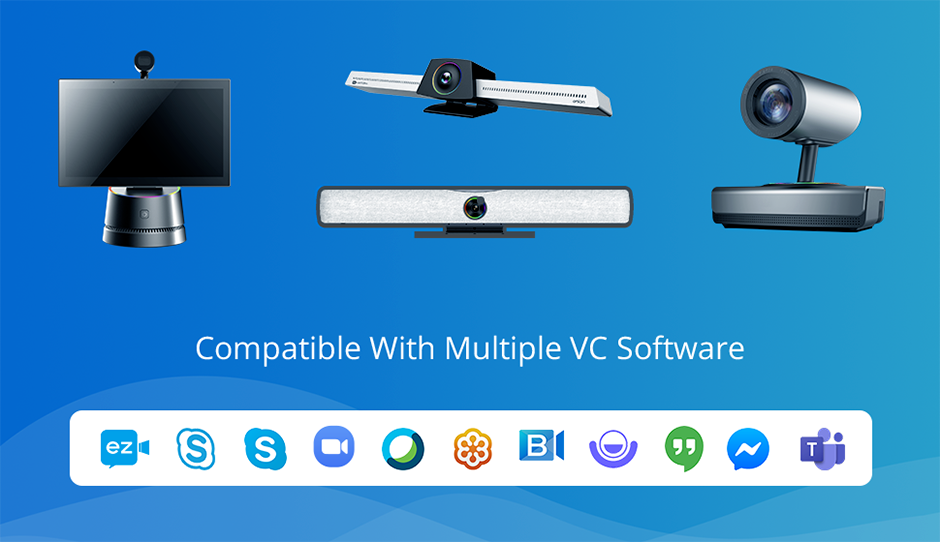 ezTalks Hardware
Supports Multiple VC AppsezTalks all-in-one video conferencing devices work with most popular VC apps like ezTalks,Skype for Business,Skype,Zoom,WebEx,GoToMeeting,BlueJeans,Lifesize,Google Hangouts,Facebook Messenger,Microsoft Teams and more as you require.Request A Demo
ezTalks Meet S
ezTalks Meet S (previously named Onion) is the most advanced video conferencing hardware that comes with plenty of features and capabilities. First of all,it has the all-in-one design with built-in HD camera,mic,speaker,codec,software and wifi in one device,which makes it easy to set up and use. Second,the built-in camera of Meet S is 1080p with 120° wide-angle lens,together with the dual microphone,meaning that both the video and audio quality are exceptional.Thanks to the presence of high-quality speakers,listening to every word without any distortion is guaranteed. Enhanced connectivity of this video conference hardware is ideal for slower connectionenvironment and makes high-speed connections more consistent,eliminating the signal or quality loss during the video conference.
Screen sharing is a completely re-invented feature,so now it allows you to share the screen during a video conference with just one click,allowing you at the same time to experience new additions and possibilities. This is one of the biggest advantages ezTalks Meet S.
What's more,ezTalks Meet S is fully compatible with multiple VC software including ezTalks,Microsoft Teams,etc.That means,if you have already installed the vc software on your PC,Mac,Android device or iOS devices,you can use your ezTalks Meet S and the software at hand to host video conference and do real-time collaboration,with its powerful features such as instant/scheduled/recurring meetings,group video chat,screen sharing,interactive whiteborad,recording,polling,etc. All these give you more freedom and possibility to upgrade your conference room.
Besides,it also has other unique advantages including wireless meeting control,unlimited in-room screen projection and unlimited meeting duration which you can enjoy by one time feeof thisvideo conferencing equipment!
Try it Now>>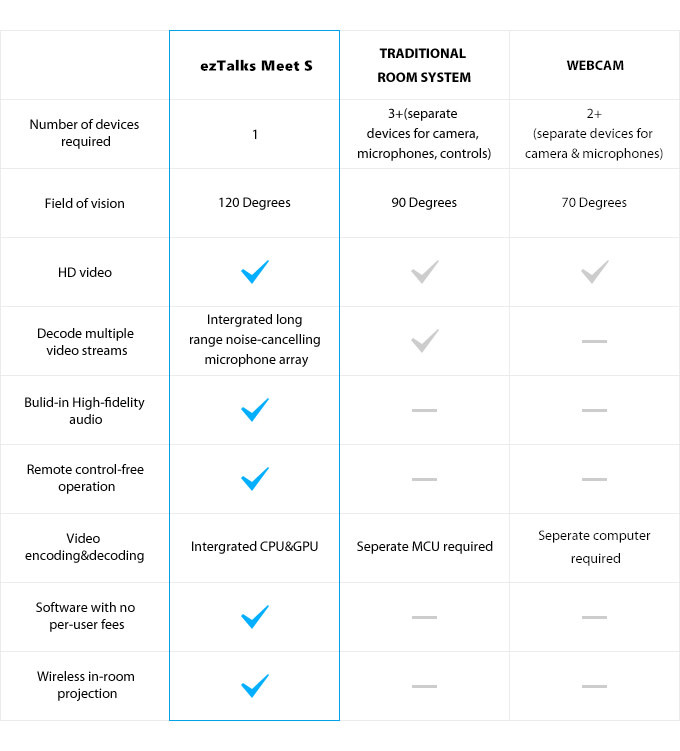 Want to try it now,please sign up free here
Note: ezTalks provide different solutions for your different size of conference rooms,including mini room,huddle room,small roomandmedium to large room,which means most of your conference room can find the corresponding solutions from ezTalks. Actually,all ezTalks hardware supports great compatibility that allows users to choose their preferred VC software like ezTalks,Microsoft Teams and more as required.

Focus Room Solution- Meet Mini
Meet Mini enables you to let alone complicated cables now! This portable all-in-one video conferencing device is integrated with everything you need for video communication in your personal rooms,including a touch screen,HD camera,coder,microphone,WiFi,built-in battery and software to bring you unparalleled meeting experience in multiple application scenarios.
a)As for the outstanding touch screen of 11.6 inches,its +150° to -5° tilt range gives you a 30% larger visual space while the rotatable base at +/- 90° pan range always keeps you in a perfect visual angle.
b)As for the 1080P HD camera,it has wide-angle lens at FOV 90° and can be rotated at+/- 15° tilt range. This gives you a more flexible and functional surveillance system.
c)As for the built-in high-fidelity speakers,it renders 2-channel and stereo surround sound. What it captures can be optimized by the advanced technology of acoustic echo cancellation,automatic noise suppression and automatic gain control,etc.
d)As for the powerful processor,64-bit CPU results in its strong 1080P hardware coding ability. With advanced QOS anti-lost technology,Meet Mini can maintain a stable and seamless HD audio/video effect even under network conditions at apacket loss rate of 35%.
e)As for the dual screen,Meet Mini can be connected to a display such as a TV via a mini HDMI interface. It makes it easy to display synchronized images in two screens without any conversion equipment. You can choose to display your thoughts on a larger screen while controlling the Meet Mini screen.
Try it Now>>
Small Room Solution- Meet Pro
Meet Prois asmall conference room solution that can accommodate up to 12 people. It is also fullyintegrated with HD camera,codecs and software to deliver premium video conferencing experience.
a)Meet Pro supports digital pan,tilt,and zoom (ePTZ) with remote control and 4K sensor with HDR video capture. Thus high-quality videos can be guaranteed for smooth collaboration without any delays.
b)Dual microphone arrays with 5-meter pick-up rangelead to clear and natural sound. Its Automatic Echo Canceller and Automatic Noise Reduction technology are used for the suppression of external hindrances and surrounding noises.
c)Of course,you don't want to spend much time in connecting the device. Meet Pro can satisfy you! Place it on the display,connect the cable and launch the ezTalks software on your phone. In just 3 steps,Meet Pro can be deployed and used in less than a minute.
d)Controlling Meet Pro room is extremely easy as you can control anywhere you want. With ezTalks software,you can control and manage your room via desktops,laptops,tablets,Macs,mobile devices and T-Voice 100.
Try it Now>>
Medium & Large Room Solution- Meet X
Meet X is a wonderful device for medium and large conference rooms to help you save time and join meeting faster. It is integrated with a camera,codec and software to better reach your team collaboration.
a) It adopts a highly integrated 1080P PTZcamera with high-quality CMOS sensor,big lens and flexible rotation. You can enjoy a more clear and full-scaled image in a comfortable conferencing environment instead of crowding all together into a tiny space.
b)Its built-in codec supports1x1080P hardware encoding,3x1080P hardware decoding,and up to 25 video feeds by software decoding.
c)ezTalks Meet X supports dual displays to meet a variety of presentation needs. Onedisplaycan be used for indoor presentation sharing,while the other display can be used to interact with active video participants in an online meeting.
Try it Now>>
Highfive Video Conferencing Hardware
For most business owners,Highfive video conferencing hardware is a wonderful solution. Thisvideo conference equipment is perfectly understandable as with field of view is 120 degrees,the camera is paired with a low-light sensor that automatically adjusts the brightness to get the best picture and that the entire device is easy to use. Besides video,audio is exceptional as well. Special mics have been installed in the Highfive which provide ultimate echo and noise cancellation. The system is known as high-fidelity mic array.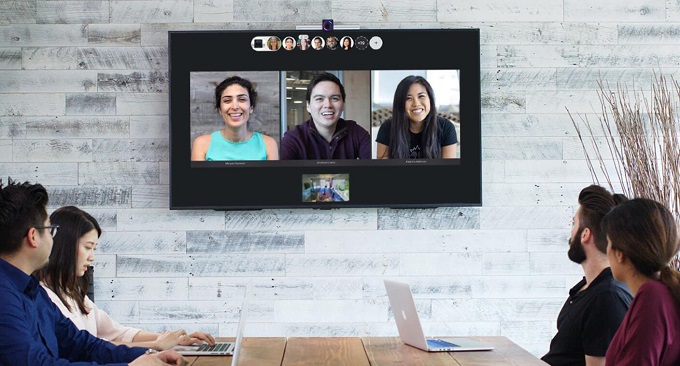 Controlling the device is possible via any device that supports Wi-Fi. Smartphones,tablets or laptops are the most common choice. The purpose of this feature is to eliminate time-consuming adjusting during meetings. At the end,we can add that all of these features are available in a single device.
Polycom RealPresenceMedialign
Polycom RealPresenceMedialign is all-in-one hardware for video conferencing. It simply means that you get all what you need to begin with virtual conferencing. Camera,speakers and screens are included in the package. The video quality is 1080p or full HD if you prefer. In order to make the video conferencing even better,Polycom has in their offer screens of different sizes. You can choose between 55 or 70 HD LED screens. Controlling the system is done via touch interface,which makes the entire system even easier to use.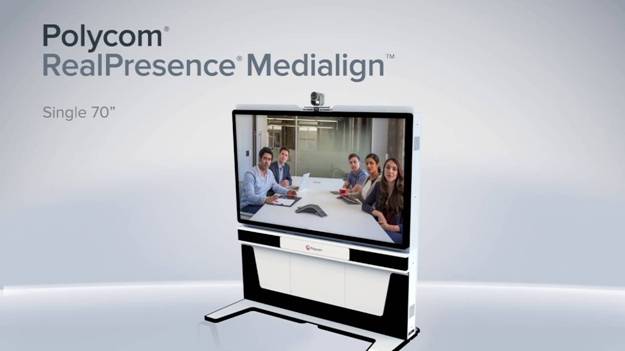 Eagle Eye is probably the main feature here. It tracks the faces of participants in a call,so it adjust the video and sound instantly. Then we have the audio microphone array. It removes any distortion and significantly makes the audio sound much better than other hardware for video conferencing.
VidyoRoom-HD-2
VidyoRoom-HD-2 is one of rare video conferencing hardwares that provides 4K video quality. It allows up to 16 participants to use the same screen (screen splitting feature) and its dynamic adaptation technology automatically adjusts the video quality according to the internet connectivity. It even works on wireless smoothly and without video distortion. Multipoint Content Sharing is another useful feature. With it,you can share files while having video conferencing communication.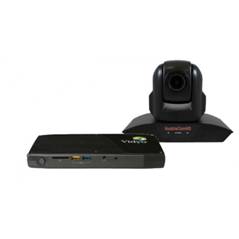 polycom realpresencemedialign
Keep in mind that this hardware of video conferencing comes without a screen,so you will have to acquire one additionally. However,it comes with a remote controller with AA batteries,so controlling it is easy. The same applies to connect it to the internet connection and screens.
Cisco DX80
Here we have video conferencing hardware and video chat hardware that can be used straight outside a box. In essence,it is a 23 inch screen with a camera. The Cisco DX80 provides video resolution of 1920 x 1080 pixels,8GB of internal storage and 2 GB of RAM. Processor is 1.5 GHz,TI OMAP 4470 component. Connecting the device with other displays and computers is supported as well.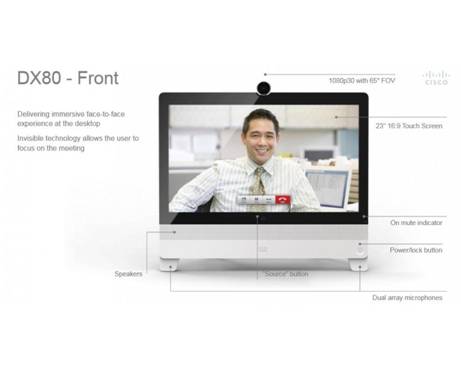 The camera has 63 degrees of view (horizontal) and 38 degrees (vertical). Codecs are pre-installed,so the entire device doesn't require any additional setting. Joining the conference is done with a press of a single button and speakers and microphones are mounted at the front of the Cisco DX80 so audio quality is also exceptional.
The bottom line
The above are the 5top rated video conferencinghardware and. All of them are already used by millions and all of them are well-known alternatives to conventional video conferencing tools. Among them stands out ezTalks Meet S,which provides you high-definition video and high-fidelity audio with its high-performance processor to hold or join a video conference effortlessly.