4 Advantages of Video Conferencing for Educational Institutions
As a useful tool,video conferencing has been widely used in many fields and education is no exception. The educational resources are uneven distributed all over the globe and educators can also be highly qualified or not,which have always become big issues for educational institutions. Video conferencing can better resolve such difficult problems. And here are four advantages of video conferencing for educational institutions,including schools and colleges,as well as training institutions,etc.
1. Video conferencing can enhance daily management and productivity.
The first advantage of video conferencing in education is that video conferencing solution can be used as an effective office tool. For example,educational institutions can host a virtual video meeting to discuss problems or share ideas with other teachers or staff no matter where they are. They can also have a collaborative communication with headmasters,leaders and teachers in its sub-campuses. By conducting a virtually face-to-face video meeting,they can save a lot of time spending on the scheduling and arrangement of meeting in person as they did in the past,thus productivity can also be increased.
2. Schools or colleges can invite experts to make lectures remotely.
Enriching curriculum is always one issue concerned by school leaders and teachers. Inviting industry experts to give lectures to students is one good way. By adopting a brilliant video conferencing solution like ezTalks 100-participant Meeting Free Plan,you can easily invite an expert to start a remote lecture and then present it to the students. ezTalks Meetings now allows up to 100 participants to attend the meeting simultaneously for free,and it also has powerful features. For instance,you can record the whole lectures for those who are late or want to regain the missed information.
3. Training institutions can make an online training by using video conferencing.
For most training institutions,their students or trainees may come from different cities or at least from different places in one city. Under such circumstance,training institutions can host a virtual online training for them. On one hand,trainees don't have to go hurry for the training,which saves their time and money on the trip. On the other hand,training institution can also save large amount of cost on renting a large training room.
4. Video conferencing makes the sharing of educational resources across the world possible.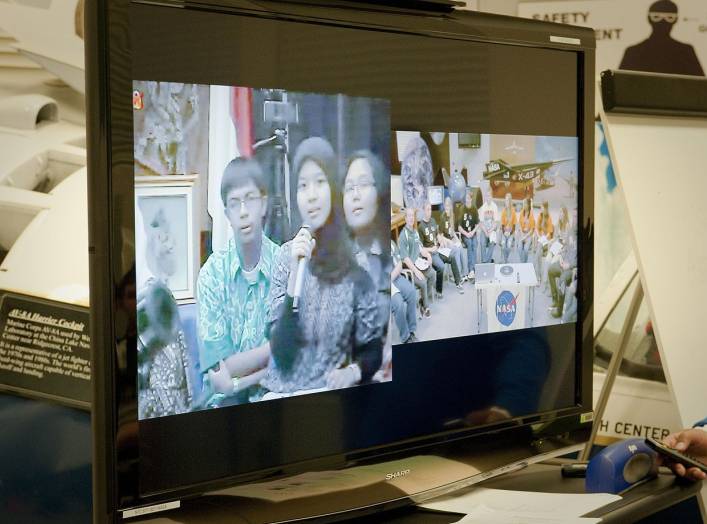 The photo here shows that Indonesian students and U.S. experts and educators are participating in an educational video conference. As we know,Indonesia is a developing country whose aerospace technology is relatively at the forefront in the global market. However,it might still have no enough resources in comparison with those of the National Aeronautics and Space Administration (NASA). By conducting such an educational video conference as shown in the photo above,those knowledgeable technicians,experts and educators in the U.S. can share some key information or their own experiences to students in Indonesia or even others around the world.
Video conferencing plays an important role in the educational area and the aforementioned are just some benefits and advantages of video conferencing for educational institutions. More benefits and advantages of video conferencing for education will appear in the near future with the development of technology.