Best 10 Webinar Software in 2019
Whether you're from a business, an organization, a start-up, or just an individual—you want to find the right webinar software for your needs. But with so many webinar platforms to choose from, finding the service with the functionality that satisfies your needs can be a tough assignment. To help you narrow down your options, we've studied tons of tools and listed the best 10 webinar software on the market.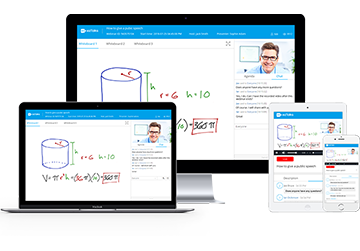 ezTalks- Best Webinar Software
All-in-One Webinar Solutions
Fluent HD Video/Audio & IM Chat
Screen Sharing and Whiteboard
Rebranding and Reporting
Recording and Online Playback
Sign Up Free Now
Part 1: Webinar Software with All-in-One Webinar Services
One webinar platform for all application scenarios!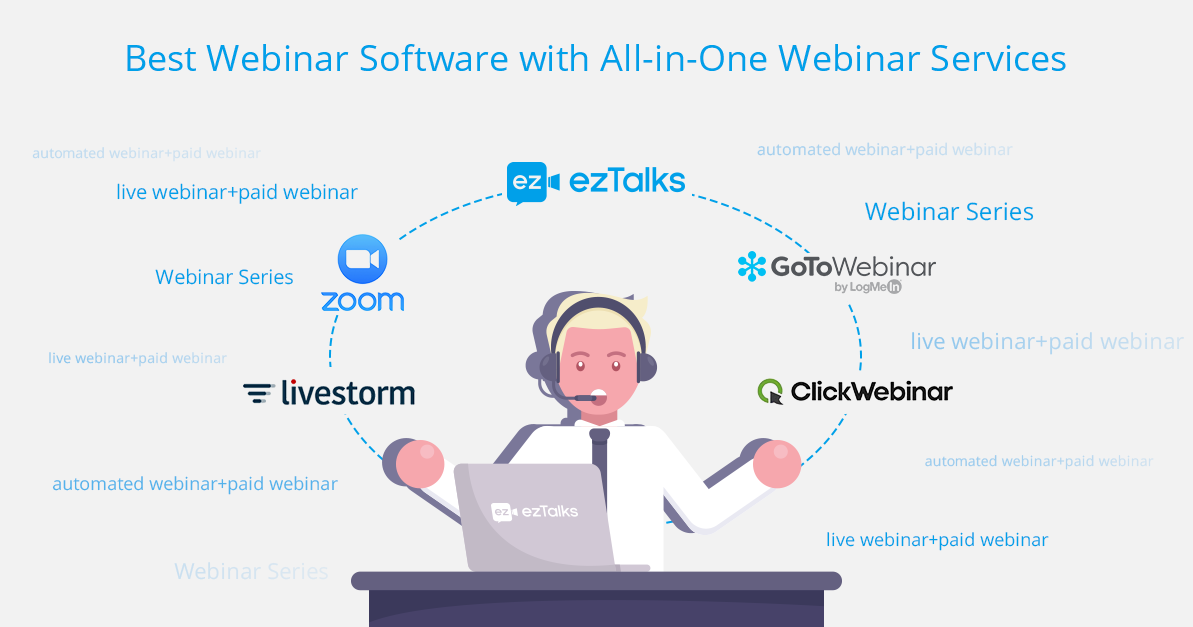 1. ezTalks Webinar
ezTalks Webinar ranks first as a powerful webinar platform which enables you to host webinars easily with different people in various locations like when you were discussing with each other directly.
★ All-in-One Webinar Solutions
1) Provide any type of webinar that users need: Live Webinar, Automated Webinar, On-demand Webinar, Paid Webinar or even the upcoming Hybrid Webinar and Webinar Series;
2) Able to stream the webinars via Facebook Live & YouTube Live integration to extend your audience base.
3) Up to 100 interactive video participants and up to 10,000 audiences in the online event
4) Encrypt all presentation content at the application layer with the Advanced Encryption Standard (AES) 256-bit algorithm for maximum security.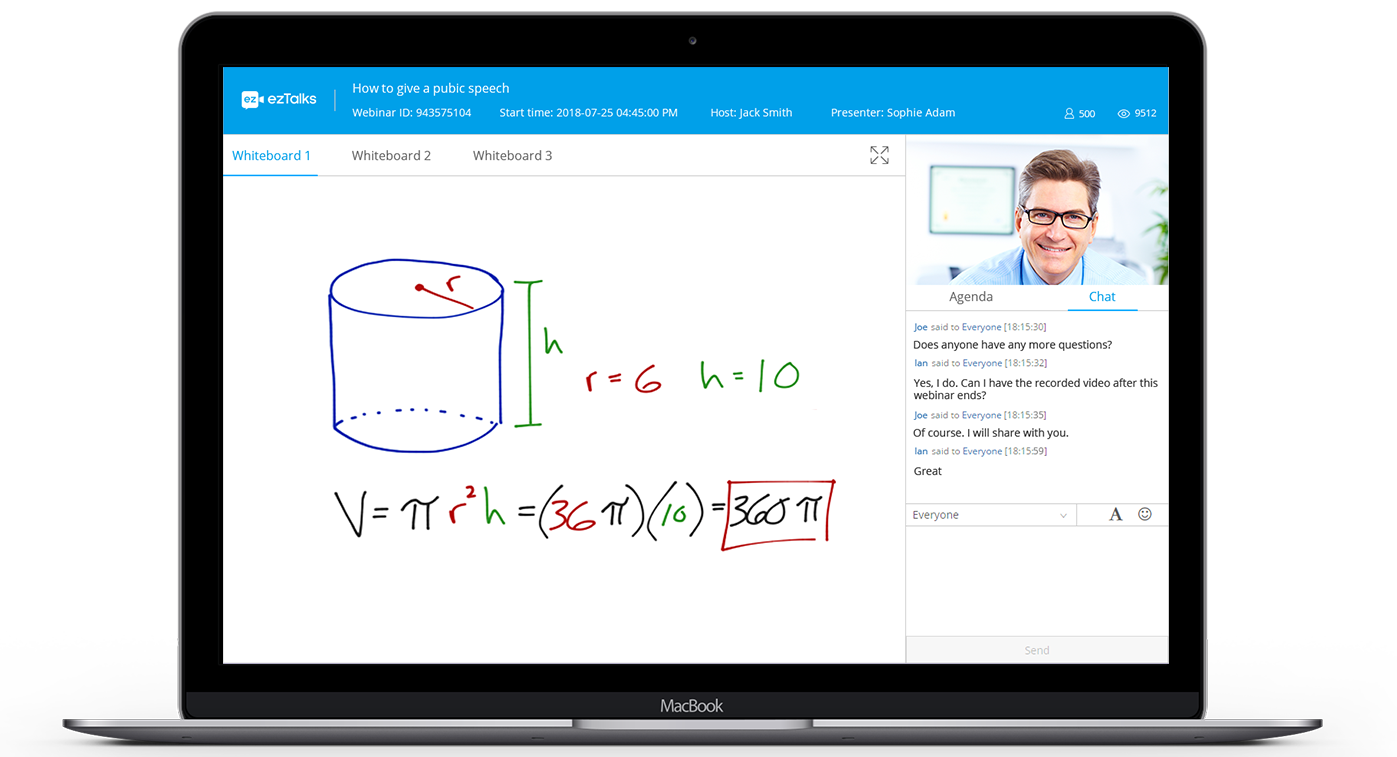 ★ Free and Easy to Use
1) Allow up to 25 interactive video participants in online events for free;
2) Free & easy signup and login with email, Facebook or Google account;
3) Host and join a webinar anytime, anywhere through PC or mobile device in Mac, Windows, iOS or Android;
4) Able to join the webinar through the web browser without downloading any software or plugins.
★ Get Webinars Well-prepared
1) Prepare and plan your webinar event easily with simple scheduling and hassle-free registration process;
2) Attract and impress your audience with the customized registration page, waiting room with agenda, and proper invitation email;
3) Other useful features including webinar rebranding, address book, multiple roles, and team member account.
★ Run Webinars Interactively
This free online webinar platform allows you to present your ideas to the audience and interact with participants effortlessly by virtue of the collaborative tools:
1) HD video and crystal-clear audio enables seamless communication;
2) Convenient screen sharing allows you to easily share screen/video/app/files etc. with other participants;
3) An interactive whiteboard is available for sketching, planning and drawing out of thoughts;
4) It is able to convey the content and present ideas, such as texts, emoji, voice messages, screenshots or pictures with a single participant or all participants;
5) It enables to collect audiences' feedback with polls & surveys.
★ Make Webinars More Productive
1) Able to gain insight into the events with robust analytics and campaign reporting about the registers, participants and webinar;
2) Make full use of your webinars via webinar local/cloud recording, webinar cloud storage, and recordings online play, sharing or download;
3) Follow up with your prospects through thank-you page;
Pricing Plan
Free trial & paid options;
From $25/mo/host for up to 50 participants.

ezTalks Webinar is always striving to turn each of the virtual events and custom webinars into a quick, simple and enjoyable experience. It minimizes the costs and develops relationships with people in any corner of the world.
Who is ezTalks Webinar for?
It can be widely applied to all industries (enterprise, government, education, training, healthcare, law, finance, military, community, etc.) for marketing/teaching/training/meeting & webinar/video presentation. It is especially for those who need all-in-one webinar services within one affordable tool.
2. Zoom Webinar
Zoom Webinar is also among the list of the best 10 webinar software. It starts off as a meeting tool that grows into a webinar platform which also enables to custom your own live, automated or on-demand webinars.
Pros
1) Scalable: Up to 100 interactive video participants for webinars with large panels of speakers;
2) Integration: Broadcast your webinars to Facebook Live and YouTube;
3) Controls: Mute/unmute speakers for full control over participants;
4) Interactive: Polls, Q&As, attendee raise hand, attention indicator and live chat for engaging viewers;
5) Closed captioning: Provide text captions for hard-of-hearing audiences or people using devices on mute.
Cons
1) No free trial version;
2) Expensive pricing plan as everything seems to be an add-on or an extra with Zoom;
3) Some reviews show that the interface could use some improvements as minimizing and using it in a webinar takes a little while to get used to.
Pricing plan
From total $54.99/mo/host for 100 participants
Who is Zoom Video Webinar for?
It is more suitable for big organizations. 
3. GoToWebinar
As one of the best widely-used webinar tools, GoToWebinar may not have all the features available from other apps, but it also offers a dependable and familiar user experience to both audiences and presenters alike.
Pros
1) Able to plan in an easy way by virtue of event management, flexible scheduling and webinar templates;
2) Able to promote your webinar with features like branding, custom registration, channel page and GoToStage;
3) Able to have fun presenting with engagement dashboard, presenter webcams and polls & survey;
4) Able to record and reuse your events to bring in more viewers;
5) Able to generate reports on who attended, how interested they were, what questions they asked and answered.
Cons
1) Expensive;
2) Screen lagging at times;
3) Features are too professional to handle;
4) Only 7 trial days.
Pricing plan
Free 7-day trial;
From $89/mo for up to 100 participants.
Who is GoToWebinar for?
Professional marketers with smaller audiences who proficiently master webinar hosting may prefer to choose Go To Webinar.
4.ClickWebinar
ClickWebinar offers a webinar service with a simple interface. It provides a series of tools to help you before, during and after your webinar. Nonetheless, it has various kinds of webinar services including live, automated, on-demand options.
Pros
1) Support to customize your room and other elements with a few clicks to make a great first impression;
2) Integrate with customer relationship management software to help you collect and convert contacts into leads;
3) Offer an outstanding translation feature for its live chat, useful for international companies with an audience that spans multiple nations;
4) Provide customization capability;
5) Able to record, store and share the recordings;
6) Other main features are also available like Q & A, Polls & Survey, call to action and so on.
Cons
1) Only supports up to 5000 seats at each virtual event;
2) Not as easy to find the corresponding feature for the new users as other software;
3) Its pricing plan is much higher than the others;
4) User reviews reflect that the audio issues appear repeatedly.
Pricing plan
30-days hassle free;
From $25/mo for up to 25 participants
Who is ClickWebinar for?
Those who think highly of the real-time translation function can have a look at this. 
5.Livestorm
Livestorm is also among the popular and useful webinar solutions in the 21st century, which is intended to make any type of webinars and virtual events easier to host and more efficient. It runs directly from the browser, no download required.
Pros
1) Allow real-time engagement as participants have actual conversations, join polls, answer questions, sort using upvotes, and more;
2) Provide broadcasters with a recording of every session and registered attendees can log on to for instant replays;
3) Can export relevant profiles to third-party applications or native integrations;
4) Optional to add guests to your webinar before your webinar and invite them on stage;
5) High-end analytic functions that provide users with actionable insights.
Cons
1) Quite expensive;
2) Starter package offers has limited features than other conventional webinar tools;
3) Its Live Webinar service performs well, but its Automated Webinar now still only provides the BETA version.
Pricing plan
Forever free version with up to 4 participants;
The most basic plan at $99/host a month limiting to 100 attendees.
Who is Livestorm for?
It is more suitable for brands that are willing to invest funds in producing live video content for streaming across online platforms.
Part 2: Other Popular Webinar Software
Each webinar platform takes pride in its own dedicated webinar service!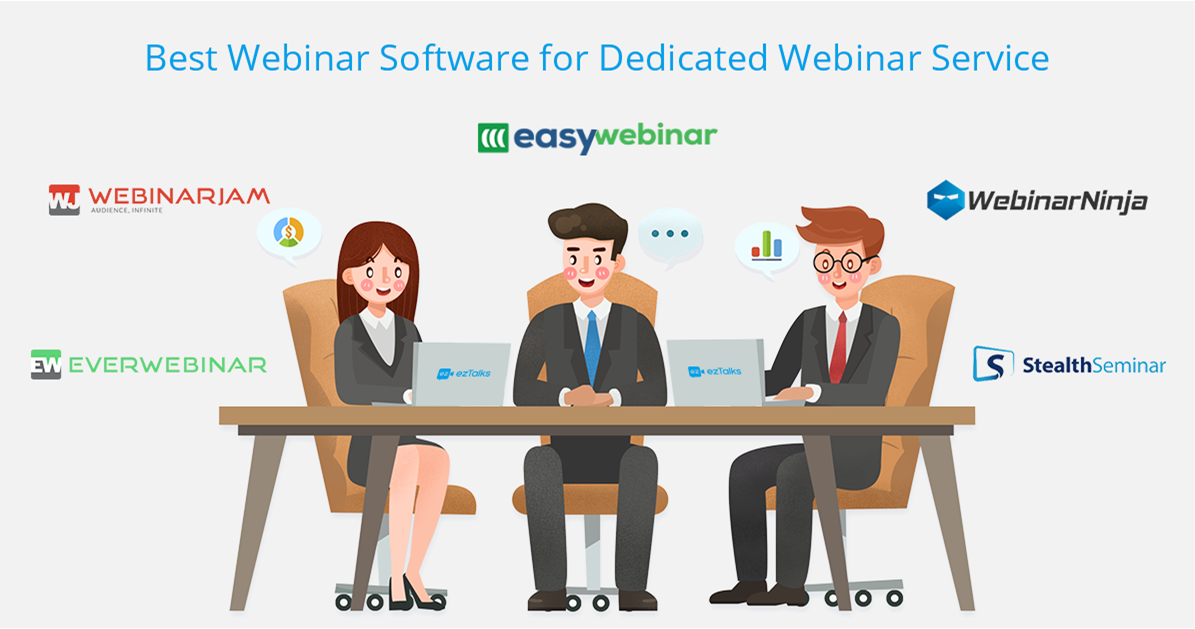 6.WebinarJam
WebinarJam is a piece of webinar hosting software designed to work effortlessly on any given device and web-browser. The webinar system is an innovative solution for live casting, event streaming, and webinar broadcasting.
Pros
1) Streaming: Able to directly stream through Facebook Live and YouTube Live, or broadcast to Webinar Jam's own private network;
2) Guidance: Offer training videos at every step along the way to show you exactly what to do;
3) Call-to-action: Can use pop up buttons, offers & countdowns to encourage webinar attendees to take action;
4) Security: Let you control who participates in your webinar with password-protected webinar rooms;
5) Interaction: Able to boost your audience engagement using interactive tools like a virtual whiteboard, polls and live chat;
6) Customization: Design your pages for brand consistency; Inject pre-recorded video for perfect presentations;
7) Follow up: Every webinar is automatically recorded and the replay can be sent to attendees; Know your data with our advanced analytics and tracking.
Cons
1) No all-in-one webinar services; (On-demand Webinar is also available now, but not performs well enough.)
2) Its interface is difficult to navigate and it takes a long process to host a webinar. (Novice users may require extra time to watch the training videos to learn to use it.)
3) Only allows up to 6 co-presenters in a session.
Pricing plan
30-day trial at $1;
From $479 (billed annually) for up to 500 attendees.
Who is WebinarJam for?
Those who want to stream webinars live for promotion and marketing activities because it has a pop-up feature.
7.EverWebinar
Created in November 2015, EverWebinar is a product from Genesis Digital, also the maker of WebinarJam. However, it is mainly used to schedule and create automate webinars, which is good for making evergreen webinars.
Pros
1) Schedule: Set your webinar to replay at set times throughout the day - e.g.: every hour;
2) Integration: Designed to build email leads and integrates with email ActiveCampaign, GetResponse, MailChimp and others;
3) Just-In-Time Webinars: Tells users there's a webinar just about to start, encouraging them to sign up on the spot;
4) Block night-time viewing: Stops playing your webinar through the night to keep the illusion of live webinars realistic;
5) Block dates: Stop your webinar from playing on any desired date or holiday;
6) Time zone auto-detection: Automatically sets your webinar plays to different time zones so you only have to schedule things once;
7) Interaction: Live chat moderation for a hybrid webinar; Share files directly on the webinar;
8) Analytics: Insights on the performance of your webinar strategy.
Cons
1) It's not "live" so you have to feel comfortable creating a simulated webinar;
2) No YouTube Live and Facebook Live integration;
3) Data and reporting are relatively weak compared to others.
Pricing plan
An annual fee of $597 along with 30-day free webinar service trial
Who is Ever Webinar for?
The platform is ideal for small to medium businesses who are looking to maximize the touch of their webinars by reusing them.
8.EasyWebinar
EasyWebinar is an easy yet useful webinar platform that combines webinar technology and marketing strategy in one. It is a popular WordPress webinar plugin which supports you to run live or automated webinars.
Pros
As for automated events that are pre-recorded, you can schedule the time for broadcast or allow viewers to watch whenever they wish.
1) Come with a decent library of templates for you to create the attractive pages of your webinar without having to spend too much time designing it all; 
2) Can push your automated webinars through your own WordPress Site, making onboarding easy for WordPress users;
3) Flexible to take the live webinars and convert them immediately into an Automated Webinars;
4) EliteWebinarMastery Foundation Course (8 lesson webinar starter course) valued at $297 for free (for ANNUAL purchase only).
5) Able to enjoy crystal clear screen sharing, live chat and offers in live webinars.
Cons
1) No free trial version;
2) Only up to 4 presenters in a live webinar presenting to your audience;
3) Maybe a complicated webinar hosting process for those who don't have a WordPress account- need to use video walkthrough's and probably get on a chat with the team.
Pricing plan
Start at a standard price of $59/mo.
Who is Easy Webinar for?
It is particularly adopted as a marketing tool as it combines webinar technology and marketing strategy in one for lead generation and relationship/education based marketing. But note, it may be not the best pick for those who're pursuing the webinar software technically immature.
9.WebinarNinja
WebinarNinja is a cloud-based webinar hosting solution, there is no downloading involved while installing Webinar Ninja. It enables users to run Live Webinars, Automated Webinars, Hybrid Webinars, Series & Summits.
Pros
1) Integrate with multiple marketing systems such as Infusionsoft and MailChimp;
2) Features include auto recording & archiving, auto email notifications, instant chat with emojis, Q&A and so on;
3) Built-in attendee management tool for you to add, remove, and mute attendees;
4) Able to create the image of a professional webinar hosting platform that allows you to create beautiful webinars in no time;
5) Can accept payments instantly for your paid webinars with our Stripe integration;
Cons
1) Some users review that its image quality is not that good especially during the night when doing a video recording;
2) Need to fill out the form with lots of information in order to get the free trial;
3) Spend much more for more webinar types.
Pricing plan
14-day free trial;
Start at $39/mo (billed annually).
Who is WebinarNinja for?
Marketers who want email, marketing automation and webinar features from a single platform, but don't demand industry-leading tools.
10.Stealth Seminar
Stealth Seminar webinar platform is the professional live and automated webinar software for both small and large-scale entrepreneurs since 2008.
Pros
1) Provide both automated webinar and live webinar functionality; A hybrid webinar system for running your webinars in autopilot, live, or hybrid modes;
2) Realizable to integrate Stealth Seminar with virtually all e-mail systems, customer relations systems (CRM) and landing pages;
3) Can block attendees that ruin your webinar from the chat-rooms without their knowledge;
4) Able to schedule an automated webinar at your convenience and send automated reminders to registrants;
5) Allow surveys & polls, Q&A box, customization and unlimited file sharing.
Cons
1) Have to register in order to see the system's new features or demos, inconvenient to new users who just want to compare different software before purchase;
2) The cheapest subscription option allows the user to only carry out 100 webinars per month;
3) Lack of useful features;
4) Relatively pricey when compared to Stealth Seminar competitors.
Pricing plan
An initial fee of $97 USD for the registration, which allows you to use Stealth Seminar webinar Software one month, and after that you need to pay $69.95 a month for up to 100 unique webinar events with up to 150 simultaneous attendees.
Who is Stealth Seminar for?
Marketers who want a dedicated webinar tool with live events but put more emphasis on the automated replays. Not suitable for those need to host a great number of webinars.
Conclusion
Actually, every webinar tool has specific strengths and weaknesses. That's why picking the right tool isn't just about choosing a decent bit of software- it's about choosing the tool that supports your goals and the type of webinars you want to run. You can begin with the best free webinar software like ezTalks Webinar which offers free trials for testing before commitment and a fair pricing rate. Go for it.