3 Easy Ways to Make Multi Video Conference Call
Under the background of economic globalization,numerous enterprises break through the regional restriction to expand business by setting up branches all around the world,or developing business cooperation with others in foreign countries. However,these enterprises have to face new challenges as well as make great progress. Due to geographic restriction,remote communication turns out to be difficult,let also remote collaboration. Business travel,teleconference and text seem good,but can't offer real-time communication and collaboration.
Under this circumstance,it's a fairly good choice for enterprises to apply multi video conference call service in virtue of its real-time communication and collaboration,anytime and anywhere. If you're looking for a right way to make multi person video conference call,you come to the right place.
Way 1: Make Group Video Conference Call with Skype
Way 2: Start Free Multiple Video Conference Call with Facebook Messenger
Way 3: Host Free Video Conference Call with Multiple Attendees via ezTalks Meetings
Way 1: Make Group Video Conference Call with Skype
Many enterprises rely on Skype to keep in touch with employees,customers and partners who live overseas or different regions. Skype recommends group video conference calls with up to five people because of its fair usage policy. During the group video conference call,you can share screens and files with the attendees and record the video conference call by taking pictures.How to Make Group Video Conference Call?Step1: Download and install Skype on your computer,Android or iOS devices.
Step2: Run Skype and sign into it. In the primary window,go to the upper navigation bar and click "Contacts > Create New Group...".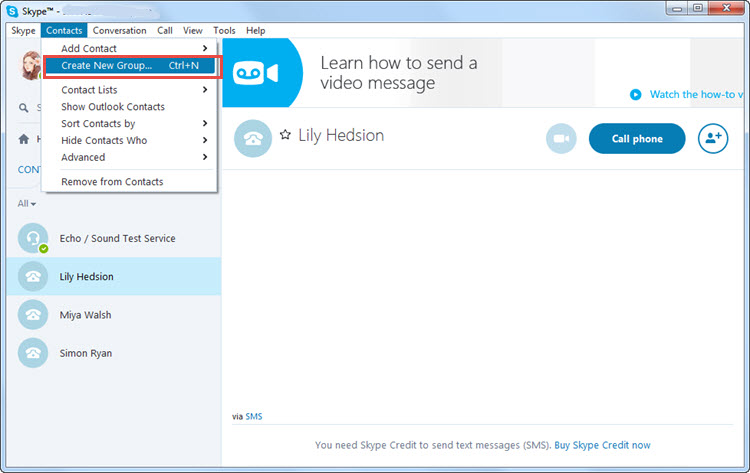 Step3: A small window appears on the lower right corner of the primary window,check coworkers,customers or partners who you want to have group video conference call.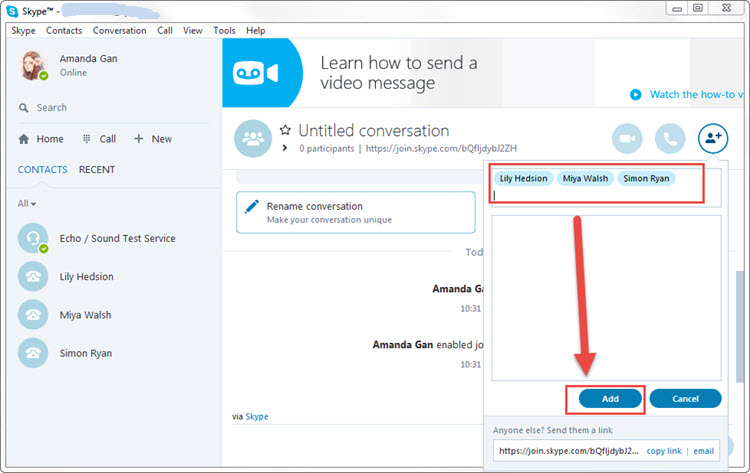 Step4: After creating a group,click Video Call icon. When others receive your invitation and accept it,you can enjoy the group video call.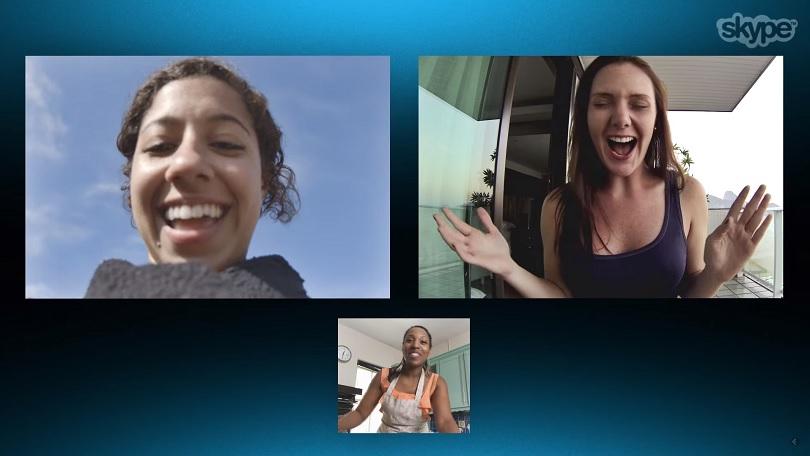 Way 2: Start Free Multiple Video Conference Call with Facebook Messenger
Just like Skype,Facebook Messenger lets you instantly reach coworkers,partners and customers and have a face to face communication by starting multi video conference calls. To put it frankly,it enables you to meet up to five participants in a video conference call at a time. You don't have to create a new account for it,just sign in with your Facebook account.
Simple Steps to Start Multiple Video Conference Call
Step1: To get started,install and launch Messenger app on your iPhone or iPad. Or,go to its official website and sign in with your Facebook account. Here we show you how to start a video call through its official website.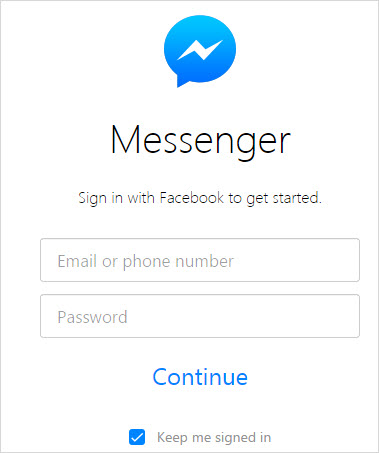 Step2: Create a group and drag and drop the colleagues,customers or partners whom you want to have a video conference call. Or,just jump into an existing group conversation.
Step 3: Get your webcam,speaker and microphone ready. Then,tap or click the video conference call icon to start a group video call.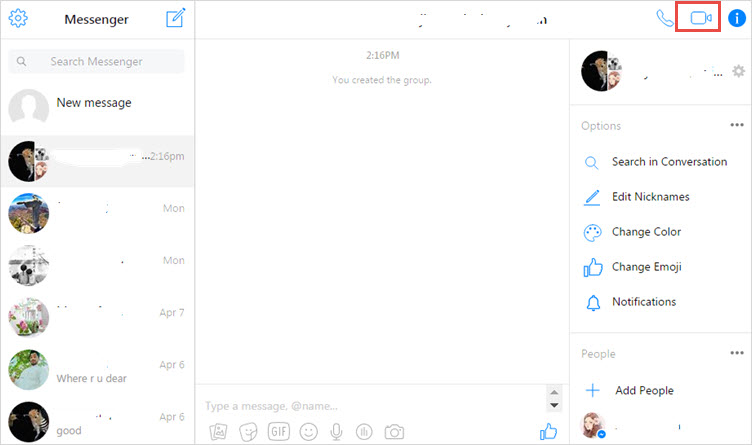 Way 3: Host Free Video Conference Call with Multiple Participants via ezTalks Meetings
Skype and Facebook Messenger work well when you want to meet about 4 or 5 coworkers,customers or partners via group video conference calls. When you have a greater need,like host up to 20-participant video conference call,neither Skype nor Facebook Messenger works for you. In this case,we highly recommend you ezTalks Meetings,a professional group video conference call solution. Its free plan gives you the ability to meet up to 99 customers,coworkers or participants for 40 minutes at a time for free. If it still fails to satisfy your requirements,you can easily upgrade to its paid plan which enables you to host up to 500 customers,coworkers or participants for unlimited meeting duration at a time.
In addition,you're allowed to share whiteboards and desktop to everybody else to sharpen your ideas during the entire video conference call. To ensure orders and discipline,you can authorize some participants to speak and mute others at the same time. For easy review in the future,you can keep a record of the entire or part video conference call and save as audio or video files.
To better understand how to use ezTalks Meetings to host video conference calls,you can click the download button to download and install it on your Windows computer. If you're a Mac,Android or iOS user,please click Download Center to download a right version.

2 Easy Steps to Host Video Conference Call
Step 1. Launch ezTalks Meetings and Login
To begin with,run ezTalks Meetings on your computer once you finish the installation. When the first window comes out,enter your email address and password to login or you can just login with your Facebook or Google account. If you have never use ezTalks Meetings before,registrater it by clicking click Sign Up.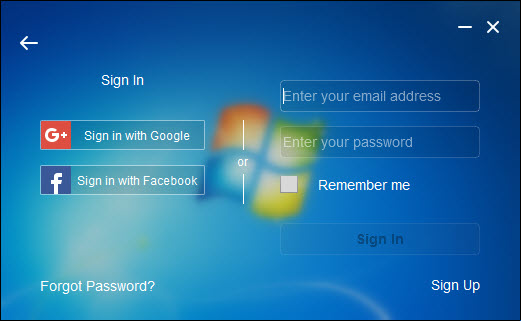 Step 2. Host Video Conference Call
Make sure you have put webcam,microphone and speaker in the right places. Click Start Meeting to enter a virtual video conference call room. Share the room ID to anyone who you want to join the video conference call. If you know their email address,you can send them emails. When they receive your email,they can click the URL in the emails to join the video conference call. It's done! Now,you can start the video conference call.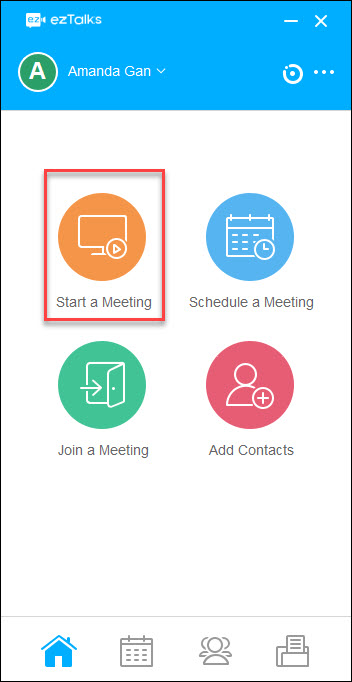 This article is focused on telling you three easy ways to make group video conference calls for free. Apart from them,there're many more free group video conferencing software to let you seamlessly connect with colleagues,customers and partners on the move.