2 Ways to Do Remote Screen Sharing on Mac
Screen sharing is one of the most important features of the Mac desktops. It is an essential business tool that helps you share remote screen of the Mac to colleagues,clients remotely. It helps in making demonstrations or illustrations while on a video conference. It makes easier for you to share reports and presentations with your team. With the help of the following 2 ways,you can do do remote screen sharing on Mac easily.
Way 1: Mac Remote Screen Sharing with ezTalks Meetings Mac
ezTalks Meetings is a great software for Mac to share your screen while having a video conference. It is an ideal tool for remote screen sharing on Mac for free where up to 100 participants can take part. In order to share screen remotely on Mac with more participants,you can easily upgrade to its pro version.The main reason of Mac screen sharing remotely is to involve everyone attending the video conference to see what you are demonstrating. It allows to share your desktop,PowerPoint,Doc,Excel,photos,audio,video,application,interactive whiteboard and more.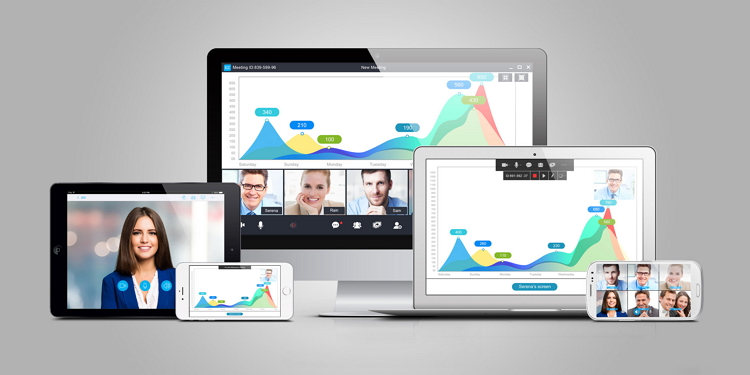 Here is the step-by-step guide to use ezTalks Meetings to do remote screen sharing with Mac over Internet.Step 1. First,you have to download and install the software on your Mac and then sign up with your email address to ezTalks Meetings. You can also use your Google Account or Facebook to sign in directly.

Step 2. In the main window of ezTalks Meetings,click Start Meeting to enter a video conferencing room. Then,invite your wanted colleagues or clients to enter this room.Step 3. Go to lower menu,and find the share icon. Then,you get two options: Share Desktop and Share Whiteboard on that menu. Click on the option Share Desktop. All the attendees will be able to see everything that is present on your Mac screen in real time.Step 4. If you want to share the whiteboard for interaction,you can click on the option Share Whiteboard.
Way 2: Remote Screen Sharing with Mac Inbuilt Feature
Your Mac has its own inbuilt feature for remote sharing screen on Mac,especially with a VNC server with some additional features. So,you can use the VNC clients for controlling your Mac and these clients are available for all types of platforms. In order to enable and use this screen sharing feature you have to follow these steps:
Step 1. First,click on the Apple icon that is present in the menu bar at the top of the Mac screen. Then,select the system preferences and click Sharing.
Step 2. Select the screen sharing checkbox to for Mac remote screen sharing over Internet on your Mac.
Step 3. The control panel will inform you about another Mac desktop or device on the local network.
Step 4. Open the Finder window and look under the section named Shared in the sidebar.
Step 5. Now,select the computer that you want to control and click on the option Share Screen.
Step 6. In order to set some extra options for screen sharing,then click on the Computer Settings. You will get some options which you can check or uncheck according to your need.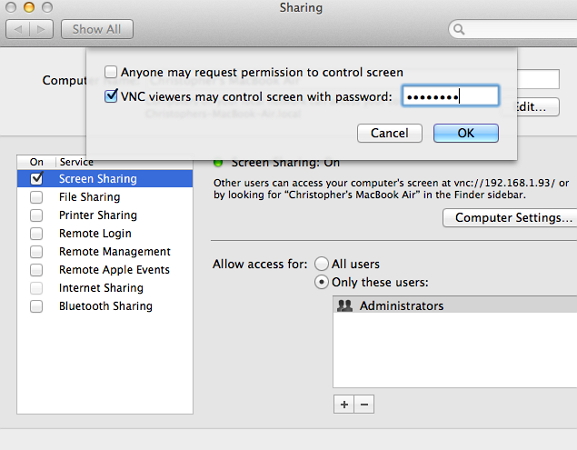 Now,you can do Mac screen sharing now with anyone you want. All of these methods are quite easy to follow. Therefore,you can use any of these two ways for remote screen sharing Mac desktop.