What Are Telecommunication Skills
Telecommunication involves the exchange of information through electrical or electronic means over a significant distance. It's a universal term which is used for a wide range of information transmitting technologies. In this form of communication,data is transferred using carrier waves which are a form of electrical signals. They are then modulated into digital or analog signals so that they can successfully transmit the information. It is also sometimes referred to as telecom. Telecommunication arrangement is considered to be completed when it is made up of two or more stations. These stations have both transmitter and receiver devices. A transceiver is the single co-arrangement of receivers and transmitters. Transceivers can also be used in various telecommunication stations. The most common telecommunication devices are the radio,telegraph,telephone,microwave communication arrangements,satellites,fiber optics and the internet.
What Are Telecommunication Skills?
A person's ability to communicate effectively with his colleagues,superiors and staff is very important regardless of the industry he belongs in. In the digital age that we live in,it's essential for workers to know how to successfully convey and receive messages. Not only does this communication happen in face to face conversations,it also occurs through email,phone and various social media platforms. There are certain skills a person must possess which are vital for the success of telecommunication. Here are the top telecommunication skills which are required to help you meet industry demands.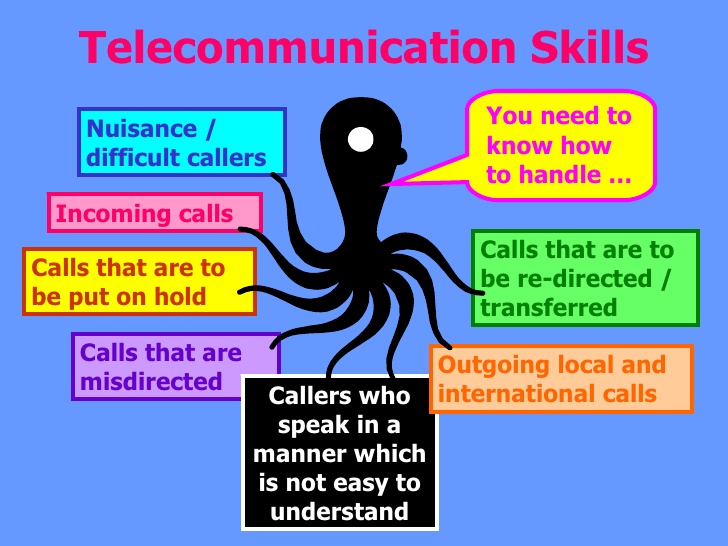 1) Cloud Computing Skills
Since most of the data that we use are stored in the cloud automatically,skilled telecommunications engineers will continue to be highly preferred by employers in the future. Their expertise and relevant experience will allow them to be always in demand. Cloud computing is an essential skill to master in the telecommunications industry. It involves a combination of skills which are required to run various software in the cloud successfully.
2) IT Support Skills or Network Engineering
Network engineering involves different types of processes which are required to maintain,support,troubleshoot and implement communication networks. This could either be within a single organization or between multiple organizations. Skilled network support engineers are expected to be able to create a network infrastructure which is fool proof. The infrastructure should be available to a variety of stakeholders which include customers,employees,supply side staff and clients. They are also expected to have relevant knowledge regarding different types of networks such as WAN,LAN,MAN and WLAN.
3) Programming
Telecom engineers are expected to be knowledgeable in various uses of telecommunication domains. Data and networking centers are becoming increasingly dependent on specialized software nowadays. Some of the best examples of this are NSX by VMware and the onePK API by Cisco. There have also been new tools which are being incorporated in networking such as Chef and Ansible. Although there has been a consistent improvement in quality in these tools,telecom engineers who possess a better understanding of programming will still have an edge in the industry.
4) Soft Skills
Interpersonal communication is one of the most significant skills you are expected to have in telecommunication. Soft skills are mandatory if you want to achieve a competitive edge in the industry. It will help grow and develop new learning in the field. Communication in an intelligent manner is expected from a good telecom engineer. It shouldn't only be evident when you're speaking with your bosses or colleagues. Rather,it should extend to your customers,clients,vendors and even your marketing and sales department.
5) Value Adding and Certification
It's important to make sure that you're consistently adding value to your skill set. During your on the job training,you will be able to learn plenty of relevant information. At this time,you may also take a look at several certifications which are often offered by various organizations. When you have a legitimate documentation of your upgraded skills,you'll be able to apply for a higher positions. This documentation will serve as your evidence of your advanced skill set.
Conclusion
There are various kinds of telecommunication tools,in which ezTalks Cloud Meeting is one of the best video conferencing softwares you can use for free. This innovative software allows up to 100 participants to communicate with one another using the platform. Holding online meetings has never been easier and more convenient. You'll be able to quickly schedule future meetings from various locations within just a few clicks. ezTalks is extremely reliable and efficient. It delivers HD voice and HD video for online meetings. The maximum amount of 100 participants is only implemented in the free version. However,if your team is bigger than 100 you may upgrade your plan to a paid version where you'll be able to have a maximum of 500 participants. One of the key features of this software is its whiteboard tool which allows you to paint and draw your ideas to share with the rest of the participants. There is also an option to chat with a participant privately and save your chat history.