Main Benefits of Screen Sharing in Different Events
Powerful communication is said to be the key for a successful business. Even though face to face interaction appears straightforward and fast,while in most of the cases it is not possible because of the distance. And so people travel for conferences and business meetings. Based on a statistics made by UK team for transports around 20% of trips were made by car,almost 40% were made of business travel and commuter. Travelling every time for a meeting carries a lot of expenses both on time and money.
But fortunately advancement in technology has got us new possibilities. Screen sharing software is one of them. Screen sharing software is an application by which you can share your PC screen live over web with all your team mates. It may sound unimportant but it is a very powerful tool,appropriate in different events like video conferencing,web meetings,web presentations,remote support and online training. Businesses,small organizations and even big established companies can take benefit of this screen sharing application. Here we will discuss about the benefits of screen sharing below.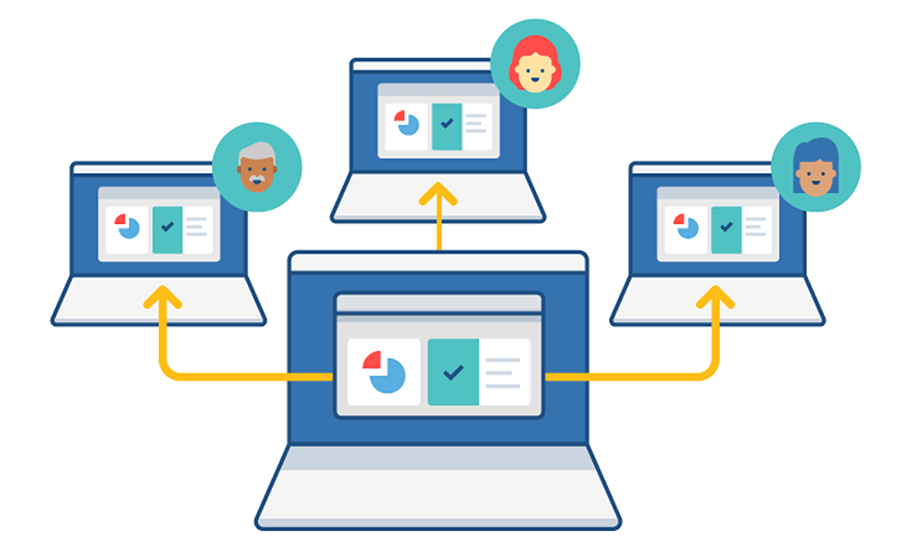 Screen Sharing in Video Conferencing:
Screen sharing applications are very often used to perform video conferencing. The business presenter can utilize the screen sharing application to send invitations and inform the attendees about the necessary information to join the conference. You don't have to distribute the documents in advance as the participants can see any documents or files on the presenters screen and can even ask the meeting holder to send those documents and files through screen sharing tool's transfer function.
Screen Sharing in Online Meetings:
Screen sharing application allows real time office collaboration with many team mates and colleagues. Simply by sharing same screen content like a graph,chart or an image meeting attendees are able to see what others are seeing very quickly. Meeting time is decreased as the screen sharing application saves the time which you would probably have spent telling what you are able to see. Additionally the switch meeting presenter feature of the screen sharing application allows a participant to share screen. This makes a one way interaction into an interactive one and hence makes the conference or the meeting even more productive.
Screen Sharing in Online Training:
By utilizing screen sharing tool in online training organizations can save a lot of money as they don't have to set up the entire projector set up and pay for travelling for external lectures. Rather a lecturer's material can be shared easily from their PC screens through a screen sharing application for all their attendees to see. Lecturers can even use such screen sharing function as whiteboard or participant pointer to interact the trainees and hence make an interactive and entertaining learning environment.
Screen Sharing in Online Presentations:
Online presentations allowed by screen sharing are a perfect method for organizations to engage with clients and customers. With the help of screen sharing application not only a sales person can show their products but also they can invite clients to experience those items like software programs by giving the remote control of the PC's keyboard or mouse. This is among the best benefits of screen sharing tools.
Screen Sharing for Remote Support:
Many screen sharing application has remote mouse or keyboard control feature that is particularly very famous among the IT organizations. With just a few mouse clicks to begin the screen sharing tool,support personnel can even ask for see client's screen and also control the client's mouse and keyboard and hence give technical support. You can also record the entire technical support program for further cases and documentation.
Having the knowledge of benefits of screen sharing tool is one thing; but getting the most appropriate one to get the best effect is another particularly when there are so many screen sharing applications available and each of them have their own functions. We will now discuss a few things that you should consider before selecting the one for you.
Some Tips to Choose the Best Screen Sharing Software:
Features
While selecting the screen sharing application begin from the scratch and enlist the features which you actually need. For instance if remote support is what you need then you should not choose those services without mouse or keyboard control.
Security
In business world confidentiality of business info is very important. Select a screen sharing application which conveys your details in a protected way. 256 bit encryption is greatly popular as a safest method of communication. You can rely on ezTalks video conferencing software as they provide their clients the best security options.
Computer Understanding
The main use of screen sharing application is to assist in communication. High stage technology works only when you know how to use them. Hence select an application which is accessible as well as easy for you.
Dependability
It is very important that the screen sharing solution is dependable. If it stops working during your meeting or conference this will disturb the flow of interaction; the worst part is you will leave your clients or customers with an unprofessional impact. With ezTalks video conferencing software you don't have to worry about poor connection as they are highly reliable and trustworthy.
Budget
A screen sharing tool is not a good option to big organizations with big budgets. Free software are a great point to start with as you don't have to buy any plan or packages and it even has the core features that you will need for online communication. ezTalks video conferencing software gives you with a free basic plan and you can upgrade it to any paid plan that suits your requirements. They are highly professional and trust worthy and provides HD video calling.
Conclusion:
In this time of globalization,services and business takes place anywhere and anytime. Screen sharing tools enhances the effectiveness and efficiency of cross company collaboration,employee training,web product demonstrations and customer services at very low cost. With this business and organizations can save a lot of money and time and get you great success. ezTalks free version gives you the ability to add up to 100 participants to join a conference or meetings at one go. Customers can choose the free version to check the services and features provided by ezTalks services. If you wish to get more of the participant numbers and features you can upgrade to its paid plans.