5 Useful Live Meeting Tips
As organizations are in often in the search for great ways to save time and minimize travel cost, live meetings are significantly gaining track in today's work environment. There are many reasons to support this, but one fact is that many business, institutions, and companies have their employees, supplies, or shareholders dispersed around the world.
Since meetings are conducted more often than not, getting options to incorporate the entire team including those working from remote is inevitable. The world these days is wired, and with remote online communication tools such as ezTalks Meetings, it is possible to hold live meetings anytime with many participants from different locations. We have to agree unanimously that live meetings make virtual collaboration and online communication a lot easier and faster, and organizations are immensely gaining reasonable profit from the same.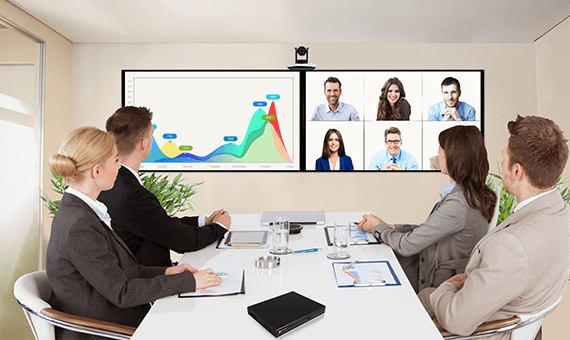 Nevertheless, have you ever attended any conference, let's say physical meeting in an office boardroom that resulted in a total waste of time? If so, try figuring out the same scenario happing in a live meeting, perhaps conducted via an audio or video conference. As a matter of fact, it may be challenging to stay engaged throughout the session.
That notwithstanding, it is the nature of the beast to have some technical issues arising ranging from poor timing, technological mishaps, poor communication tools, and much more. But you can avoid all or some of these and have flawless live meetings by following a few tricks and tips, explained herein.
1. Get the right communication tools
Getting the right communication tools is one of the paramount live meeting tips. If you are organizing to conduct a live meeting where participants from around the globe, choosing the best media that perfectly suits your needs will is imperative. The good news is that there're plenty of incredible and most popular online live meeting tools, some of which include ezTalks Meetings, Google Hangouts, Join.me, among others. When deciding on the right tool, it also important to ensure that those who will be attending the meeting have had the software installed and working on their communication devices.
2. Understand all your live meeting tools
As at now, everyone has some basic knowledge about conducting live meetings, thanks to the various online communication solutions. Nonetheless, being familiar with chosen communication media is not enough, and this explains why understanding how your tool(s) work is another great live meetings tips and tricks. Whether you are a presenter or a participant, it is incredibly important for you to take out plenty of time and understand the hardware, software, and various connectivity options you will be using. It is highly advisable that you learn about all these much earlier before the meeting commences.
3. Prepare the venue
In the case of physical meeting in a boardroom, organizers often ensure that everything in the room is correctly set. Similarly, when planning for a live meeting, it is also important to carry out the necessary pre-meeting preparation, which is a tip that most people often forget! Live meetings need to be conducted in a quiet place with no background noises as it can distract your audience. If you are attending a meeting from home, ensure no baby is crying in the background, it is annoying and very unprofessional!
4. Make sure it is all-system-go
Most people attending live meetings often face several challenges partly because they did not ensure everything is working well. Imagine a scenario where you are presenting your project progress to the company CEO and without notice your laptop is running out of power or your bandwidth is exhausted! It can be quite frustrating, but it is as a result of ill-preparedness. Whether you are a presenter or attendee, you need to log in to the live meeting about thirty minutes before the meeting starts. Then check your connections and you need to have internet backups. Test your speakers, microphones, and cameras. If you are using a video conferencing feature, ensure to turn on lights in front of you and turn off those behind you. Other things that may disturb you in the process of the meeting, such as cell phone, should be switched off.
5. Get attendees engaged
Getting participants engaged from the start to the end is one of live meeting presentation tips that you must demonstrate if you want to successful meetings. When a piece of information, perhaps on PowerPoint formats, do not read in a monotone. Communication experts advise that people should learn to speak to their audience rather than lecturing. Other ways include setting question-asking time, assigning specific roles to the audience, and encouraging healthy discussions. All these are intuitive ways to keep the audience attentive, engaged, and active throughout the session, which ultimately make a live meeting lively!
Conclusion
The list of effective and efficient live meeting tips and tricks is just endless, but those mentioned are just but a few. The bottom line is those live meetings can be interesting, cost-effective, and saves plenty of time if conducted appropriately. With the list of tips and tricks for live meetings earlier explained, the difficulties often experienced when planning and conducting such meetings will be minimal (if not none) while the entire process becomes seamless in the long run.