5 Best Conference Room Phones for Small to Medium Rooms
Firms and organizations are always busy and in a hurry to deliver in order to keep tabs or even surpass their competitors. This has resulted in a busy work environment, curbing any form of face to face meetings. Then, companies have resulted in coming up with conferences and retreats in order to pass across some important information and initiate their strategic plan. It has created a need for high-quality and intelligent conference rooms, to make the meetings successful.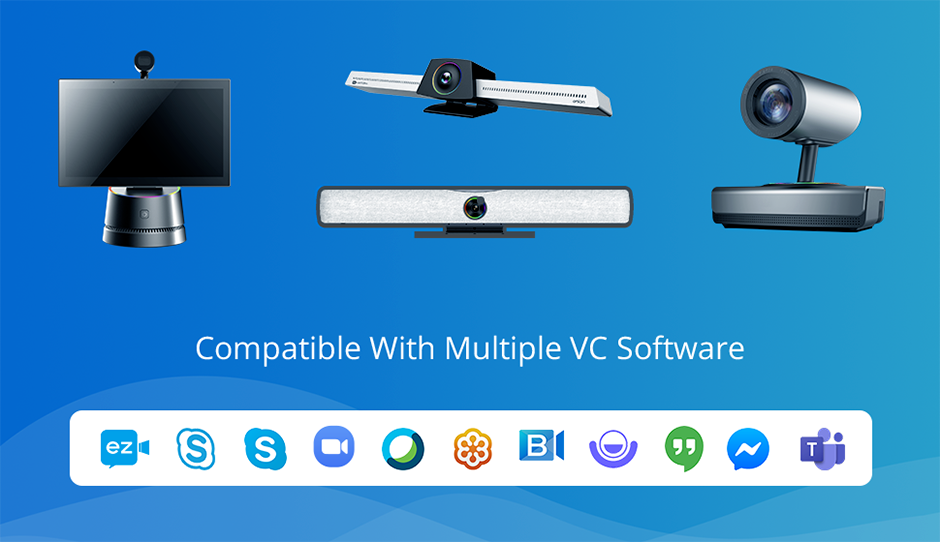 Advanced Video Conferencing
For Any Conference Room
ezTalks all-in-one video conferencing devices work with most popular VC apps like ezTalks, Skype for Business, Skype, Zoom, WebEx, GoToMeeting, BlueJeans, Lifesize, Google Hangouts, Facebook Messenger, Microsoft Teams and more as you require.
Request A Demo
In order to have high-quality and intelligent conference rooms, efficient conference room phone set-up is needed. This will enable a lot of meetings to be held at audio conferences, ensuring cost and time-saving. There are a number of conference room speakers that can ensure a perfect audio conference. Here are the 5 best conference Room phones:
1. ezTalks T-Voice 100
Do you want to conduct a conference meeting with an outstanding audio experience? Then ezTalks T-Voice 100 is your right conference room phone.
Highlights
1. Crystal clear sound quality
2. Cutting-edge technology
3. Easier to use touch interface
4. Multiple application modes
Features
1. 360 degrees omnidirectional microphone with 40-80 square meters pickup range
2. Intelligent DSP and ARM
3. SNTP based time and data synchronization
4. Reliable network connection
5. Full duplex speaker
6. Integrated Bluetooth technology
7. Echo cancellation function
8. Noise minimization function
9 Dynamic or manual host configuration protocol network settings

With these equipped features, ezTalks T-Voice 100 will breed the following advantages to its users:
1. Creates natural meeting audios and provides crystal clear audios in the conference hall up to 80 square meters in the absence of satellite and ceiling microphones.
2. Enhance noise free meetings. This is achieved through the help of noise minimization and echo cancellation technology. Therefore, you will have to conduct your meeting without any interruption. Creates a conducive environment for brainstorming.
3. Gets rid of any delays-Once you integrate this conference speaker in your meeting rooms, its fast processing speed and anti-jamming function will curb lags and delays. With the three-dimensional voice separation and stereo audio ensure every voice is unique and easily recognized, making the meeting entertaining.
4. Acts as the smart controller to manage your conference room. Has built-in ezTalks software with HD 5.5 touchscreen. This feature ensures you enjoy video conferencing.
Application
You can get ezTalks T-Voice by purchasing an ezTalks Room solution that starts at $699. This professional plan will include ezTalks Meet S (previously named Onion), an all-in-one device with software, camera, processor, mics and speakerphones, and T-Voice 100. With ezTalks Room solution, you are able to transform your meeting room to great collaborative space that allows anyone to join a meeting from mobile devices from any time.
Recently, with the increasing demand, ezTalks launches M310/310 Pro, the digital wireless speakerphone, for small and medium rooms, and M410, the premium speakerphone, for medium and large rooms. All these are proved to be the best conference phones.
2. Polycom RealPresence Trio
Polycom RealPresence Trio is clearly one of the most stylish pieces of technology. Available at $1359. It is well endorsed with features that ensure your conference goes on smoothly. These features include the following:
1. 360 degrees microphone coverage
2. One step to join meeting integration
3. An integrated Bluetooth technology
4. 20-foot (6 meters) microphone pickup
Application
This room speaker is best suited for home and modern meetings.
3. Yealink CP860 IP Conference Phone
This conference room speaker is designed specifically for small and medium-sized conference halls. You can acquire it at a cost of $359.
Features
1. Sustains up to 16 people meeting with optional expansion microphones.
2. Quality HD technology, incorporated 3 microphone array, acoustic canceling to enable clear, life-like meeting room conference calls.
3. Full-duplex technology.
4. Supports connection to mobile phones or PC for conference calls.
5. Call recording.
Application
Suitable for meetings up to 16 people in small and medium conference halls.
4. Avaya B100 Series
This conference room phone is integrated with a couple of features that enhance easier set- up process. Built-in conference guide with intuitive keypads enables easier accessing of its features. Besides, it administers meeting room conference calls either through cooperate directory or web-based applications. Get to enjoy its remarkable features at a cost of $440.
Features
1. Full duplex operation
2. In-built call recording
3. Connect up to five locations or people
4. Expand to either a PA system or a Bluetooth headset
5. 360-degree unidirectional microphones cover up to 750 square feet
6. Wideband audio technology
Application
Avaya B100 series performs well in different size meeting rooms
5. Dolby Conference Phone
This meeting room phone ensures that you get the right conference audio in your meeting. Its changing leveling technology fine-tunes to varies room conferences and participant situations so that the conference calls sound naturally. It is paired with Dolby software coming from the best service providers ensuring an elegant conference room audio for meetings. This conference mobile phone goes for $1,351.99.
Features
1. Acoustic audio cancellation
2. Full-room coverage
3. Adjustable speaker volume
4. Dynamic leveling
5. Dolby wideband
6. Full duplex
7. Dolby noise minimization
8. One -touch meeting start even if the phone is in personal mode
Application
It will work well in different sizes of room and participants.
Conclusion
Switching to conference room phone might just turn out as one of the best decisions. There are a couple of reasons for this decision. They include cost saving and ensuring crystal clear sound quality. However for these to be achieved, you need to pick on a quality conference room phone and I recommend ezTalks Room solution because of its performance and affordable price as a competing solution.