What Is the Best Video Conferencing Software of 2017
Video conferencing software not only provides you face-to-face personal or group online meetings with others,but also gives you some additional features,such as screen sharing,file sharing,video recording,whiteboard,text chat,and so on. There are all kind of video conferencing software in the current market,what is the best video conferencing software of 2017?
To find the best video conferencing software of 2017,here we are going to compare three of the top programs: ezTalks Meetings,Lifesize Cloud and WebEx Meetings. This comparison includes their features and prices.
What Is the Best Video Conferencing Software of 2017?
With thericher features like file sharing and remote control and more cost-effective price,ezTalks Meetings gives you the best service.ezTalks MeetingsLifesize CloudWebEx MeetingsHD Video&Audio√√√Screen Sharing√√√Audio Conferencing√√File Sharing√√( Premium)Whiteboarding√√( Premium)Recording and Playback√√√( Premium)Private/Group Chat√√√Instant Meeting√√√Meeting Scheduling√√Meeting Presenter Control√√Lock Meeting√√Call Me√( Premium)Video Call√√Remote Control√Mute All√√Permit Speak√Calendar Intergration√( Premium)Mobile APP√√√Call QualityGreatGoodGoodPrice1. $12.99 /host/month(50 participants)2. $49.99 /host/month(100 participants)3. $99.99 /host/month(200 participants)4. $149.99 /host/month(300 participants)5. $249.99 /host/month(500 participants)1. $29 /host/month(25 participants)2. $44 /host/month(40 participants)1. $24 /host/month(8 participants)2. $49 /host/month(25 participants)3. $69 /host/month(100 participants)Free Trial1. 40 mins limit on group meetings.2. Unlimited( personal meeting)14-day free trial14-day free trial for premiumFree Edition?Yes,up to 100 participantsYes,up to 50 participantsYes,up to 3 participants
Three Reasons Why ezTalks Meetings Is the Best Video Conferencing Software of 2017?
By comparing the three pieces of top video conference software,we have found that ezTalks Meetings has richer features,user-friendly interface,cost-effective price and attractive 100-participant free trial plan.ezTalks Meetings is one of the most professional HD video conferencing solutions that enables people to host or join meetings in high video and audio quality.
1. Features
There are a lot of features that make your meetings run more smoothly and efficiently. With ezTalks Meetings,you can share applications,documents,or images or share your entire desktop. It also offers a whiteboard tool,which you can use to sketch out ideas or take notes during the meeting for everyone to see. You can schedule meetings or host meetings instantly. Other features are also included,like muting or unmuting participants,recording meetings for playback,controlling audio and video remotely,sharing innovative whiteboard and more.
2. Price
When it comes to choosing the best video conferencing software,price is also a quite important consideration. You can find that in the above table ezTalks Meetings provides five kinds of paid plans to meet your different needs. And it has a cheaper price along with more participants than other two programs. Additionally,ezTalks just released a 100-participant plan for free,which allows up to 100 participants to join a video conferencing at a time. The free trial of the video conferencing software provides almost the same features as paid versions.
3. Ease of Use
With ezTalks Meetings,there's no need to combine various video conferencing solutions in order to achieve great results for online business meetings. You only need to purchase and download ezTalks Meetings on your Windows/Mac computer,iPhone,and Android phone,then sign up with your email or directly sign in with your Facebook/Google account. Then you can use ezTalks to start your meetings. Besides,ezTalks Meetings offers a very user-friendly interface,all features are presented in an intuitive way. You can easily find what you need and host/join a meeting even though you are new users.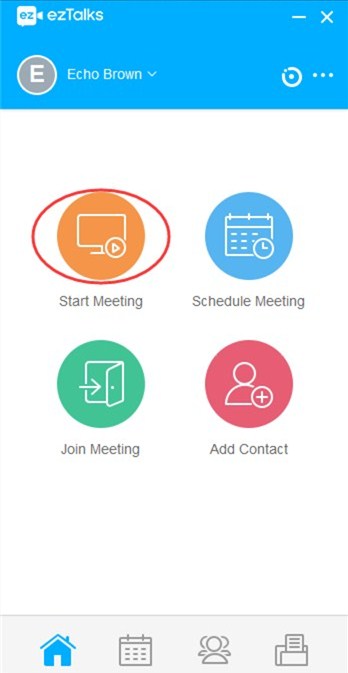 In Conclusion:
A professional video conferencing tool can bring much convenience for your business and daily life. If you are also wondering about choosing the best video conferencing software to satisfy your needs of business,education,or medicine,ezTalks Meetings may be a great choice recommended for you.